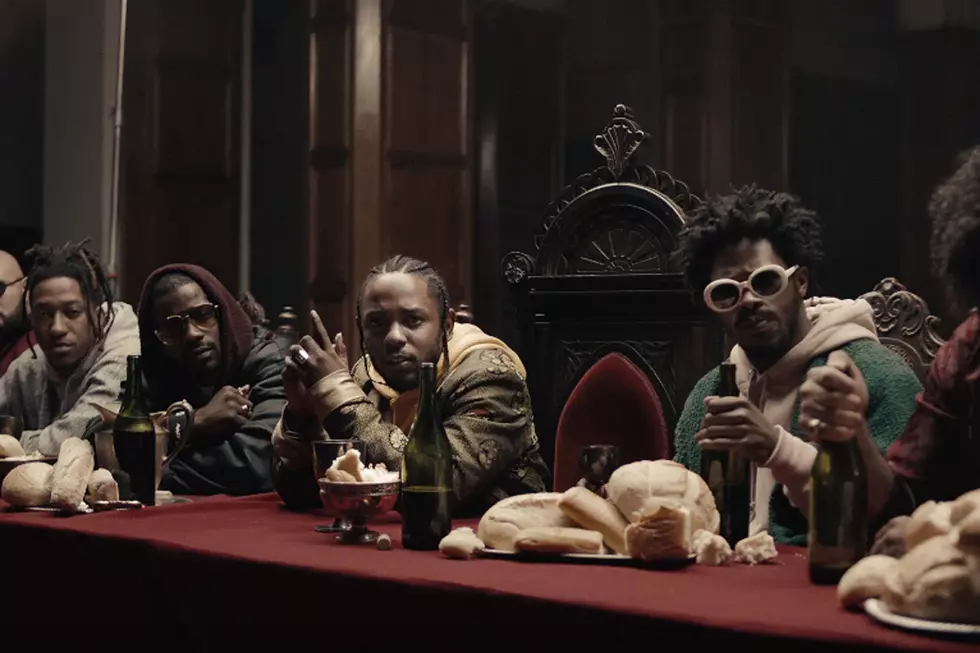 Kendrick Lamar Recreates the Last Supper in "Humble." Video
Kendrick Lamar via YouTube
Kendrick Lamar season is upon us. After releasing his new song "The Heart Part 4" last week, K. Dot comes through with a new music video for his single "HUMBLE.," produced by Mike WiLL-Made It.
The captivating video is directed by Dave Meyers and the Little Homies. The visual employs a variety of scenes, including Kendrick shown laying on a stack of cash, eating dinner in a shot reminiscent of The Last Supper and passing off Grey Poupon while riding in the backseat of car. The flashy images don't take away from the Compton MC's bars though.
"I remember syrup sandwiches and crime allowances/Finesse a nigga with some counterfeits, but now I'm counting this/Parmesan where my accountant lives in fact I'm downin' this/D'usse with my boo bae, tastes like Kool-Aid for the analysts/Girl, I can buy your ass the world with my pay stub/Ooh that pussy good, won't you sit it on my taste bloods/I get way too petty once you let me do the extras/Pull up on your block, then break it down, we playing Tetris," Kendrick raps on the opening verse.
Kendrick has been hinting at a new album, and the release of "Humble" is sure to increase the anticipation for what's to come. If his lyrics on "The Heart Part 4" are any indication, a new LP could arrive on April 7. The style of the song also lends credence to comments made by producer Syk Sense, who said Kendrick's album would be "harder" than the jazz and funk-influenced To Pimp a Butterfly.
Watch Kendrick Lamar's "HUMBLE." video below.
Here Are 19 Rappers Going Platinum in 2017