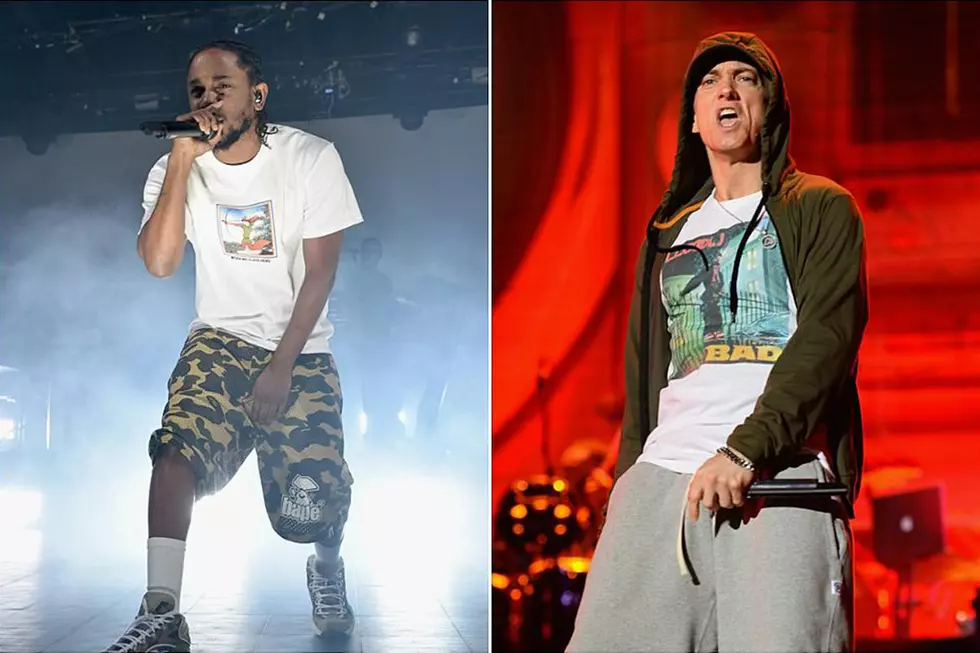 Kendrick Lamar Says Eminem's 'The Marshall Mathers LP' Changed His Life
Bryan Bedder / Theo Wargo, Getty Images (2)
There's no shortage of rappers who think Kendrick Lamar is one of the best lyricists alive, but when it comes time for K. Dot to point out one of his idols, the rapper shouts out Eminem for his skills.
Speaking with Vanity Fair in an interview published on June 28, the Damn. rapper was asked how he's able to deliver so many words and syllables in one bar. "It comes from my love of hip-hop," Kendrick said. "Eminem is probably one of the best wordsmiths ever," he adds, revealing that Shady's The Marshall Mathers LP was extremely influential for him. "There's a whole list of why, but just bending words... The Marshall Mathers LP changed my life."
Elsewhere during the interview, Kendrick touched on an incident in which a white female fan he brought on stage during a concert in May didn't censor the n-word when performing "m.A.A.d City." While some people believe no one should be allowed to use the word, Kendrick said it's a word that belongs to the Black community.
"I've been on this earth for 30 years, and there's been so many things a Caucasian person said I couldn't do," he said. "Get good credit. Buy a house in an urban city. So many things—'you can't do that'—whether it's from afar or close up. So if I say this is my word, let me have this one word, please let me have that word."
Check out Kendrick Lamar on the cover of Vanity Fair below.
See Photos of Kendrick Lamar's Different Looks Over the Years