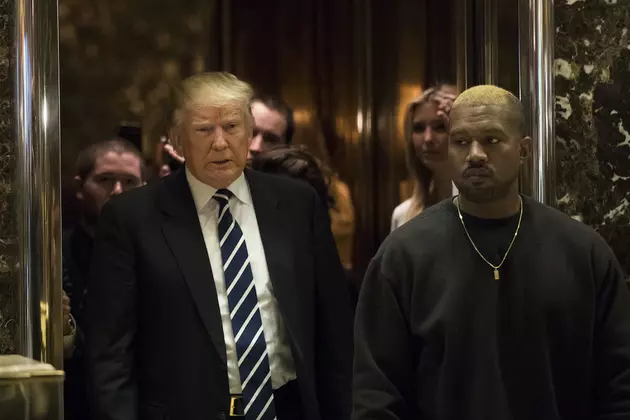 Kanye West Wants to Use Relationship With Trump to Promote Peace in Chicago
Drew Angerer, Getty Images
Update (Dec. 14, 11:33 a.m. EST):
A day after meeting with Donald Trump, Kanye West shares a picture of Time's Person of the Year issue, which Trump covered, complete with a personal note signed by the President-elect: "To Kanye. You are a great friend. Thanks."
Kanye West met with Donald Trump today at the Trump Tower in New York City. According to TMZ, 'Ye wants to use his relationship with the President-Elect to promote peace in Chicago.
Sources close to Kanye say that he has a good relationship with Trump, and the Life of Pablo rapper wants to lobby Trump to help promote peace in Yeezy's hometown of Chicago. According to TMZ, 'Ye and Trump didn't talk about the issue of violence in their Tuesday (Dec. 13) meeting, but Kanye plans to bring it up the next time they talk.
Yeezy also took to Twitter on Tuesday (Dec. 13) afternoon and fired off a series of tweets. You can see those below via Kanye's official account. "I wanted to meet with Trump today to discuss multicultural issues," he writes. "These issues included bullying, supporting teachers, modernizing curriculums, and violence in Chicago. I feel it is important to have a direct line of communication with our future President if we truly want change. #2024"
Previously, Kanye West had announced his plans to run for President of the United States in 2020. Now, it seems that he's adjusted his schedule and now plans to run in 2024.
In the past, Trump has stated that he wants to bring back the stop-and-frisk policy, especially in Chicago, even though the policy has been deemed unconstitutional. Hopefully, Kanye West talks some sense into the President-Elect in the near future.
In case you missed it, check out how Twitter reacted to Kanye West and Donald Trump's meeting at the Trump Tower.
Twitter Reacts to Kanye West and Donald Trump Meeting