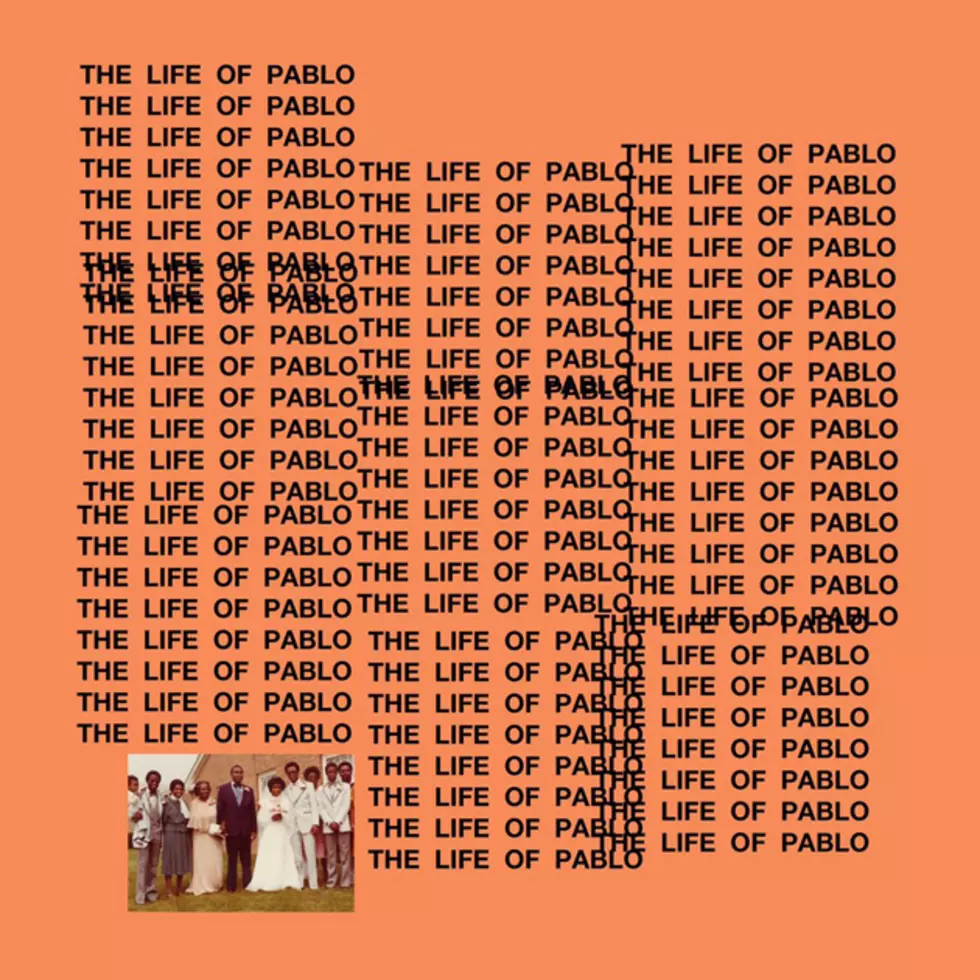 Kanye West Unveils 'The Life of Pablo' Album Cover
Def Jam
Leave it to Kanye to create a visually incomparable cover for his new album, The Life of Pablo. After revealing the title last night (Feb. 10), now the rapper debuts the artwork for the project.
Yeezy tapped Belgian artist Peter De Potter to craft the cover for his seventh studio LP. A look at the peach-colored artwork shows the title printed 72 times -- some letters even overlapping each other -- and aligned left at the bottom is a portrait featuring an entire wedding party. Is this wedding day photo a look at the MC's mother Donda and father Ray? While West hasn't given a clue as to who's getting hitched, the style choices alone recall the late '70s or '80s.
Potter, whose also a writer and curator, is known for using the power of the internet to get his medium across to the public. So it makes perfect sense for the "Real Friends" rhymer to have debuted Potter's creation on Twitter. When it comes to his personal projects, Potter's own Tumblr page is the place for art enthusiasts to become familiar with his catalog of work. "Angelic Upstarts," a series he created in 2011, was comprised of 50 collages and published exclusively online.
Now that what's on the outside of The Life of Pablo is known, the inside is still a mystery save for a few tracks. "Fade," "Real Friends" and "Wolves" are songs that have already been released plus the lyrics for "Father Stretch My Hands Pt. 1 & Pt. 2" have been revealed. But the producers and collaborators for many of the 10 tracks on the LP aren't confirmed.
To satisfy fans' inquiring minds, the rapper is providing an exclusive listening of the effort at Madison Square Garden in New York City. Combined with his Yeezy Season 3 fashion show, the event is a big deal by 'Ye's standards. He's hired about 1,200 extras and has a guest list that includes the likes of Hulk Hogan and Phil Jackson.
Take a look at what's going down at Kanye West's T.L.O.P. premiere event below.
Kanye West's The Life of Pablo Tracklist
1. "Ultra Light Beams"
2. "Father Stretch My Hands Pt. 1 & Pt. 2"
3. "Freestyle 4″
4. "Famous"
5. "Highlights"
6. "Feedback"
7. "Fade"
8. "FML"
9. "Real Friends"
10. "Wolves"
Twitter Guesses 'T.L.O.P.' Initials for Kanye West's New Album