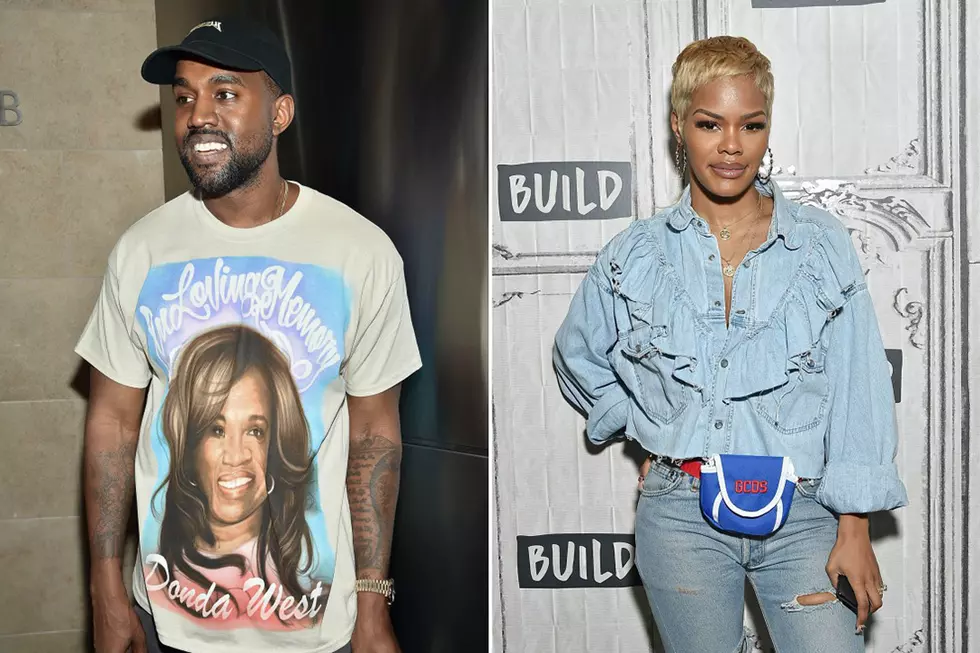 Kanye West and Teyana Taylor Debut Her 'Keep That Same Energy' Album at Los Angeles Listening Party
NAme / Mike Coppola, Getty Images (2)
Another seven-track project from Kanye West and his team of producers, Keep That Same Energy marks the last release of five Yeezy-produced albums, following Pusha-T's Daytona, West's Ye, Kanye and Kid Cudi's Kids See Ghosts and Nas' Nasir.
During the listening party, which was held in a studio lot in Los Angeles that was modeled after Harlem, songs from the upcoming album blasted from the speakers as Teyana, Kanye and more danced along and enjoyed the songs. The star-studded affair also included appearances from 2 Chainz, Meek Mill, Nelly and more.
"She in love with a man she can't be with/But she know that pussy gone leave him seasick/Every time she ride she get treat like the sidekick, until that side chick went and got some side dick," Yeezy can be heard rapping over a slow, classic hip-hop-sounding beat.
In another song, Taylor appears to sing about untrustworthy people over a chuch-like organ. "It be the ones, the ones you trust, them too/It the be the ones, the ones you love, love too/It be the ones/Don't get caught up," she croons before the drums kick in.
Keep That Same Energy is scheduled to release later today (June 22), but if the previous Kanye-produced albums are any indication, an exact time for release is up in the air. On Thursday night, Kim Kardashian revealed Kanye was still putting the finishing touches on the album on his way back from Paris.
"This whole flight back from Paris Kanye has been finishing up Teyana's record OMG it's soooo goood!!!!!" she tweeted.
Check out footage from Teyana Taylor's Keep That Same Energy listening party below.
See New Music Releases for June 2018