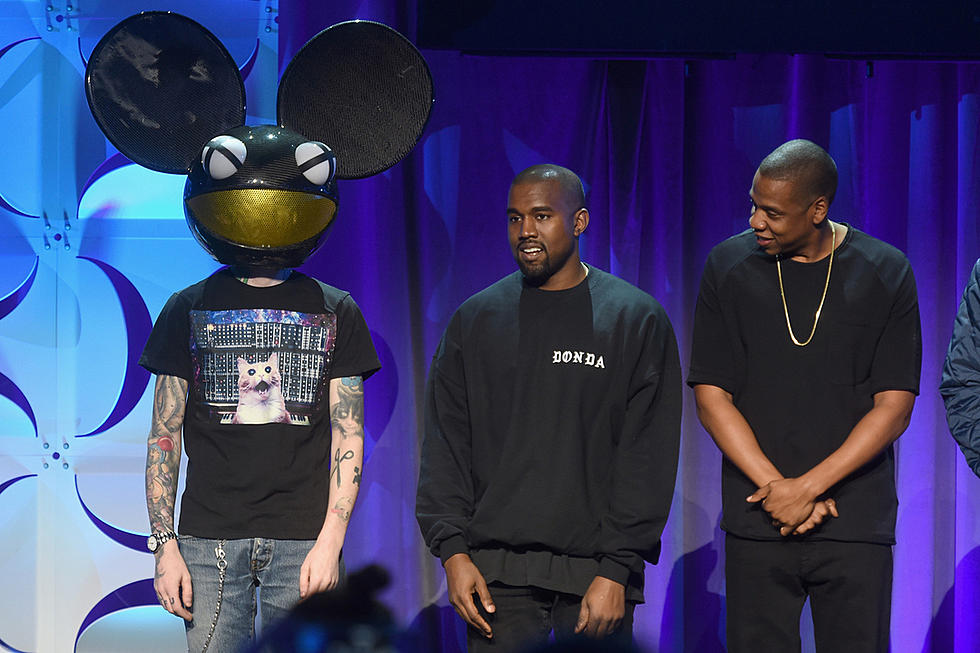 Kanye West Rants About Deadmau5 on Twitter
Jamie McCarthy, Getty Images
Kanye West posted a screenshot on Twitter last night (March 1) of himself listening to Sufjan Stevens' "Dead With Dignity" on YouTube. Many people who saw the tweet noticed that Kanye had a tab open for The Pirate Bay, the site he reportedly wants to sue for its role in the illegal downloads of his album The Life of Pablo.
In particular, Kanye West had a page open for a torrent of the digital synthesizer plug-in Serum and many believed he was doing some illegal downloading of his own. This did not sit well with DJ and producer deadamu5, who called 'Ye out on Twitter.
"What the fuck?" deadmau5 wrote in a reply to Kanye. "Can't afford Serum? Dick."
As one might expect, this did not go over well with the G.O.O.D. Music boss. Kanye went on a Twitter rant directed at deadmau5, insulting and dismissing the producer at every turn.
"Ok, serious question," Kanye tweeted. "Whose job is it to carry the head on the plane? Do you check the Mickey Mouse head or carry on? Does it get hot?"
That was just a taste of what was to come. Kanye took more shots at deadmau5's headdress along the way.
"When you get married will your wife have a giant Minnie Mouse head?" Kanye wrote. "This brightened up my day. Thank you dead-mow-five."
The Chicago rapper capped off his rant by wondering aloud if deadmau5 did birthday parties, as he sarcastically wanted the DJ to perform at his daughter's birthday.
"Do you do birthday parties?" Kanye asked. "My daughter loves Minnie Mouse. Can you please bring the Minnie Mouse head? Not yours, she specifically likes Minnie Mouse. I need you to perform at her party with specifically a Minnie Mouse dead-mow-five head… not a Mickey Mouse dead-mow-five head."
Kanye West and deadmau5 are both partners in the streaming service TIDAL.
Deadmau5 later responded to Kanye West's tweets and called him an "idiot." See below:
See 40 Hip-Hop Albums Turning 20 in 2016