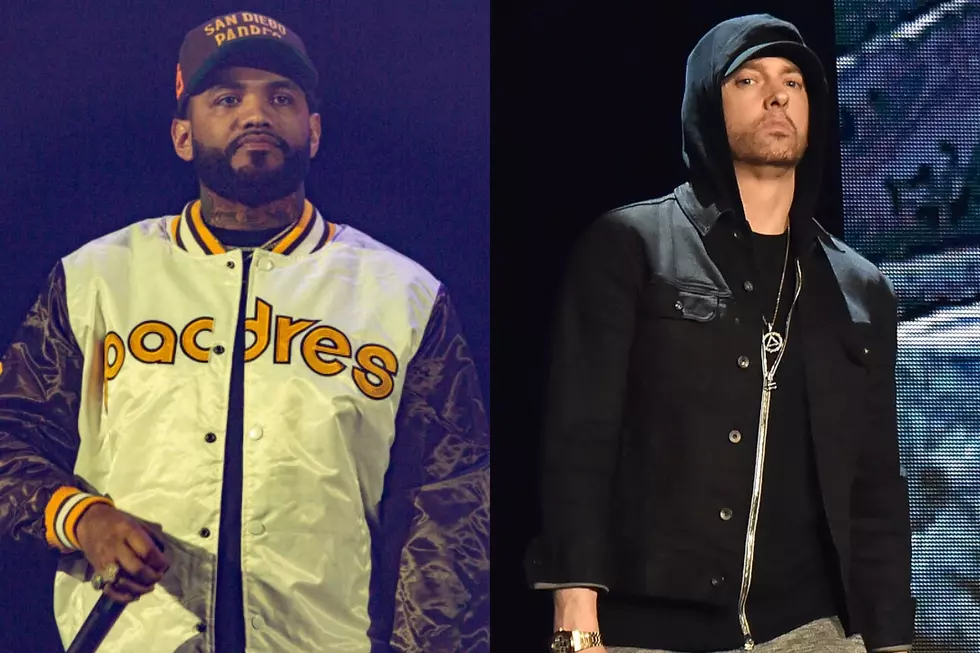 Joyner Lucas and Eminem Song Reportedly Titled "What If I Was Gay?" Leaks: Listen
Daniel Knighton, Getty Images / Kevin Mazur, WireImage
Joyner Lucas' next major concept song has surfaced on the internet, and this one features Eminem.
On Thursday (Oct. 31), a song reportedly titled "What If I Was Gay?" leaked onto the internet, and as its purported title implies, it deals with the stigma of being a gay man or woman in society.
For his part, Joyner assumes the role of a gay person who contemplates who people would react to them coming out. He also details the experiences the person lived through growing up.
"I grew up in church where I couldn't be myself/I felt like a prisoner, couldn't leave my cell/They told me, 'God don't like ugly,' and this an ugly world," spits the rapper, whose ADHD album doesn't have an announced release date. "And if I ever seen things different, I would burn in hell/And on the real, this is not new, this is not a phase/I grew up different than I was raised."
Meanwhile, Eminem, who previously rapped with Joyner Lucas on their 2018 song "Lucky You," takes on the persona of a homophobic friend who is repulsed by his friend's sexuality. The Detroit rhymer raps, "What if I told you I'm homophobic?/And you have zero control over your impulses/And the genetic flaw in your chromosomes is the culprit/It's something I can't sugarcoat, it's repulsive."
Since the leak, fans have been reacting to the song on Twitter. Some people appreciated Joyner Lucas tackling a subject rarely discussed in hip-hop, while others didn't care much for the song.
"@Eminem and @JoynerLucas collaborating is pure and real Hip-Hop. #WhatIfIWasGay is great lyricism and story telling," tweeted one person. Another fan wrote, "Eminem has sucked since 2009 what surprises you here lol. Joyner Lucas just as wack for working with Eminem."
Check out the song, as well as people's reactions to it, below.
See 50 of the Best Hip-Hop Albums Since 2000