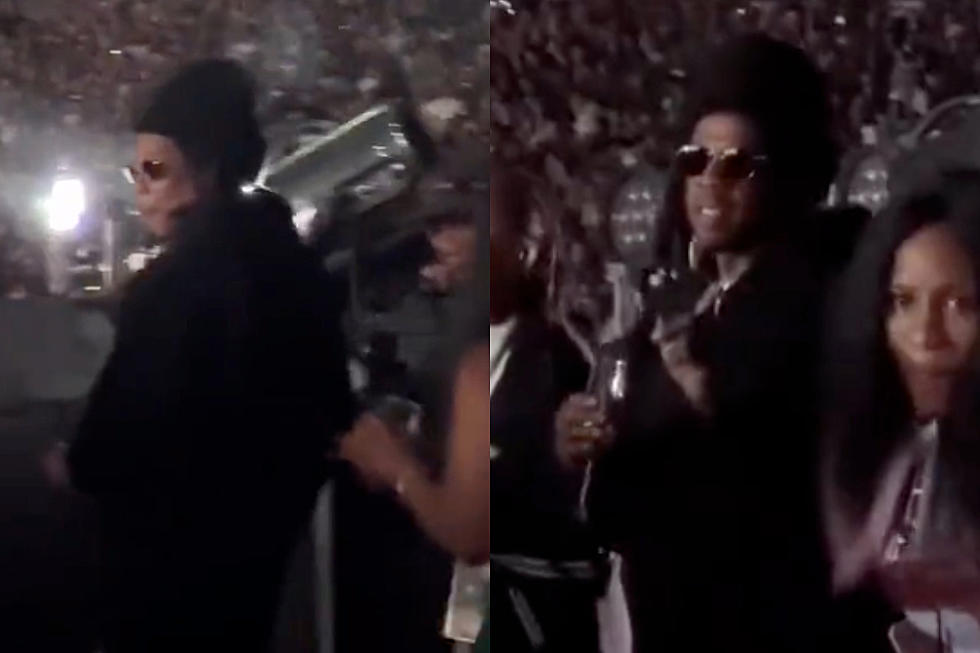 Jay-Z Uses One Finger to Stop Fan From Filming Hov Doing the Electric Slide – Watch
JAY_Z_Daily/Twitter
Jay-Z uses one finger to stop a fan from filming Hov doing the "Electric Slide" at a recent Beyoncé concert in Toronto.
Jay-Z Uses One Finger to Stop Fan from Filming Him Doing the Electric Slide
On July 8, Jay-Z was spotted living his best life in what appears to be a special VIP section near the stage as his wife, Beyoncé, performed at Toronto's Rogers Centre during a stop on her current Renaissance Tour.
As a nearby fan filmed the Brooklyn, N.Y. icon and a small group of people doing the world-famous dancefloor staple, the "Electric Slide," Jay-Z proved that he was certainly telling the truth in his 4:44 song "Bam" when he rapped, "I'll line you all up with one finger wave."
In the video clip below, Jay-Z can be seen dancing the "Electric Slide" to his wife's rendition of the Frankie Beverly and Maze hit "Before I Let Go." As Hov astutely realizes he's being filmed on a fan's phone, Jay stares directly into the camera and by simply holding up one finger, immediately shuts down the amateur production and the person holding the camera obediently stops the video.
Jay-Z Sure Does Enjoy Doing the Electric Slide
It appears as though when it comes time to cut a rug to the classics, the "Electric Slide" is Jay-Z's line dance of choice. Back in 2017, footage came out of King Hov and Queen Bey doing the endlessly popular dance uncoincidentally to the same Frankie Beverly and Maze track at a family gathering.
Jay-Z's Notable Interactions With Fans
Jay-Z's video-ending finger wave in Toronto on Saturday is the latest proof that Jiggaman has zero issues with reprimanding fans when he feels the need to do so. The most recent examples include the time Hov refused to autograph a fan's bootleg edition of The Black Album back in December of 2022 and a hilarious video from just last month that finds Jay-Z telling a Paris crowd to stop clapping when the fans struggled to stay on beat.
See video of Jay-Z directing a fan to stop filming him below.
Watch Jay-Z Use One Finger to Stop a Fan From Filming Hov Doing the Electric Slide Below
See Rappers Name Their Top Five Favorite Rappers of All Time
Drake, Kendrick Lamar, Lil Wayne and more.