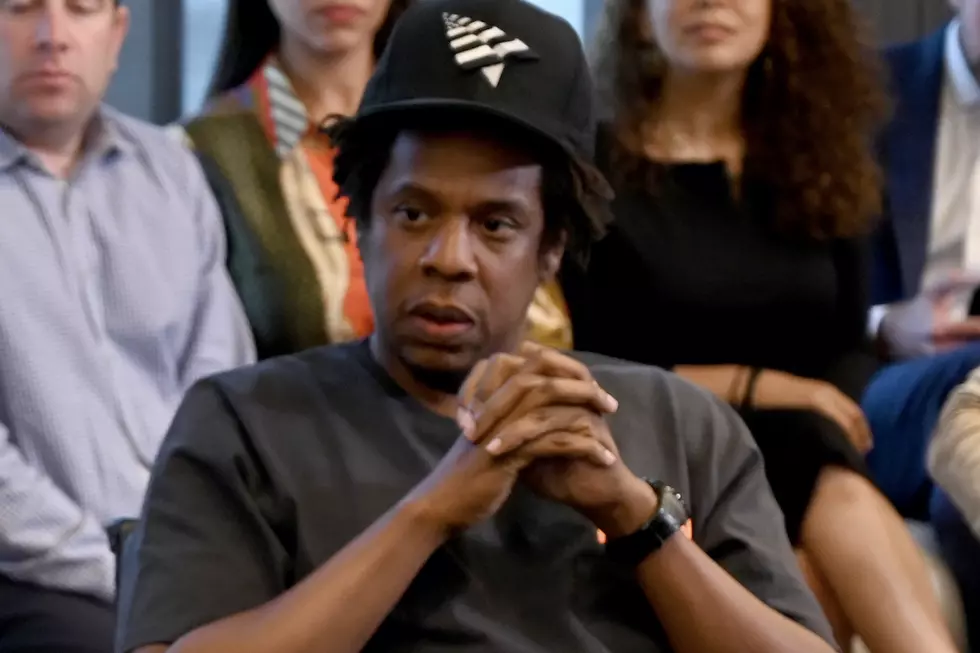 Jay-Z Sues Retailer for Using His Name and Lyrics in Children's Book: Report
Kevin Mazur, Getty Images
Jay-Z has reportedly taken legal action against an Australian company that's profiting from his likeness.
On Wednesday (Nov. 27), BBC News reported that Hov had filed a lawsuit against Australian retailer The Little Homie for using his name and lyrics for a children's book titled AB to Jay-Z. The suit, which was filed with the Federal Court of Australia on Friday (Nov. 22), alleges that the company breached his intellectual property by using lyrics from his 2003 hit, "99 Problems," off of The Black Album. The company references the song in its advertisement for the book as well.
"If you're having alphabet problems I feel bad for you son, I got 99 problems but my ABC's ain't one!" the book's description reads on the product page, which still remains active as of press time. (It's worth noting that the "99 Problems" lyrics in question are interpolated from Ice-T's 1993 song of the same name.)
"This hip-hop inspired book is designed to pump up your child's alphabet game," the book description continues. "Let Jay-Z, Biggie Smalls, Eminem, Pharrell, Snoop [Dogg] and more, teach your little homie their ABCs. Relive some of the greatest Rap, Hip Hop, and R&B musicians of our time, while teaching your children where it's at. There will always be an abundance of books to teach our kids about cats and apples. But who's going to teach them the realest alphabet?"
According to the report, Jay's legal team sent a notice telling The Little Homie to stop selling the product back in 2018, but the company did not do so. In the legal documents, his team said the company "deliberately and knowingly" continued to use his likeness in a "flagrant, glaring" way.
In related Jay-Z news, the Roc Nation mogul just helped raise a cool $6 million for future college students at the Shawn Carter Foundation's inaugural gala earlier this month. Along with money put into scholarships, study-abroad opportunities and other goodwill programs for underprivileged families, the money will also help fund college prep workshops and events like the foundation's annual HBCU bus tour.
See 55 Hip-Hop Albums Turning 10 in 2019