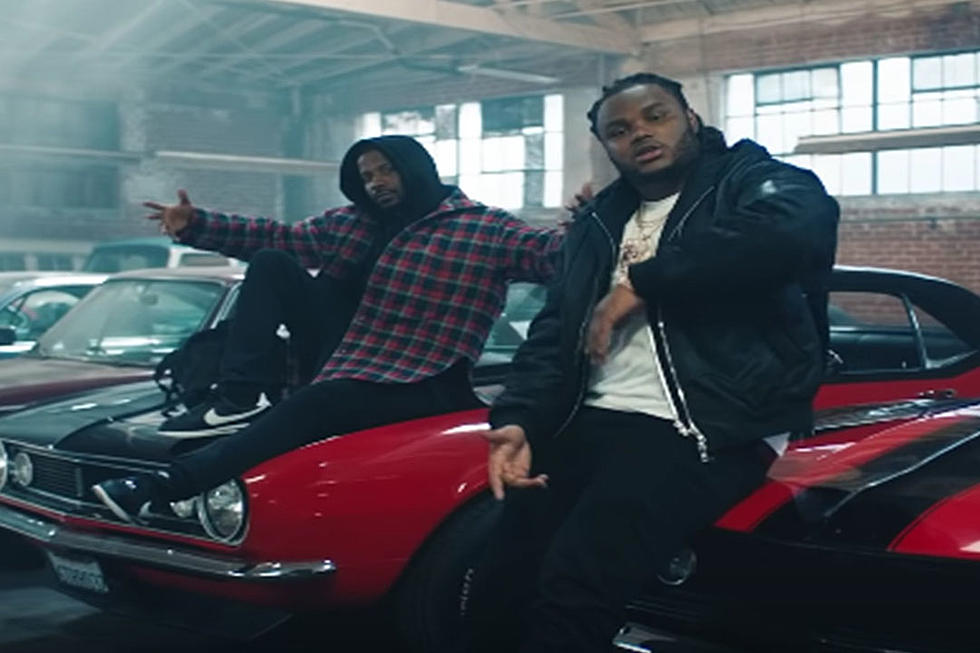 Jay Rock "S**t Real" Featuring Tee Grizzley: Listen to Hard-Hitting New Song
JayRockVevo via YouTube
Today (Nov. 28), Jay Rock releases "Shit Real," a hard-hitting new song that includes a  feature from Detroit's Tee Grizzley.
For the new track, both rappers keep things extra gritty. Up first is Jay Rock, whose Redemption album earned plenty of critical acclaim.
"No case, young nigga shootin' shit/Outta Delta '88 with the temporary plates/Foreign cars but we dog 'em like Buicks/Get to it, no talking, just do it," the "Win" rapper spits.
Following Jay's verse, Tee chimes in with some equally hard-body lyrics. "Say you just wanna be on, you want the Rollie froze/You would never break the code, okay nigga/In Campanella, tell these niggas I'm at home there," Tee raps.
"Shit Real" was released with an accompanying video. In the Jack Begert-directed visual, Jay and Tee can be seen getting to the money. The video begins with Jay as an accomplice in a house robbery. He is seen as a passenger seat rider until meeting up with Tee. When Tee and Jay link up in a secret location, they count bands together. The video ends with Jay hitting the road once again.
On the Swi$h-produced track, the Watts, Calif. rapper and Detroit native both show off their wordplay. Jay sets the tone for the track while rapping over the uptempo party beat.
Last month, the Watts, Calif. native dropped off his visual to "Wow Freestyle," which features TDE member Kendrick Lamar. In the Jack Bergert-directed music video, the two MCS drive around town.
Check out Jay Rock's "Shit Real" featuring Tee Grizzley music video below.
See Every Hip-Hop Song That Topped the Billboard Hot 100 in 2018