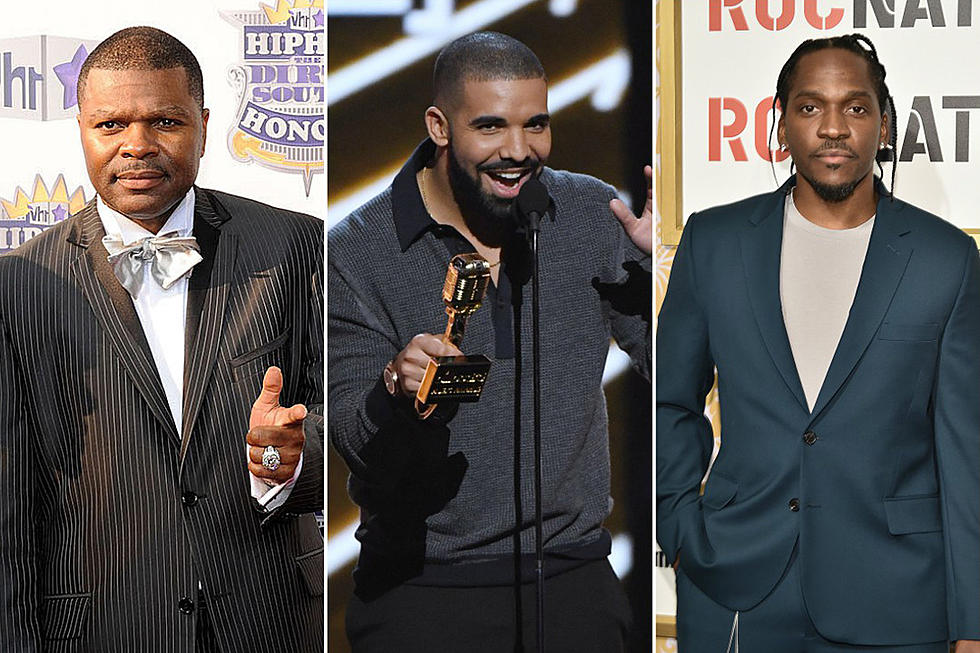 J Prince Claims Drake Has an Unreleased Diss That Would Be Bad for Pusha-T's Career
Jemal Countess / Ethan Miller / Steven Ferdman, Getty Images (3)
The beef between Drake and Pusha-T appears to be over after J. Prince made an "OG call" to Drizzy and told him not to respond to the Virginia rapper. But while fans won't get a response from Drake, J. Prince says the Toronto MC had a diss track ready and it would have been bad for Pusha-T's career.
Appearing on Sway's Universe on Monday (June 4), the Rap-A-Lot Records CEO confirms Drake had a diss recorded and says the "ingredients" of the song would have been overwhelming. J. Prince also added that not only would the song have been damaging for Push, it would have also been bad for Kanye West.
"I know for a fact that it would of been bad for Kanye and my man [Pusha-T]," he told Sway. "It's beyond music at that point. It's gonna affect the livelihood, it's gon' interfere with his whole lifestyle from that day forward."
But while the song was already allegedly recorded, don't expect to ever hear it. When asked if there's a chance the track could leak, J. Prince said no. "I don't think it would leak because [Drake] gave his word," he said. "Me knowing Drake like I know him, he has a word and until I see differently, I will believe differently."
"I made an OG call to Drake this morning, telling him, 'I don't want you to respond to this...' We gon' put this to bed because we can't get in the pig pen with pigs because pigs turn into hogs and then hogs get slaughtered," J. Prince said.
Check out J. Prince's latest interview with Sway below.
See Photos of Drake's Different Looks Over the Years