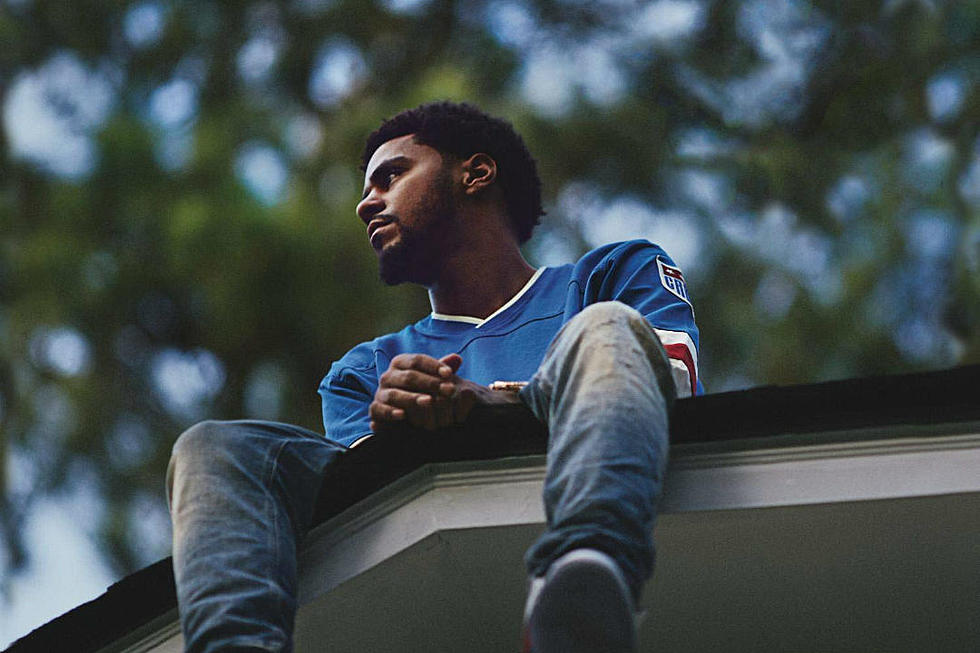 J. Cole Drops '2014 Forest Hills Drive' Album – Today in Hip-Hop
Roc Nation/Dreamville/Columbia
On this day, Dec. 9, in hip-hop history...
2014: Just as a lackluster year in hip-hop was coming to an end, North Carolina rapper J. Cole surprised everyone by dropping one the best albums of his career thus far, his third studio LP 2014 Forest Hills Drive.
The name of the album comes from Cole's childhood home in Fayetteville, N.C., that was foreclosed on while the rapper was away in New York for college. Much of the album's subject matter recounts Cole's adolescence, him moving from a small town to a big city to pursue his dreams and him dealing with the perks and pitfalls of the music industry. Though Jermaine controlled much of the production himself, the Dreamville boss employed the likes of Illmind, Vinylz, Phonix Beats and Willie B to help.
With only three weeks of prior notice, no marketing, no features and no singles to hype the release, Forest Hills debuted at No. 1 on the Billboard 200, moving 353,000 copies in the first week. J. Cole's overwhelming success with his bare-bones approach to releasing the album is what inspired other artists to switch up their marketing and album promo in subsequent years.
The album was met with rave reviews from critics. Though it spawned commercial singles like "Apparently," "Wet Dreamz," and "No Role Modelz," fans and critics commended Cole for his production and crazy lyricism on even the deep cuts. Though it was dropped just as fourth quarter was coming to a close, the album ended up on many of music's Best of 2014 lists.
"J. Cole has finally shored up those tiny but aggravating cracks, and crafted both his most compelling and consistent studio album to date," wrote XXL when awarding the album an 'XL' rating. "Hip-hop fans can be some of the most difficult to satisfy, and while there is no atrocious songs on 2014 Forest Hills Drive, this album reinforces the faith that Cole is a superstar."
The album won Cole plenty of awards, was nominated for Best Rap Album at the 58th Annual Grammys and sent the rapper on a stadium tour for the majority of 2015.
Two years later, thanks to his steadfast fanbase, 2014 Forest Hills Drive is certified double platinum by the RIAA.
Exactly two years later, the illusive Jermaine dropped his fourth studio album, 4 Your Eyez Only, on Dec. 9, 2016. He followed generally the same formula of no features, no singles and little promo prior to dropping the project. Having since been certified platinum and reaching number 1 on the Billboard 200, the follow-up album certainly lived up to the precedence set by 2014 Forest Hills Drive, and laid the groundwork for Cole's successful KOD album, which was released in April of this year.
See Photos of J. Cole's Different Looks Over the Years