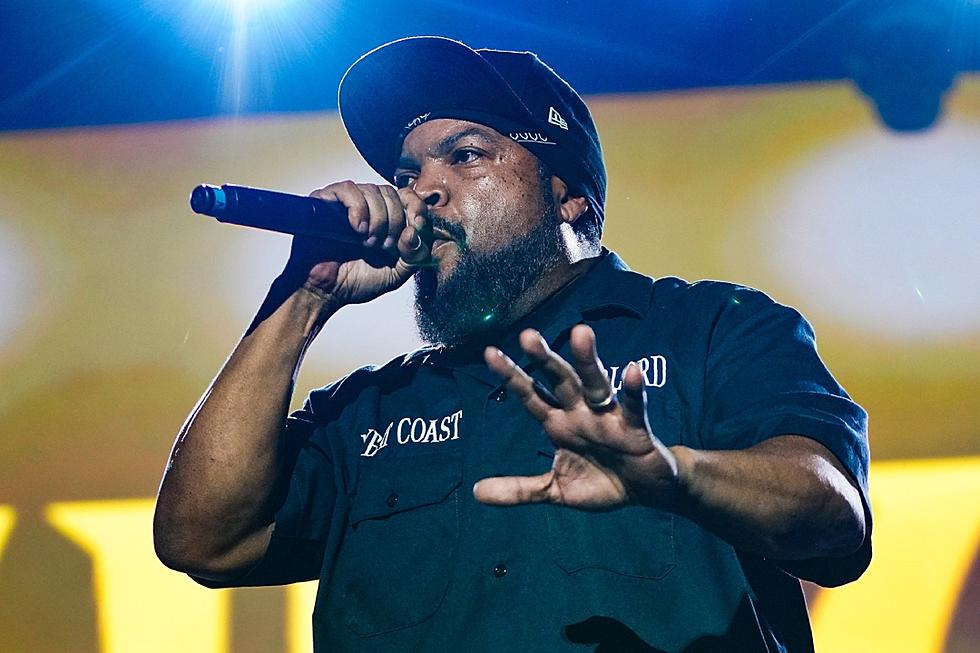 Ice Cube Insists Taking a Photo Is Not an Endorsement After Receiving Backlash for Appearing With Democratic Presidential Candidate Robert F. Kennedy Jr. and Former Congressman Dennis Kucinich
Bennett Raglin/Getty Images
Ice Cube insists that taking a photo with Democratic presidential candidate Robert F. Kennedy Jr. and former Congressman Dennis Kucinich isn't an endorsement after receiving backlash on social media this week.
Ice Cube Addresses Backlash for Photo With Politicians
On Wednesday (July 12), the "It Was a Good Day" rapper went on Twitter to address fans who have blasted him for taking a photo with Robert F. Kennedy Jr. and Dennis Kucinich on July 10. The photo shows the three men standing together and posing for the camera. RFK captioned the pic: @Dennis_Kucinich and I spent a wonderful evening with one of our country's most influential and outspoken civil rights leaders @icecube!"
The image stirred the pot because the former N.W.A member has always been vocal about not being a fan of politics. Robert F. Kennedy calling Ice Cube a civil rights leader also didn't sit well with the rapper's many followers. Ice Cube ridiculed people without naming anyone specifically for assuming he was endorsing the two political figures.
"For all the simple minded short bus people out there. A picture is not an endorsement, dummy. Now get your ass over to bungalow 51 and STFU," Ice Cube tweeted.
In the following tweet below, the "Check Yo Self" rapper clapped back at a Twitter user after they questioned Ice Cube's mission and wondered if he was selling out.
"Sellout? I work for myself. I'm self-made," Ice Cube responded on Twitter. "How do you feed your family??? How much do you sell your time for per hour on your job?"
Moments later, the Straight Outta Compton artist continued to come for other Twitter users who made assumptions about his political views.
"Bro, everytime you pose in a picture with a politician, they are using that as an endorsement. You were just in a picture with Kennedy," one Twitter user wrote to Ice Cube. "Whether you come out and say it or not, a picture is worth a thousand words. These folks are allowed about opticals, you should know that."
Ice Cube responded, "Don't tell me what I should know. A picture can tell a thousand lies as well. And you should know that."
Why Are Presidential Candidate Robert F. Kennedy Jr. and Former Congressman Dennis Kucinich Controversial Figures?
Robert F. Kennedy Jr. is under fire for his views against the coronavirus vaccine. The opposing views from others heightened after Robert F. Kennedy made a speech at an anti-vaccine rally in Washington, D.C. in June of 2019 where he compared U.S. vaccine policies to actions taken by Nazi Germany. The 2024 presidential candidate is also frowned upon for claiming in 2017 that Donald Trump asked him to chair a commission on vaccine safety. Two years later, it was discovered that Kennedy Jr. funded anti-vax ads on Facebook. That same year, Kennedy Jr. also lobbied with actress Jessica Biel against a California state pro-vaccine bill.
Former Congressman Dennis Kucinich is a controversial figure for defending the Assad regime in Syria. This group killed defenseless civilians with chemical weapons. He also made headlines after refusing to sell Cleveland Public Power, an electric company in Cleveland, in 1977, which caused the Cleveland Mafia to make an attempt on his life in a contract killing. At one point, the former mayor was also anti-abortion.
See Ice Cube responding to backlash for his photo with Robert Kennedy Jr. and Dennis Kucinich below.
Read Ice Cube Clapping Back at More Twitter Users Below
These Tone-Deaf Hip-Hop Moments Prove Rappers Can Get Hit With Serious Backlash