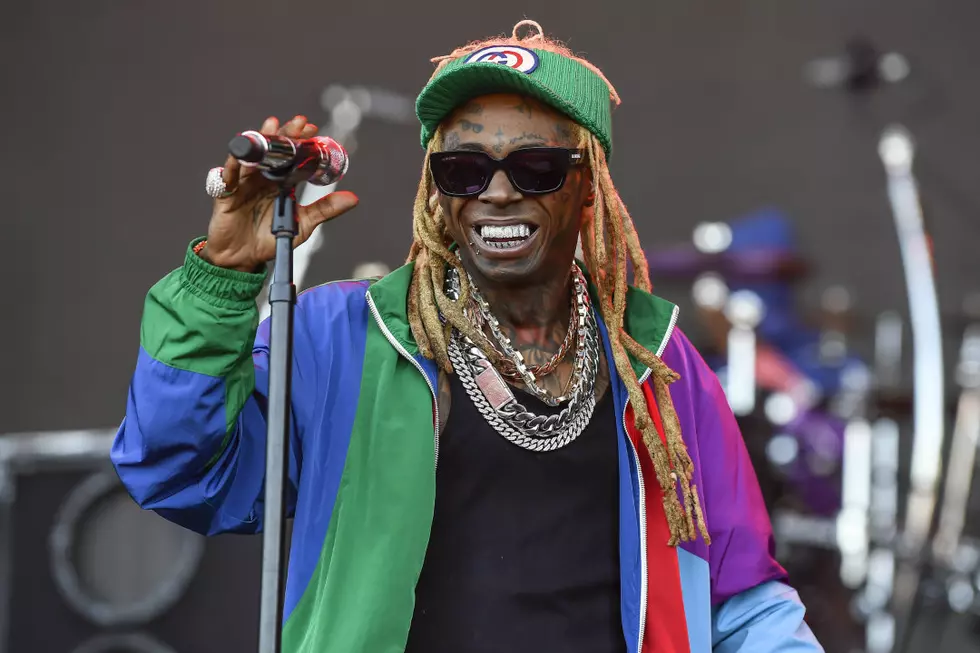 A History of Rappers Paying Homage to Lil Wayne
Steve Jennings, Getty Images
This statement might make some people feel old, but Lil Wayne has been an elder statesman in the rap game for more than a decade.
Dwayne Carter began his rap career alongside B.G. as part of the duo B.G.'z in 1995—one year before Jay-Z dropped his debut album, Reasonable Doubt. Tiger Woods wasn't even a professional golfer yet. Michael Jordan was still in his tongue-wagging prime. Rappers who are currently placing hits on the Billboard charts—like Lil Nas X and Lil Tecca—weren't even born yet.
Twenty-four years later, it's hard to find a rapper more influential to this generation's crop of young hip-hop artists than Miss Cita's son and Wayne has been getting his flowers while he is still here to smell them. Drake constantly gloats about Weezy F's greatness—at times very awkwardly.
He isn't the only one the new age of rap elites to doff the cap for the New Orleans native. Kendrick Lamar has labeled Wayne as one of the most influential artists of the new era.
Others have gone as far as saying it's Wayne's world and the rest of the rap game is just diluted doppelgangers.
"I think we are all clones of Lil Wayne," Kid Buu acknowledged earlier this year during his 2019 XXL Freshman pitch. "At the end of the day, we're all Lil Wayne. Every last one of us is Lil Wayne. Every rapper is influenced by Lil Wayne. From their image, to the way they walk, talk, rap everything. He's like the new Jesus Christ for culture in hip-hop. Only instead of, 'What you would Jesus do?,' it's more like, 'What would Wayne do?'"
Last year, Tune was officially honored for his hall-of-fame career with the I Am Hip-Hop award at the 2018 BET Hip Hop Awards, but the self-proclaimed "best rapper alive" has received several more tributes either musically or visually from his peers over the years. XXL chronicles rappers paying homage to Lil Wayne via song and art.
Kendrick Lamar, C4 Mixtape

January 2009

The third mixtape Kendrick Lamar released, while still going by the alias K-Dot, is a homage to Lil Wayne's Tha Carter III album. Titled C4, the project features Lamar rapping over a number of instrumentals from Weezy's critically-acclaimed C3 LP.

Lil B, "Free Lil Wayne"

August 2010

While Lil Wayne is serving a one-year sentence on Rikers Island for a gun charge, Lil B pushes for Tunechi's return and pays tribute to the rapper with the loosie "Free Lil Wayne."

2 Chainz, "Dedication"

March 2016

On Lil Wayne and 2 Chainz's duet album, ColleGrove, Tity Boi kicks things off on the intro track by taking a trip down memory lane and speaking on the impact Weezy has played on his career.

"If it wasn't for Wayne, it wouldn't be/A lot of dudes in the game, including me," he raps on the opening lines of the track.

Caleborate, "08 (Carter Flow)"

June 2016

Bay Area rapper Caleborate celebrates Lil Wayne's influence on the track "08 (Carter Flow)," where he tries to capture the magic Weezy bottled on his 2008 breakthrough solo album, Tha Carter III.

Jazz Cartier, "Lil Wayne"

July 2016

Jazz Cartier's aptly titled homage to his hero Lil Wayne debuts on the 24th episode of Drake's OVO Sound Radio. After hearing the single, Wayne even tabs the track his favorite new song.

Lil Skies, "Welcome to the Rodeo" Video

March 2018

Lil Skies releases his Cole Bennett-directed video for the single "Welcome to the Rodeo." The visual is an homage to Lil Wayne's "A Milli" video.

YoungBoy Never Broke Again, "Diamond Teeth Samurai"

June 2018

NBA YoungBoy drops the single "Diamond Teeth Samurai" on his debut album, Until Death Call My Name. The track features a chorus that emulates the one on Lil Wayne's breakthrough solo single, "The Block Is Hot."

Rappers Recreate Tha Carter III Album Cover for 10th Anniversary

June 2018

For the 10th anniversary of Lil Wayne's Tha Carter III album, Spotify's Rap Caviar recreates the LP's iconic album cover using the childhood photos of rappers like Lil Uzi Vert, Wiz Khalifa, French Montana and Migos. The artists also spoke about Wayne's impact.

BlocBoy JB, "Go DJ"

October 2018

2018 XXL Freshman BlocBoy JB pays tribute to Lil Wayne by remixing the rapper's popular "Go DJ" track.

Wifisfuneral, Leave Me the Fuck Alone Cover

November 2018

In a clear nod to Lil Wayne, Wifisfuneral's album art for the November 2018 EP Leave Me the Fuck Alone features a childhood photo of the artist with tattoos superimposed over the face, arms and hands, akin to Tha Carter III cover.

Tyga, "Lightskin Lil Wayne"

June 2019

Former Young Money rapper Tyga delivers an ode to Tunechi via the Legendary track "Lightskin Lil Wayne," where he compares himself to the elder rapper. Like Lil Skies' "Welcome to the Rodeo" video, Tyga's track pays homage to Wayne's "A Milli" visual.

Weezy reacts positively to the compliment. "Love!!!!!! That's too dope bro. I'm at a loss for words after watching & listening to that! It feels gratifying to be honored in such a way!" Wayne comments on Instagram.

Uno The Activist, Dedication

July 2019

Uno The Activist salutes Lil Wayne and DJ Drama's Dedication mixtape series with a project of his own of the same name. Even the album art is a nod to past covers from Wayne's Gangsta Grillz collection.

Trippie Redd, "Lil Wayne"

August 2019

Despite no direct references to Lil Wayne, Trippie Redd's ! (Exclamation Mark) track "Lil Wayne" clearly serves as a tribute to the MC that the Ohio rapper has named as a major influence.