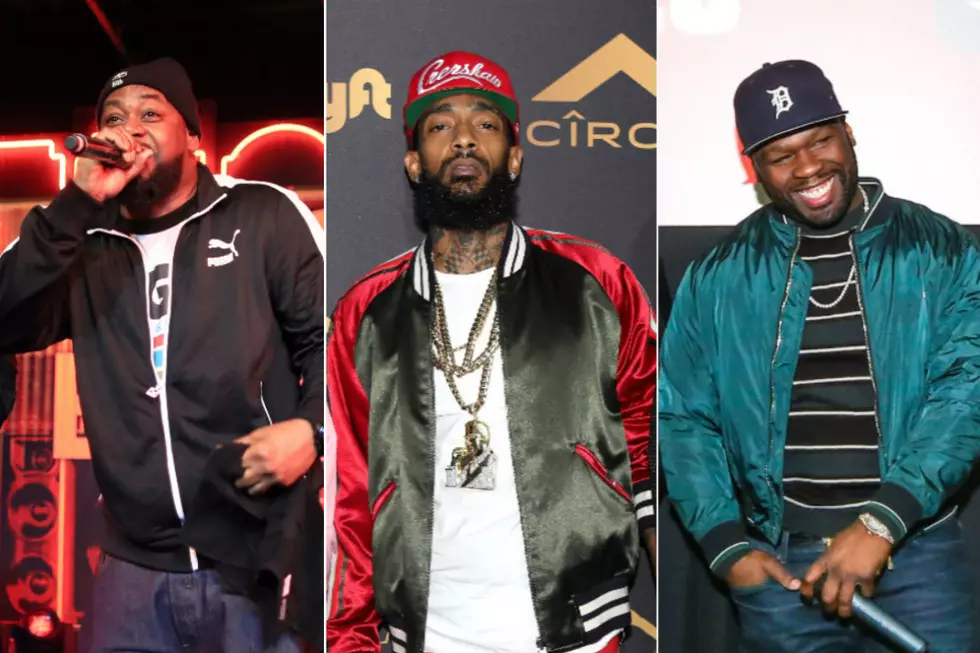 A Brief History of Hip-Hop's Connection to Cryptocurrency
Christopher Polk / Jerritt Clark / Thaddaeus McAdams, Getty Images (3)
The world and the ways that we function in it are constantly evolving, but one thing that remains the same is man's insatiable need to get C.R.E.A.M. One of the most buzz-worthy developments in today's global market is cryptocurrency. It's hard to go anywhere these days without hearing about this intangible tender. With more coins—and more ways to service these coins—popping up every month, barring some major political interference, it doesn't seem like it will be slowing down any time soon. And hip-hop is getting in on the action.
Starting in 2009 with the company Bitcoin, the decentralized digital assets have made some major paper for early adopters. Nipsey Hussle got hip to Bitcoin in 2013 at the advice of entrepreneur Marc Ecko. Today, he serves as a vocal ambassador for the expanding industry, and part-owner of Amsterdam-based crypto company Follow Coin.
Will crypto become a lasting force in the global economy? Only time will tell. For now, XXL has compiled a timeline of hip-hop's relation to this new wave.
Childish Gambino Speaks Highly of Bitcoin (2013)

During a 2013 interview with Time, Childish Gambino spoke about Bitcoin being the new wave. "I know a lot of people are skeptical, but I feel like if everything's going to live online, why not Bitcoins?" he said. "Being backed by gold seems very old and nostalgic to me."

Frederick M. Brown, Getty Images

Frederick M. Brown, Getty Images

Snoop Dogg About Accepting Bitcoin (2013)

Back in 2013, Snoop Dogg tweeted that he'd accept Bitcoin as payment for his upcoming album. "My next record available in bitcoin n delivered in a drone," he typed on Twitter. A representative for Snoop later revealed that the rapper was joking, although today the Doggfather likely wishes he weren't.

Kanye West Shuts Down Coinye Cryptocurrency (2014)

Dimitrios Kambouris, Getty Images

Dimitrios Kambouris, Getty Images

Nas Invests in Coinbase (2014)

Back before it was the thing to do, Nas took a gamble and invested in then-fledgling digital currency transaction company Coinbase in 2014. Today, Coinbase is one of the world's most popular cryptocurrency exchanges.

Rachel Murray, Getty Images

Rachel Murray, Getty Images

50 Cent May or May Not Have Made Millions on Bitcoin (2014)

During a 2014 Q&A on Reddit, 50 Cent announced that he'd be accepting Bitcoin as payment for his Animal Ambition LP. He wrote:

Grab my album directly from 50cent.com for $5.50 use the code Reddit550 at checkout. I'll take your Bitcoins too ok... technology is what's changing the business gotta get with it. I take money no matter if its coins or dollars

The proposal was long forgotten until 2018, when TMZ reported that the Bitcoin that 50 received four years prior had grown to millions in value.

Fif didn't deny the report, and even insinuated that the news was true. But when bankruptcy court inquired about the cash grab, the Queens MC claimed the reports were false.

Ethan Miller, Getty Images

Ethan Miller, Getty Images

Mayday and Murs Release "Bitcoin Beezy" Song (2015)

Released in 2015, Mayday and Murs' MURSDAY track, "Bitcoin Breezy" slickly touches on the pros and cons of the crypto game.

The Game Promotes ICO's for Tech Company Paragon (2017)

In August 2017, The Game started promoting Initial Coin Offerings (ICO) for tech company Paragon, saying he would "revolutionize cannabis for the world" using their coins and Blockchain, the technology on which digital currency are built.

Nipsey Hussle Buys Stake in Digital Currency Venture (2017)

In August 2017, Nipsey Hussle purchased an ownership stake in Amsterdam-based crypto company Follow Coin, which provides trader information to potential investors.

"We plan to be aggressive in adding value here and informing the word about the limitless possibilities of not only this Service/Platform but crypto currency in general!" he wrote in an Instagram caption.

CoinDaddy Kicks Crypto Raps (2017)

In October 2017, a user named CoinDaddy popped up on YouTube. It turns out, the page belongs to an eccentric 1970s pimp-dressing "rapper" who spits about the crypto life on songs like "Blood vs Crypto" and "Straight Outta Coinbase."

DJ Khaled Promotes Digital Wallet App Centra (2017)

DJ Khaled appeared to add digital currency to his keys in October 2017. In an Instagram post, he posed with a card for the digital wallet app Centra, used for storing digital cash. He later removed the post after the company suffered a number of issues.

Christopher Polk, Getty Images

Christopher Polk, Getty Images

Ghostface Launches Cryptocurrency Business (2017)

The company hopes to "capture more than half of the global cryptocurrency ATM market and make cryptocurrencies more accessible to the general public than ever before."

Michael Loccisano, Getty Images

Michael Loccisano, Getty Images

Bizzy Bone Proclaims Digital Currency the New Wave (2017)

Bizzy Bone couldn't stop beaming when asked about his investment in Bitcoin in December 2017. "The world is changing and we have to change with it," he said.

Snoop Dogg Serves as Guest of Honor at Cryptocurrency Gala (2017)

In December 2017, Snoop Dogg served as the guest of honor and DJ for a gala put on by crypto company SparkleCoin. For his efforts, Snoop Dogg received $55,500 worth of coins by the company, which he donated to his youth football league.

Alberto E. Rodriguez, Getty Images

Alberto E. Rodriguez, Getty Images

Skillz Mentions Bitcoin in "2017 Rap Up" (2017)

The Bitcoin craze was so big to end 2017 that a line about the digital currency popped up in Skillz's "2017 Rap Up": "Racists runnin' through Charlottesville/Y'all out here tryna turn Bitcoins to bills."

$teven Cannon and Larry June Drop "Bitcoin" Track (2018)

In January 2018, $teven Cannon and Larry June capitalized on the crypto mania and dropped the new song, "Bitcoin," which includes the line "Cryptocurrency I whip mansion with the Bitcoin/I hit a juug off the Bitcoin/Niggas be mad that they bitch gone."

Royce Da 5'9" Spits About Digital Currency on "Era" Track (2018)

On the 2018 PRhyme track, "Era," featuring Dave East, Royce 5'9" drops the lines, "Fuck you, your national anthem, that shit don't concern me/'Cause it's your country/I'm smokin' Monte Cristo/Discussin' Bitcoin and cryptocurrencies."

Lil Uzi Vert Endorses Dripcoin (2018)

In March 2018, Lil Uzi Vert bucked the trend of aligning with Bitcoin and endorsed—and inspired—a new crypto called Dripcoin. He even went ahead and superimposed a drip emoji over the Bitcoin logo.

A rep for Dripcoin told Complex that after Uzi shared the idea, they created it, dubbing Dripcoin as "the artist's cryptocurrency."

Ol' Dirty Bastard's Estate Announces Cryptocurrency Launch (2018)

In March 2018, the estate of the late Ol' Dirty Bastard announced it would be partnering with Link Media Partners to launch Dirty Coin—a means of currency that can be used to access shows, tours and exclusive merchandise from both the estate of ODB and his son.

Scott Gries, Getty Images

Scott Gries, Getty Images