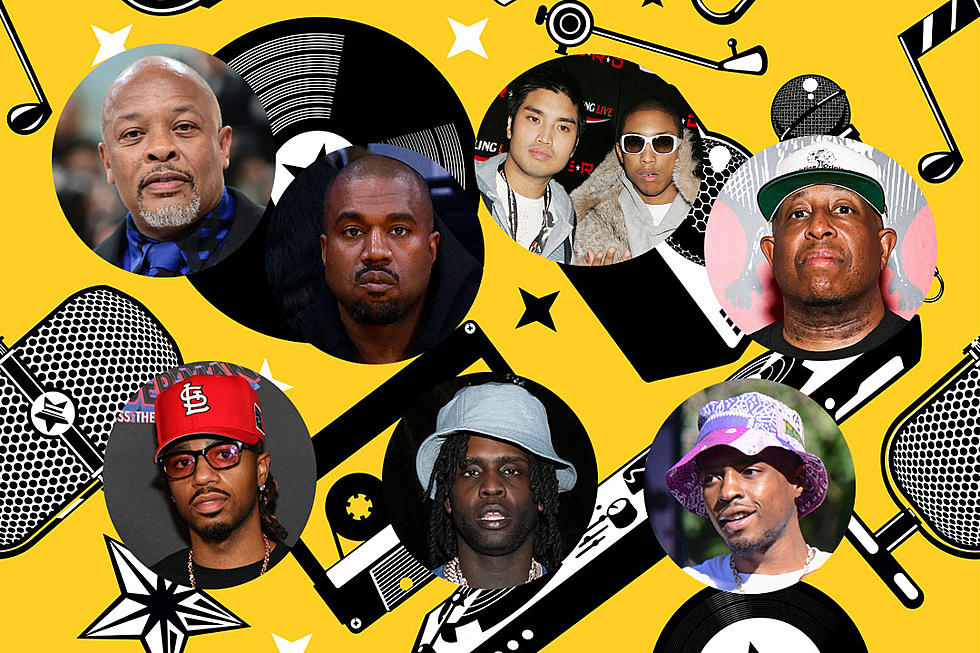 50 of the Greatest Hip-Hop Beats
Dimitrios Kambouris/Getty Images for The Met Museum/Vogue/Ronald Martinez/Jo Hale/Getty Images (2)/Jamie McCarthy/Getty Images for BACARDÍ Rum/Paras Griffin/Getty Images for Sony Pictures Releasing/Photo by Bennett Raglin/Getty Images for BET/Lisa Lake/Getty Images for Roc Nation
A good beat will stand the test of time; a great beat will transcend it and catapult the listener to the exact moment and place where they first heard it. From hip-hop's humble Bronx beginnings to the global phenomenon it is today, the genre and the way rap music is made has continuously evolved.
Back in the day, it took the ingenious inventions of pioneers like Grandmaster Flash, Grand Wizzard Theodore and DJ Kool Herc to craft a beat for an MC to ride. As a kid, Flash would spend hours dissecting TVs, radios, cassette decks and stereo receivers he'd unearthed from a local junkyard. It's this curiosity that eventually led him to coining the "quick-mix theory," now one of the most commonly used DJing techniques in turntablism. But with the advent of the internet, making a beat is as simple as pulling up a program and pressing a few buttons. However, to create a beat that will cut through the inevitable noise takes a special touch.
With 50 years of hip-hop being celebrated over the last 10 months, it's only right to highlight 50 of the greatest hip-hop beats crafted across five decades of the genre. Among them is the unmistakeable opening bass line from A Tribe Called Quest's "Scenario," the late, great J Dilla's subtle use of Quincy Jones' "Summer in the City" for The Pharcyde's "Passin' Me By," the infectious thump of Kendrick Lamar's "Humble." and raucous roar of Travis Scott's "Sicko Mode." While hip-hop may always transform, one thing's for certain: the beat goes on. Check out 50 of the greatest hip-hop beats, in no particular order, below.
"The Message"

Grandmaster Flash and The Furious Five

Produced by Duke Bootee and Sylvia Robinson.

Produced by Daddy-O and Audio Two.

Produced by Dr. Dre.

"93 Til Infinity"

Souls of Mischief

Produced by Domino, Del the Funky Homosapien A Plus, Casual and Jay Biz.

"Shook Ones Part 2"

Mobb Deep

Produced by Havoc.

"Still Tippin'"

Mike Jones featuring Slim Thug and Paul Wall

Produced by Salih Williams.

"Dirt Off Your Shoulder"

Jay-Z

Produced by Timbaland.

"Through the Wire"

Kanye West

Produced by Kanye West.

"I Really Mean It"

Diplomats

Produced by Just Blaze.

Produced by RZA.

Produced by Murda Beatz.

Produced by DJ Quik, G-One and Robert Bacon.

Produced by Ski.

"Elevator (Me & You)"

OutKast

Produced by OutKast.

"Stay Fly"

Three 6 Mafia featuring 8Ball & MJG and Young Buck

Produced by DJ Paul and Juicy J.

Produced by Dot Da Genius and Kid Cudi.

Produced by Tarentino.

"It Was a Good Day"

Ice Cube

Produced by Ice Cube.

"All About the Benjamins"

Puff Daddy featuring The Lox and Lil' Kim

Produced by D-Dot.

"Dreams and Nightmares"

Meek Mill

Produced by Tone the Beat Bully.

"Swagga Like Us"

T.I. and Jay-Z featuring Kanye West and Lil Wayne

Produced by Kanye West.

Produced by Chief Keef.

Produced by Tone Capone.

Produced by The Neptunes.

"Bad and Boujee"

Migos featuring Lil Uzi Vert

Produced by Metro Boomin.

Produced by Swizz Beatz.

Produced by Lil Jon.

"Drop It Like It's Hot"

Snoop Dogg

Produced by The Neptunes.

"They Reminisce Over You (T.R.O.Y.)"

Pete Rock and CL Smooth

Produced by Pete Rock.

Produced by Fugees and Jerry Wonda.

"N***as In Paris"

Kanye West and Jay-Z

Produced by Kanye West, Mike Dean, Hit-Boy and Anthony Kilhoffer.

Produced by Timbaland.

Produced by Mike WiLL Made-It and Pluss.

Produced by Pi'erre Bourne.

Produced by KLC.

"Passin Me By"

The Pharcyde

Produced by J Dilla.

Produced by Rojas and Jimmy Duval.

Produced by Dr. Dre with co-production by Mike Elizondo.

"Sicko Mode"

Travis Scott featuring Drake

Produced by Rogét Chahayed, Hit-Boy, Oz, Cubeatz, Tay Keith and Mike Dean.

"Lean Back"

Terror Squad featuring Fat Joe and Remy Ma

Produced by Scott Storch.

Produced by Bangladesh.

"Flava in Ya Ear"

Craig Mack

Produced by Easy Mo Bee.

Produced by Salaam Remi.

Produced by 30 Roc.

"Hard in Da Paint"

Waka Flocka Flame

Produced by Lex Luger.

Produced by Dr. Dre.

Produced by DJ Premier.

"Who Shot Ya"

The Notorious B.I.G.

Produced by Puff Daddy with co-production by Nashiem Myrick.

"Victory"

Puff Daddy featuring The Notorious B.I.G. and Busta Rhymes

Produced by Puff Daddy, Stevie J and the Hitmen.

"Scenario"

A Tribe Called Quest

Produced by A Tribe Called Quest.