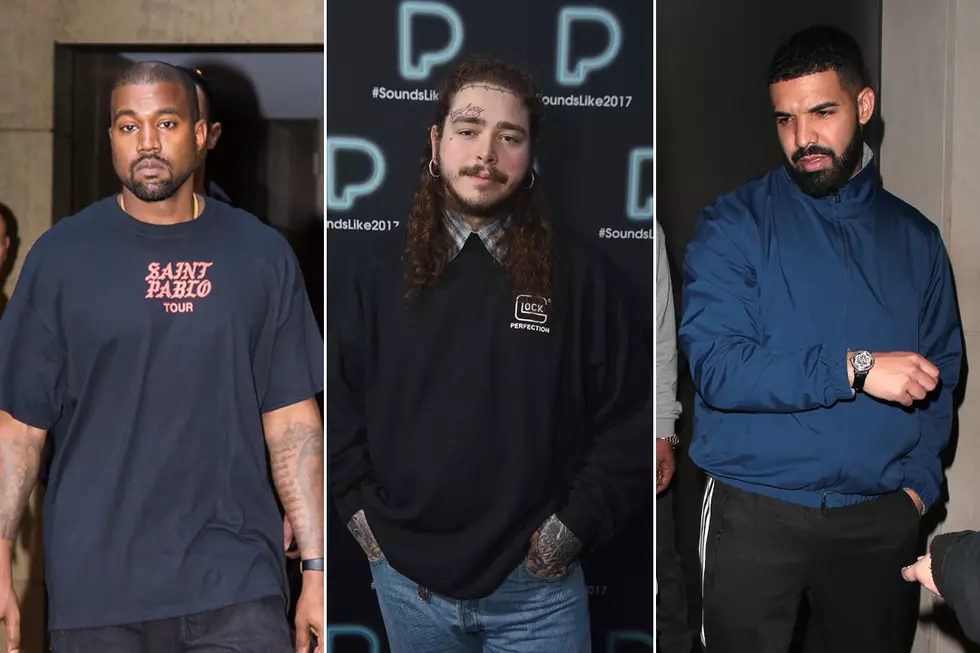 94 Hip-Hop Artists Going Platinum in 2018
Alessio Botticell / GC Images / Theo Wargo / Ricky Vigil M, Getty Images (3)
On the day that the Texas artist's new LP was released to the world (April 27), Charts & Data tweeted out a report indicating that it'd already qualified for platinum status because of the success of singles like "Rockstar" and "Psycho," which had dropped prior to the album that house them.
Post's success speaks to the changing landscape of the music industry, a world that's now dominated by streaming. The technology has helped releases both new and old. Cardi B's 21 Savage-assisted single "Bartier Cardi" earned its platinum plaque on March 30. 6ix9ine's breakout single, "Gummo," accomplished the same feat weeks earlier, on March 5. Tay-K's "The Race" reached that milestone at the top of the year.
Streams are giving plenty of older bits of music a new pair of legs, too. That's a conclusion you can draw for yourself when you realize that "My Dick"—a jokey song concocted by Mickey Avalon some 12 years ago—has just earned itself a platinum plaque.
On the more notable side of the streaming boost beneficiaries are folks like Eminem, A$AP Rocky and Kid Cudi. Having a themselves a very late resurgence, Eminem's early 2000s tracks, "The Way I Am" and "Superman" earned platinum plaques from the RIAA earlier this year. Cudi's 2010 album Man on the Moon II: The Legend of Mr. Rager took home the hallowed certification in March. Rocky's At.Long.Last.A$AP album, which dropped back in the spring of 2015, recently earned its platinum status, as well. And Logic's Everybody album, which was released last spring, went plat at the end of March. We see you, Logic. We see the rest of hip-hop's newest platinum-selling artists, too.
Check out others going platinum in our gallery below.
94 Hip-Hop Artists Going Platinum in 2018