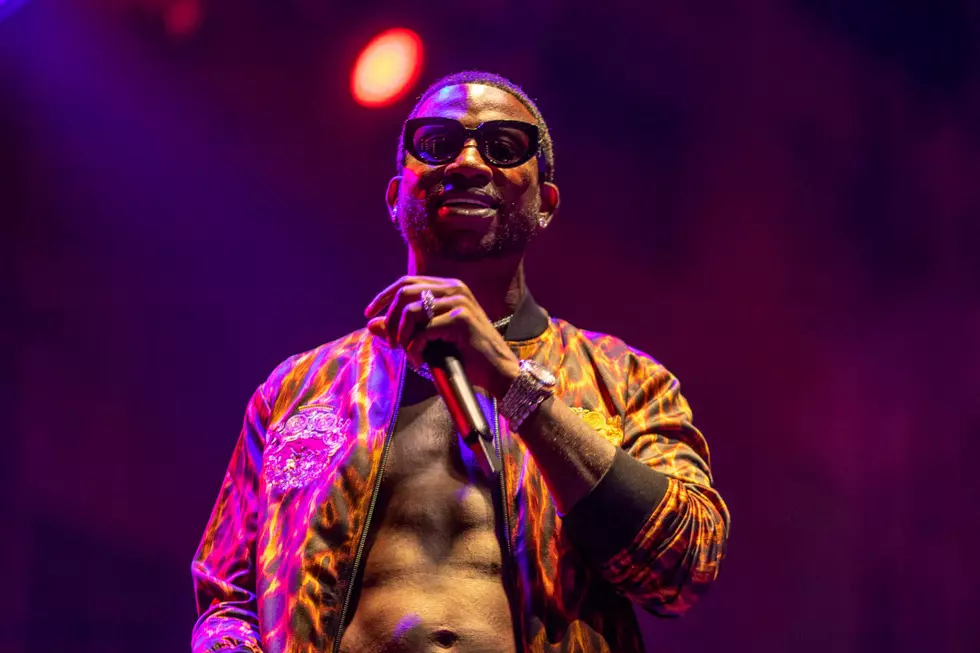 Gucci Mane's Name Gets Big Typo on 2019 Coachella Flyer
Christopher Polk, Getty Images
UPDATE: A rep for Coachella has confirmed to TMZ that the name Gucci Gang overlaid onto an image of Gucci Mane was not a typo. Coachella's page for the festival lineups has since been updated with a three-way split image of GuWop, Pump and Purpp. None of the artists have publicly spoken on the possibility of them taking the stage together at 2019 Coachella, but it looks like fans' theory that they'd be performing as the group Gucci Gang (named after popular Pump's 2017 single) when the festival arrives could be an accurate one.
Late yesterday (Jan. 2), organizers for the 2019 Coachella announced the names of performers for this year's iteration of the annual festival. Within moments, though, fans noticed a big type in Gucci Mane's name.
On the website an image of Guwop himself crosses the screen along with the overlaid words "Gucci Gang." The only problem is that there's no artist or group of artists with that name. It seems clear that the festival's organizers meant to write Gucci Mane, and people quickly took notice.
Some fans thought that 2018 XXL Freshman Lil Pump would hit the stage with GuWop to announce a theoretical group with Guwop and Smokepurpp called Gucci Gang. As you probably know, Gucci Gang" is the name of Pump's biggest single. We'll probably just have to wait and see.
News of Coachella's Gucci Mane typo comes after the Evil Genius rapper questioned why Eminem is referred as the "King of Rap." During a recent interview on the Rickey Smiley Morning Show, the topic of the Detroit rapper came up, and La Flare questioned why he gets to wear the crown when he doesn't even play his music in his car.
"You got to come up with a better name," Gucci said. "I ain't playing him in my car. You playing him in yours?"
At the time of this report, Coachella hasn't updated their website or flyer. Gucci Mane hasn't responded to the mix-up neither. The "I'm Not Goin'" rapper is still expected to perform at the festival.
XXL has reached out to Coachella for comment.
See Photos of Gucci Mane's Different Looks Over the Years