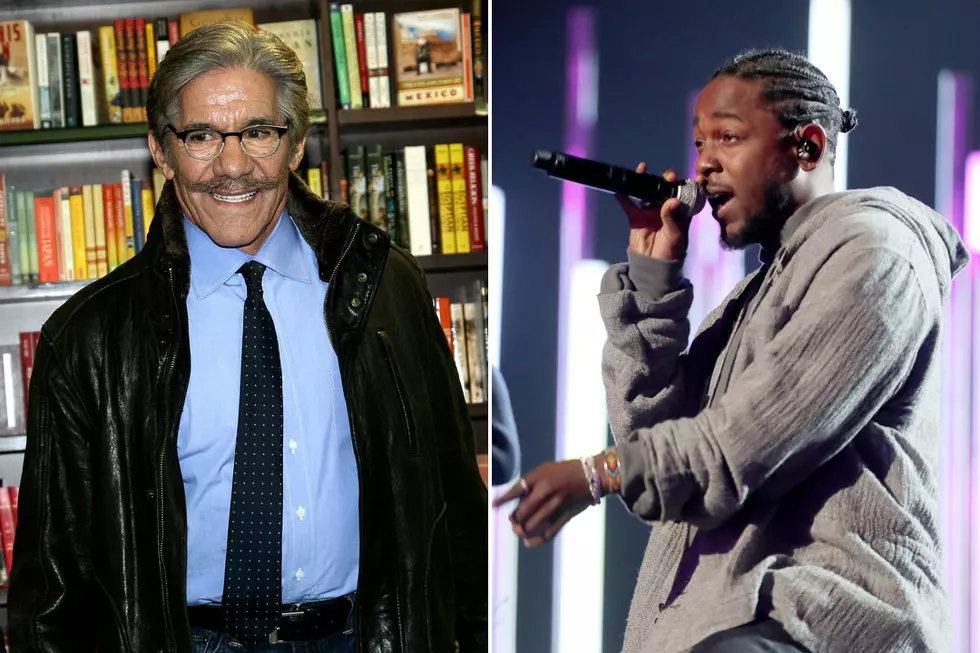 Fox News' Geraldo Rivera Thinks Kendrick Lamar Is the Best Rapper Out Today
Steve Mack / Christopher Polk, Getty Images (2)
Anyone who has listened to Kendrick Lamar's new album DAMN. knows the rapper sampled a clip of Fox News' Geraldo Rivera criticizing K. Dot for an anti-police message. Earlier today (April 14), Rivera responded to his inclusion on the album and even praised Kendrick as the best rapper in hip-hop today.
"Aside from Drake, in my opinion, [Kendrick is] probably the best hip-hop artist out there today," Rivera said on his podcast. "I didn't particularly care for the way he mentioned me."
Rivera then played a clip of Kendrick's song "YAH," which name drops the television personality and his employer. From there, Rivera went on a diatribe about his original point regarding hip-hop's attitude towards police. Rivera downplayed the pervasiveness of police brutality and racial profiling while claiming that hip-hop was a negative force on young Black and Hispanic people.
"It seems to me that with Kendrick Lamar – and he's the best of 'em, like I said. The others far more egregious, with them, indoctrinating young people with the message that the cops are the enemy, that there's no good way to get ahead," Rivera said. "It's the worst role model. It's the worst example. It's the most negative possible message. And what's the point of it? I mean, you sell records. I get that. You sell records. I get that this stuff is popular, but it avoids the central reality, just as Black Lives Matter avoids the central reality."
Rivera capped off his podcast by stating that he had no problem with Kendrick before chastising hip-hop one last time.
"I have no beef with Kendrick Lamar, anyone else in the business, but if you don't have a positive attitude, you're dooming yourself to a life that you profess to despise," Rivera said.
Check out all of Rivera's comments about Kendrick and hip-hop below.
Here Are the 2017 Hip-Hop Music Festivals You Need to See