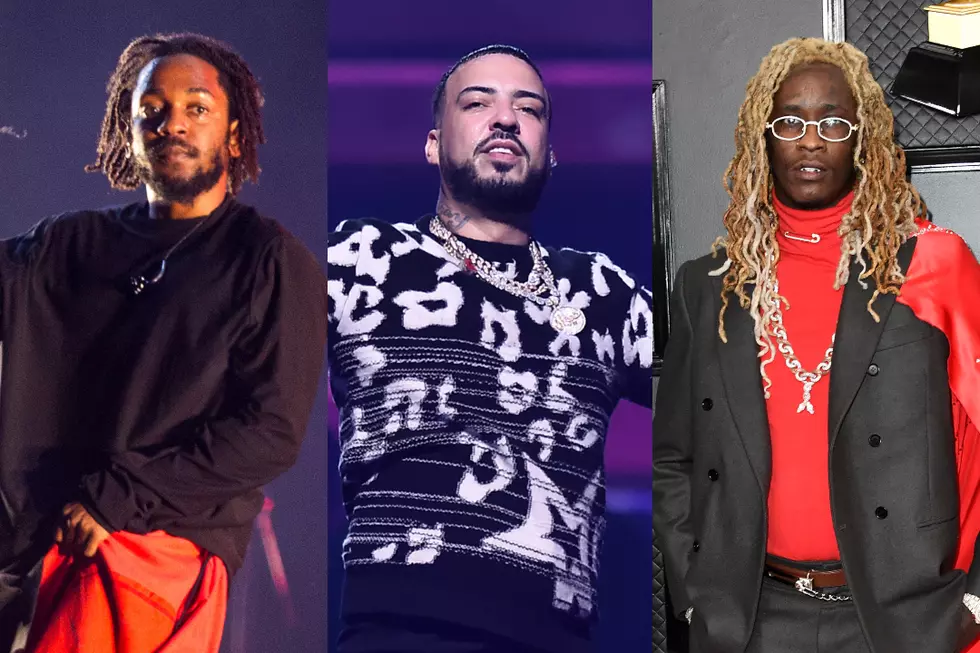 Young Thug Calls Out French Montana for Claiming to Have More Hits Than Kendrick Lamar
Santiago Bluguermann / Steven Ferdman / Frazer Harrison/Getty Images (3)
On Tuesday night (April 21), French claimed on Twitter that he has more hit records than the TDE rapper. "IF WE JUST TALKING ABOUT ANTHEMS, !! ME VS KENDRICK HIT FOR HIT ! I BELIEVE I CAN GO NECK TO NECK !! I BEEN MAKING HITS FOR A LONG TIME ! IT AINT MY FAULT I BELIEVE IN MYSELF. HOW WAS I SUPPOSED TO ANSWER THAT QUESTION ? HOW MANY TIMES I GOTTA PROVE MYSELF BEFORE I GET MINE," Montana wrote.
Then, early Wednesday morning (April 22), French listed off a number of his songs on Instagram for a potential IG Live battle with K-Dot. Shortly after, Young Thug chimed in on his Instagram story, addressing French's claims. "Stupid ass nigga said he got more hits than Kendrick Lamar," Thugger says before chuckling.
Moments later, French Montana uploaded an alleged photo of Young Thug wearing a skirt. "HAD TO WEAR THE SKURT TO TUCK THE SCAT LINE UP HAVE CHANGED YOUNG THUG VS FRDNCH MONTANA HITS SINCE YOU WANNA JUMP IN SOME SHIT THAT HAD NOTHING TO DO WITH YOU ! DONT TALK MONEY TO ME MY BOI !! THAT'S REALLY YOU UP THERE," French wrote in the comment of the since-deleted Instagram post.
French then posted a video on his Instagram story thanking Thugger for wearing a skirt in his "No Stylist" video, which dropped in 2018. "Aye Thug man, thank you for wearing that skirt for me on "No Stylist." You heard? Hold the cap. Fuck with you though. But, worry about 21 Savage before me and Kendrick, you heard?," said French Montana.
Young Thug responded to French, saying that he was speaking from an artist's perspective regarding him not having more popular records than Kendrick. "French Montana, bitch ass nigga," he began. "Listen, bro. Get out of your feelings. I'm only speaking from an artist standpoint. You do not have nowhere near more hits than Kendrick Lamar, whatsoever. You probably won't ever have more hits than buddy. So, get that out of your head. I don't know what you're taking, but get that out of your head."
Thugger also addressed Montana's comments about 21 Savage. "Second of all, I got off the phone with Savage," he continued. "I told him I was coming to fuck with him in Atlanta for a few days. I was 'posed to got on the jet yesterday and I was supposed to get on the jet today, but I ain't make it. So, that's why he put up I'm in the Hall of Cap. We don't got no smoke with each other, pussy."
The Atlanta native added that he wore the dress in French's music video to show support for his fellow rapper. "Third of all, that's what I even get for fucking with niggas like you," Thug added. "I wore that dress in your video just to show love and support because I only put that dress on when it's real…when I feel like it's real love or I feel like this what it's supposed to be. That's the only time I do that type of shit. 'Cause I thought it was love, but that's the thanks I get for fuckin' with pussy niggas like you. But, it's OK. I know you smoke dope."
Thugger wasn't finished. In another Instagram video, he told Montana that he isn't even going to feed into the back-and-forth. He said, "Stay in yo lane, I stay in my lane, bro. You ain't even on my level when it come down to getting no business handled or none of that. You a bitch, bro. I'm not finna argue with you on no internet, I'm not finna argue with no rap nigga on the internet. No none of that because I know that's what the critics and the White people and the mufuckin' society, I know that's what they want. Nigga that's what they get a rush off. So, I don't even wanna have no problems. Not problems, I love problems. I don't even wanna have no back-and-forth internet smoke with none of you pussies. Especially no nigga like you, bro."
In a separate clip, Young Thug called French out for allegedly having a fake Bugatti, "cheesy ass jewelry" and a house with a pool that he'll "get put out of in the next two, three years." Thugger also claimed that Montana blocked him from his Instagram page, but said that he is using a fake account to look at French's IG. Thug later spoke on the image Montana uploaded to Instagram, in which he claimed the Atlanta rapper wearing a skirt, saying that it wasn't him in the photo.
Thugger then brought Meek Mill into the mix, saying in a video that he was going to call the Philadelphia rapper to get a hold of an alleged video of French getting "knocked out." Montana questioned the video Young Thug was referring to and offered $1 million for the footage.
Young Thug took another jab at French, uploading a video of him sitting on a car, in front of a home that Montana reportedly used to own, seemingly supporting Thug's claim that the rapper is broke. In the IG post, Thugger said, "This is the house #AuntieFrench owned once upon a time. Dam thought I had something to do tonight."
French and Thugger threw a number of disses at each another on Wednesday, but it's uncertain if the dust has settled between the two.
See 15 Rappers With the Best Gimmicks of All Time