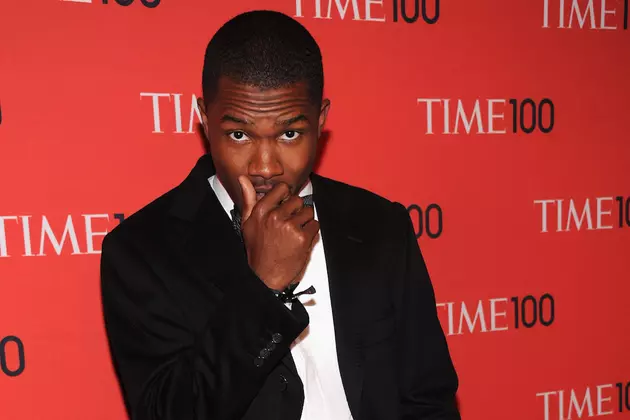 Frank Ocean Drops New Song "Chanel" and a Remix Featuring ASAP Rocky
Jamie McCarthy, Getty Images
The second episode of Frank Ocean's blonded RADIO on Beats 1 featured new music from the critically-acclaimed crooner. Ocean debuted the new song "Chanel," and later premiered the remix featuring A$AP Rocky.
The song features a subdued track that finds Frank riding the audio wave in a type of stream of consciousness flow. "My guy pretty like a girl/And he got fight stories to tell/I see both sides like Chanel/See on both sides like Chanel/Swimming laps through pool water/Heated like I'm underworld/Hide my tattoos in Shibuya/Police think I'm of the underworld/12 treat a nigga like he 12/How you looking up to me and talking down?/Can't you see I am the big man? (Big man)/God level, I am the 'I Am,'" Franks croons on the first verse.
On the remix, which contains the same beat, Rocky follows Frank's rhyme pattern, bringing up the rear with the last verse, rapping, "Our lives are factual and actual/Plus you natural and match well/Virgins on my back look like a shell/Purple act, I'm moving like a snail/Both sides even like equal/Both eyes gleaning like a scale/Green and blue, hundreds turning tale/Green and blue, money colored tales/Was such a good guy to Chanel/'til she caught me sleeping with Charel/The Range, Royce, ring, like Pharrell/Bling so she see that I'm for real."
Ocean later revealed the lyrics to the single on his Tumblr page (below).
Frank dropped his latest projects Blonde and Endless in 2016, after a four-year break between his debut channel ORANGE. It appears as though we wont have to wait that long this time for the followup. The "Pink + White" singer is already working on new music, with John Mayer, who has heard some of Ocean's latest, recently revealing that Frank's new wave sounds like "future reggae."
A$AP Rocky is working on his own solo project. Check out everything we know about the LP here.
http://frankocean.tumblr.com/image/158255593536
20 of Your Favorite Rappers Naming Their Favorite Rappers