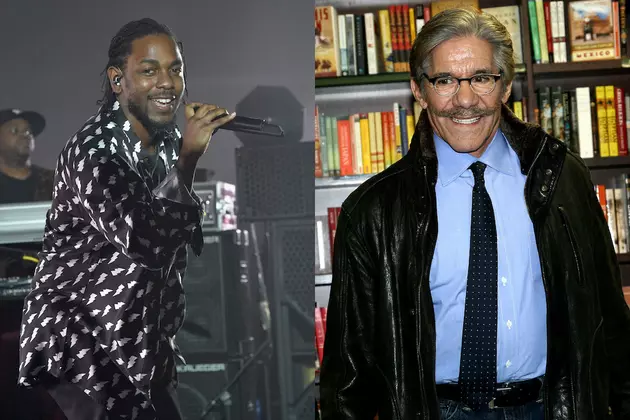 Watch the Fox News Clip Kendrick Lamar Sampled on 'DAMN.'
Bryan Bedder/Steve Mack, Getty Images (2)
Fans are ecstatic to finally receive Kendrick Lamar's highly-anticipated DAMN. album, and there's already a lot of discussion on the Internet behind some of the messages and samples. While the leaking of the project has already been enough to talk about, the first two tracks of the album, "BLOOD." and "DNA.," feature a throwback clip from Fox News, where the commentators criticize the Compton rapper's 2015 BET Awards performance.
The sampled audio used at the end of "BLOOD.," and throughout "DNA," features renowned host Geraldo Rivera, who takes shots at the To Pimp A Butterfly MC for his performance that was meant to send a message to crooked cops and address the racial tensions within the country. In the interview, Rivera criticizes Lamar for promoting anti-police messages, and goes as far as blaming hip-hop for damaging the black community. He states, "Hip-hop has done more damage to young African-Americans than racism in recent years." Shortly after that interview, Lamar responded to the controversial commentator by explaining, "Hip-hop is not the problem. Our reality is the problem."
In another song from DAMN., "YAH.," K. Dot rhymes about the Fox News segment, rapping, "Fox News wanna use my name for percentage/My latest news is my niece, she's worth livin'/See me on the TV and scream, 'That's Uncle Kendrick'/Yeah, that's the business/Somebody tell Geraldo this nigga got some ambition." So far, there's no word on what Rivera or the network think about the lyrics, but a rebuttal might be coming.
Watch the Fox News clip below that Kendrick sampled on his album to see what Rivera said.
Here Are the 2017 Hip-Hop Music Festivals You Need to See