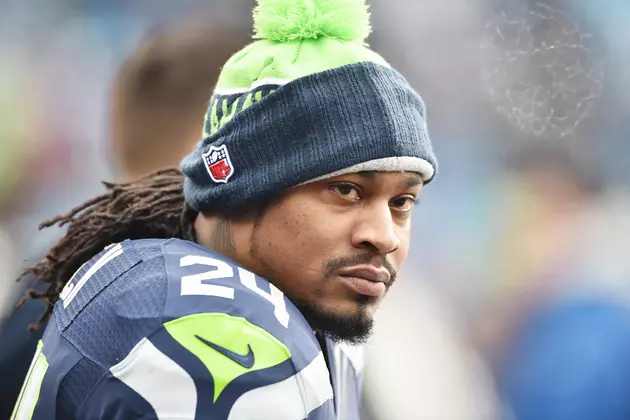 20 Great Rap Lyrics for Die-Hard Football Fans
Ronald C. Modra/Sports Imagery, Getty Images
Sports like basketball and boxing are more likely to get compared to rap as an art form in sentiment, but that doesn't mean that football isn't also a major staple in the world of hip-hop. If you were to ask any rapper what they'd probably be doing if they had a Sunday free during the fall, one of the more popular answers would surely be watching football. According to most hip-hop fans, it's a national past-time in the U.S. Despite the worries surrounding the safety of the game, football, particularly that of the NCAA and NFL variety, continues to captivate the nation every weekend and on select weekdays during the season and that includes many rap artists, along with their fans.
While, on face value, the NFL as a league, and, as an extension, the NCAA seemingly shuns the individualism and flashy bravado that hip-hop embodies, many of the participants that actually play the games and are the true faces of the league are not only rap junkies, but grew up within the culture. Two early examples of football and hip-hop colliding are the 1985 Chicago Bears squad, which recorded a now iconic rap song and video titled "The Superbowl Shuffle," and the late 1980s University of Miami Hurricane football squad, which would also take the nation by storm and create controversy due to their affiliation with 2 Live Crew leader Uncle Luke.
Simply put, hip-hop's relationship with football is a two-way street, with many of rap's kings displaying their fandom and admiration for their favorite teams and gridiron warriors through rhyme, and with the players themselves returning that energy and appreciation in full. With the NFL Playoffs underway, and in celebration of rap's deep connection with football, we've compiled 20 great football references in rap history from the likes of Cam'ron, Lil Wayne, Drake and more.
1

"The Chase, Part II"

A Tribe Called Quest

"Sit back and learn, come now watch the birdie/Your styles are incomplete, same as Vinny Testaverde/Battling, whenever -- hot damn/Give me the microphone bwoy, one time, bam!" -- Phife Dawg

2

"Get Dealt With"

Mobb Deep

"We got to take position, ready for faceoff/We blitz like Dallas in the Super Bowl face off/We form like niggas in the yard up North/With long swords, ready for war, who paid cost/And take ya life lost, never found again boss" -- Prodigy

3

"Dipset Anthem"

The Diplomats

"I'm on the Westside of Chicago, lookin' for a bust down/And make me put my two arms up, touchdown!/You stay in touch now, but when I tough down/I'm like Buckshot shorty, you better Duck Down" -- Cam'ron

4

"Green and Yellow"

Lil Wayne

"Huh, big Gs on the helmet/Steel Curtain, what is that, velvet?/If we win, I'ma throw a Super Bowl party/And blow a cigar like Vince Lombardi/I'm in Wisconsin, smoking Amsterdam/Yeah, I'm from New Orleans but I've been a Packers fan"

5

"Smuckers"

Tyler The Creator Featuring Kanye West

"They say I'm crazy, but that's the best thing goin' for me/You can't lynch Marshawn if Tom Brady throwin' to me/I made a million mistakes, but I'm successful in spite of 'em/I believe you like a fat trainer takin' a bite or something" -- Kanye West

6

"Pound Cake/Paris Morton Music 2"

Drake Featuring Jay Z

"Yeah, after hours of Il Mulino/Or Sotto Sotto, just talkin' women and vino/The contract like '91 Dan Marino/I swear this guy Michael Rapino's boosting my ego" -- Drake

7

"Niggas tried they best to hurt me, come and catch the birdie/I'm Tom Brady, you a Testeverde/Yeah, old, washed-up with no arm strength/He don't show no remorse, he ain't got a conscience"

8

"Take You Home With Me a.k.a Body"

Jay Z and R. Kelly

"I crept up behind her/Mami threw it like a quarterback, I caught that like Rice/I call mami Montana, bandana/Tied her hands up -- this is gangsta love" -- Jay Z

9

"Wu-Tang Clan Ain't Nuthing ta Fuck Wit"

Wu-Tang Clan

"Put the needle to the groove I gets rude and I'm forced/To fuck it up, my style carries like a pick-up truck/Cross the clear blue yonder, sea to shining sea/I slam tracks like quarterback sacks from L.T." -- Inspectah Deck

10

"Met her in San Diego at the Super Bowl party/Had the Henny, sipped it up with Terrell Davis/MVP, we flicked it up from Sports Illustrated/I was silked out, flossing with Stoute, he had the gators/When she walked in, she lit up the room like Las Vegas/Terrell said her man's a fullback for the Raiders/A drunk who'd fuck cheerleaders and wind up in the papers"

11

"Da Art of Storytellin' (Part 4)"

OutKast

"I started off starvin'/Now they got me out here Brett Favre'n/Tryna see if I still got it (got it)/I guess it's like a bike, think about it" -- Andre 3000

12

"40 Bars of Terror"

Jadakiss

"And I'm out ta get a gallon ah water/My man on lock down but Flood the Island with quarters/Move work from Denver to D.C. like Portis/O.T. the whole winter see me like august/And I still rip a nigga beat like I bought it"

13

"The Wrong Nigga to Fuck With"

Ice Cube

"Stop givin' juice to the Raiders/'Cause Al Davis never paid us/I hope he wear a vest/It's all about the L-E-N-C-H, y'all know the rest"

14

"Comprehend the guidelines/My chest out chinchilla all relaxed on the sidelines/I'm so famous/Understand, New York City respects my game like Joe Namath/And I protect my name like your anus"

15

"100 Bars and Runnin'"

The Game

"Holla if you wanna die that bad, I bust guns that fast/And I rock my rag, like it's '88 and niggas still rockin' Shaft/So put the hundreds in the bag/Or I'ma put the eagle to your helmet/And the fifth to your chest like Donovan McNabb"

16

"We don't talk on the phone 'cause it might stick/Gotta play for the seven, call it Mike Vick/Dirty birds, nigga, we play wit' dem Falcons/Know some niggas in the Decatur that pay for dem falcons"

17

"What's Your Fantasy"

Ludacris Featuring Shawna

"I wanna get you in the Georgia Dome on the 50 yard line/While the dirty birds kick for t'ree/And if you like in the club, we can do it/In the DJ booth or in the back of the V.I.P." -- Ludacris

18

"What Hip-Hop Is"

Immortal Technique

"And I'm 200 proof chockin' a local youth in his homemade vocal booth/You're a fucking incompetent killer like Rae Carruth/And I'm Technique, the rawest nigga ever produced/I spit nastier than regurgitating period juice/So burn your fucking rhyme book, stay warm, and put it to good use"

19

"The M.G.M."

Raekwon and Ghostface Killah

"Popcorn spilling all on Liz Claiborne/(Ghost had the fly Gucci mocks wit no socks on/Seen Deion Sanders in the back with the phat fur on)/Working them hoes with the fly Wu shirts on/Mixed drink session Dun (Pour me some more)/Chef leathered down blinking at Chanté Moore" -- Raekwon

20

"Take 'Em to War"

MF Grimm Featuring MF Doom

"Forty-four mag, bustin into action/Brains left in particles, fragments and fractions/Grimm, the money stacker, heat packer/I'm lurkin, I'm waitin, attackin like a linebacker" -- MF Grimm