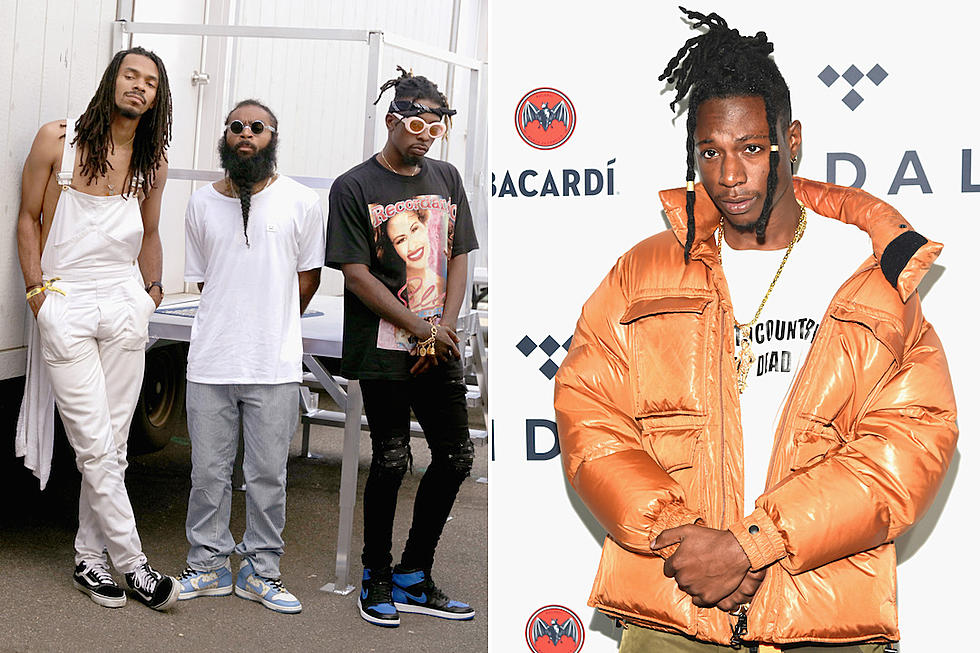 Flatbush Zombies' 'Vacation in Hell' Album Tracklist Includes Joey Badass and More
Rebecca Smeyne/Mike Coppola, Getty Images (2)
We're a little less than a month away from getting to hear Flatbush Zombies' anticipated Vacation in Hell album, and now we know what to expect. Yesterday (March 12), the Brooklyn hip-hop collective unveiled the project's official tracklist on Twitter, which includes features from Joey Bada$$ and other major names.
Juice, Meechy and Erick are recruiting rap stars such as Denzel Curry, A$AP Twelvyy, Nyck Caution, Jadakiss, Bun B and more. They also revealed the production credits for each track, which includes Zombies member Erick the Architect on majority of the records, along with Hector Delgado, Tyler Dopps, Kirk Knight and Portugal. The Man.
The music group will be releasing Vacation in Hell on April 6, but they've already given fans a preview of the project through their "Headstone" single and music video that dropped last month. Flatbush Zombies' new studio LP will follow in the footsteps of their 2016 album, 3001: A Laced Odyssey, which debuted in the top 10 of the Billboard 200 album chart.
Check out the complete tracklist for Flatbush Zombies' Vacation in Hell album below.
Flatbush Zombies' Vacation in Hell Tracklist
1. "HELL-O" (prod. by Tyler Dopps)
2. "Chunky" (prod. by Erick the Architect)
3. "Vacation" Featuring Joey Bada$$ (prod. by Erick the Architect and Tyler Dopps)
4. "M. Bison" (prod. by Erick the Architect)
5. "Headstone" ((prod. by Erick the Architect)
6. "Big Shrimp" (prod. by Kirk Knight)
7. "Leather Symphony" Featuring A$AP Twelvyy (prod. by Erick the Architect)
8. "Reel Girls" Featuring Bun B (prod. by Erick the Architect)
9. "Facts" Featuring Jadakiss (prod. by Hector Delgado)
10. "Ask Courtney" (prod. by Portugal. The Man)
11. "Crown" Featuring Portugal The Man (prod. by Erick the Architect)
12. "Proxies" (prod. by Erick the Architect)
13. "U&I" Featuring Dia (prod. by Erick the Architect)
14. "The Goddess" Featuring Dave B (prod. by Erick the Architect)
15. "Trapped" (prod. by Erick the Architect and Anthony Flammia)
16. "Best American" (prod. by Erick the Architect)
17. "Misunderstood" Featuring Nyck Caution (prod. by Hector Delgado and Erick the Architect)
18. "YouAreMySunshine" (prod. by Erick the Architect)
19. "The Glory" Featuring Denzel Curry (prod. by Erick the Architect)
See the Full Tracklist and Production Credits for Flatbush Zombies' Vacation in Hell Album