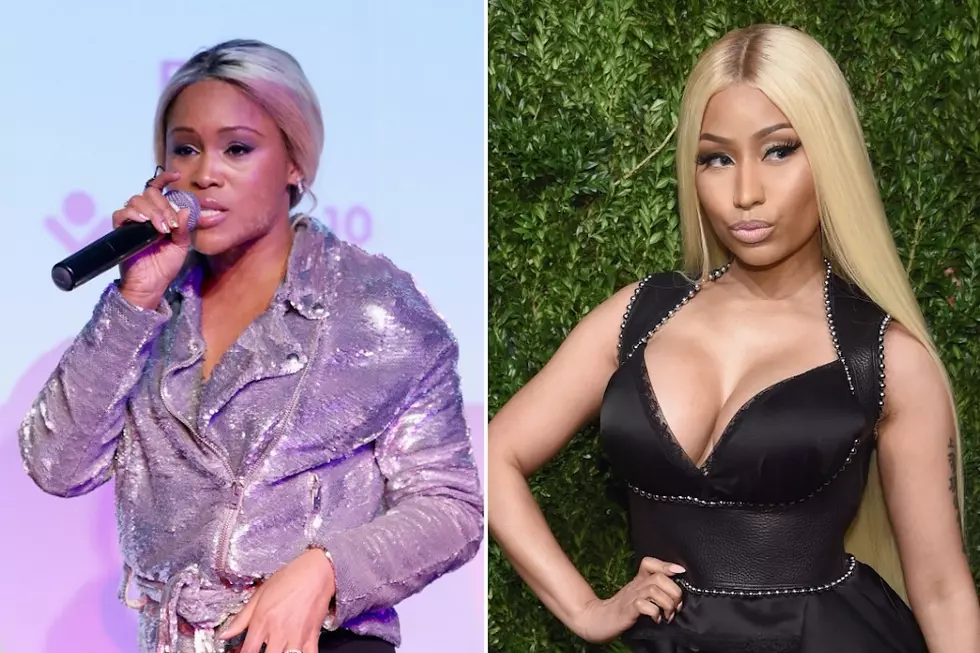 Eve Criticizes Nicki Minaj's Eye-Popping Paper Magazine Cover
Cindy Ord/Dimitrios Kambouris, Getty Images (3)
Nicki Minaj has done her fair share of sexy photoshoots in her career, but her recent spread with Paper Magazine might take the cake. The raunchy new shoot displays the Queens rapper in a "minaj a trois" with three versions of herself, and tons of people have their fair share of thoughts on it, including Eve.
The former First Lady of Ruff Ryders addresses Nicki's spread in the magazine during her new hosting stint on The Talk, sharing some criticism over the pictures. Eve believes that it's not a good look for the "No Frauds" MC, being that so many young girls look up to Nicki, and it isn't the best way to be a role model.
"I worked with Nicki, I got to know her on 'Barbershop,' Eve begins. "She's a nice person, she's an amazing rapper, and as a lyricist I respect her…but as a woman, from my point of view, personally, I would not be able to do that. I think in this climate, it's not good. I think every artist has a right to express themselves however they want to express themselves and I respect that as well. For me personally, as I started coming up in the business, I started realizing that young girls were looking up to me and younger people were looking up to me, and that, not that you want to be a role model, but it becomes what you become, it is what you are."
The 39-year-old entertainer also wants to encourage Nicki to be more uplifting to younger girls, helping them to find their voice without showing their bodies off.
"As I've gotten older…I'd just rather be a voice that's uplifting," she continues. "I can be a voice for those girls that might not have a voice, in a different way without showing myself off…For the Nicki fans, I love her, respect her. Go women in hip hop. It's not my thing. I just don't think it's right. Personally. Period. That's it."
After facing some backlash for her comments on the matter, being that Eve was previously an exotic dancer before coming into her stardom as a rapper in the 90s, she clarifies her statements on Twitter.
"A lot of ya'll need to calm down AND LISTEN to what I said," she tweets. I am speaking from the place I am TODAY as WOMAN and how I feel NOW!!!
See the video of Eve's response to Nicki's Paper Magazine spread below and Eve's tweet response to the backlash.
See New Music Releases for November 2017