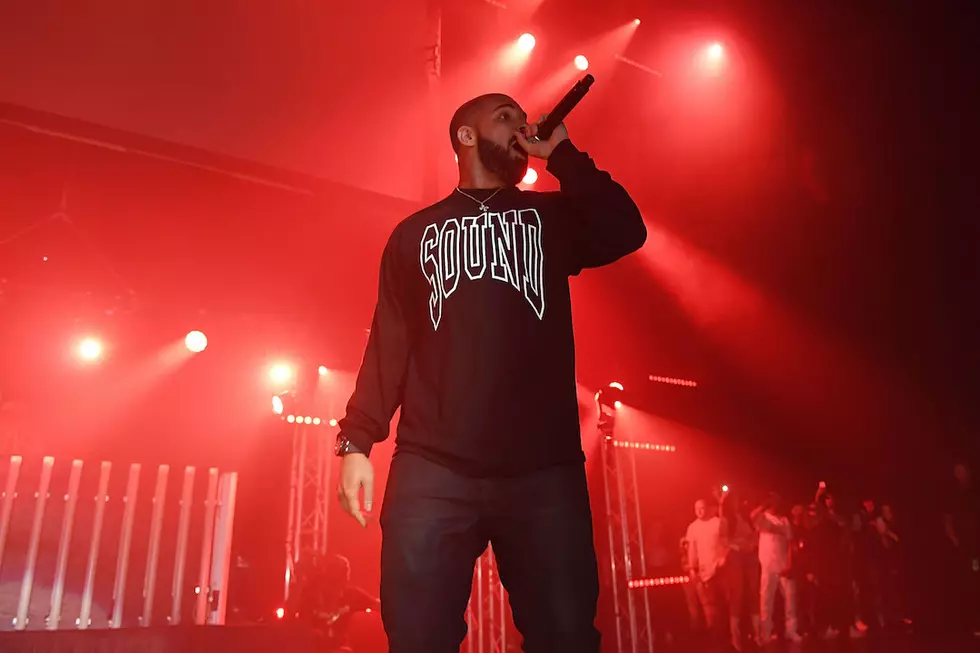 Drake Does Mac Dre's Thizzle Dance in Oakland
Paras Griffin, Getty Images
Drake tried to do Mac Dre's Thizzle Dance during a performance in the Bay Area. The Toronto rapper was in Oakland last night (Sept. 13) as part of his Summer Sixteen Tour and decided it was the right time to bust out the dance. You can watch Drake doing the Thizzle Dance in the above video.
This attempt at the dance has not been well received on social media. Many have criticized Drake's abilities to do the Thizzle Dance which Mac Dre created back in 2002. The lyrics to the Bay Area legend's "Thizzle Dance" song describe how to accurately perform the dance.
"First, I do like this/Put a look on my face like I smelled some piss/Bounce to the beat till it start to hurt/Then I dust all the smirk off me shirt/Dip to the ground as I catch the bass/Then I wipe all the sweat off me face/Hop back up then I start to slide/Popping my collar as I glide/Then I break the thang down and do The Bird/Dust myself off like I just stole third," Mac Dre raps.
Drake's Thizzle Dance may not have lived up to the standard of Bay Area natives, judging by the reactions below, but the OVO Sound founder is a genuine fan of Mac Dre. The hyphy innovator's mother said she had a conversation with Drake where he spoke about how influential Mac Dre was on his career.
"I met with Drake in San Francisco, we sat down and he talked with me about how Mac Dre impacted his life and his career, what he's doing and the big impact that Mac Dre had when Drake was a young boy," Mac Dre's mother said earlier this year. "So listening to that, it kind of opened up my eyes."
The talk with Drake inspired Mac Dre's mother to make The Legend of the Bay documentary. People may want Drake to tighten up his Thizzle Dance skillz, but fans can thank him for helping Mac Dre's story get told in film.
A Guide to Rappers on Television Right Now