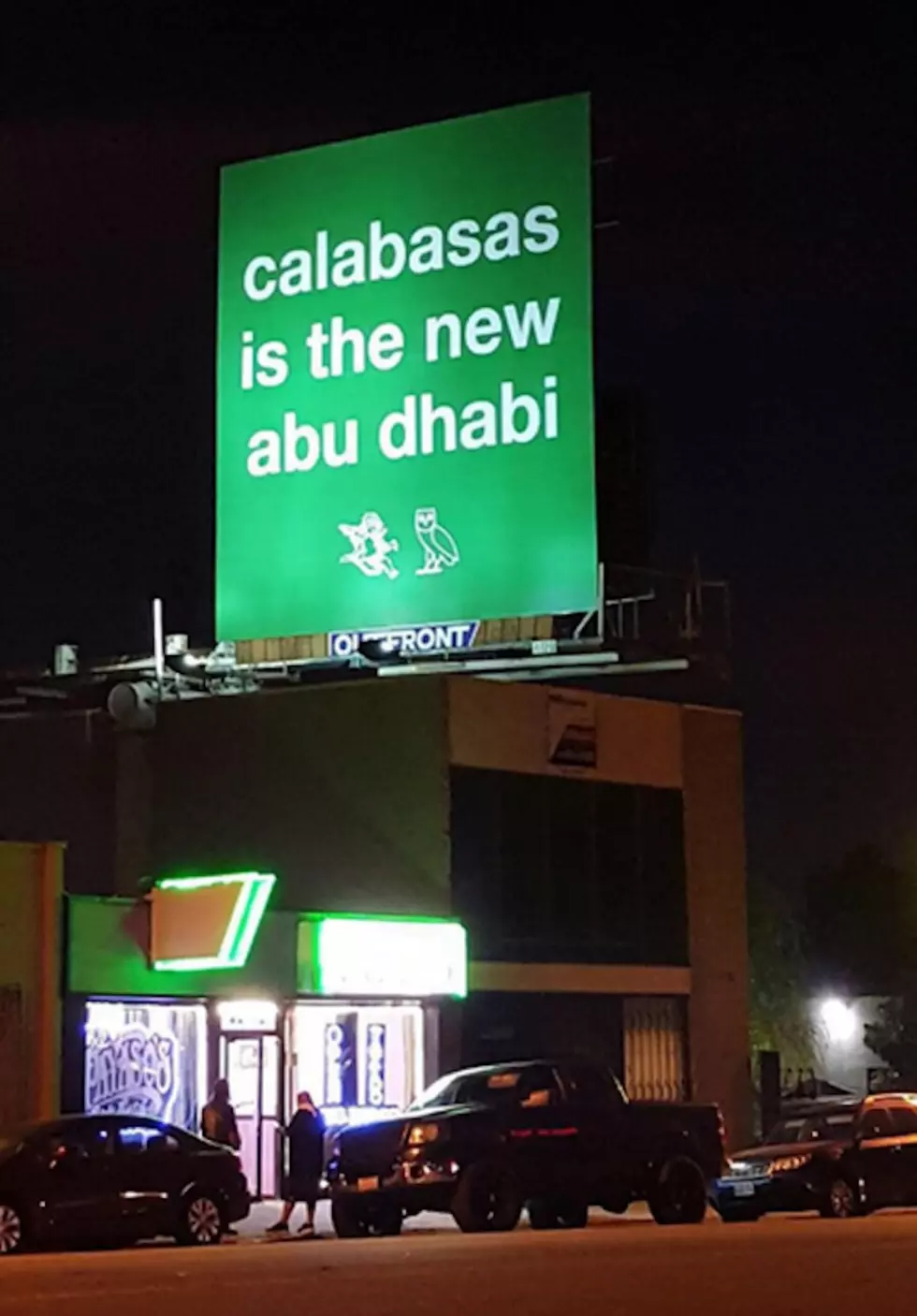 Mysterious Drake and Kanye West Billboard Pops Up
Reddit
Another mysterious billboard has popped up, this one saying, "Views was actually pretty good." Peep it below.
Drake and Kanye West may each be in the midst of country-spanning tours, but the two were in New York City Sunday night (Aug. 28) for the MTV Video Music Awards, a union that just might be a sign of things to come. While the two rappers were there for very different reasons – Drake to present Rihanna with the Video Vanguard Award and Kanye to premiere his video for "Fade" – it was a message printed on the opposite coast that suggests their purposes are destined to align.
The above billboard appeared in Los Angeles on Sunday, reading, "calabasas is the new abu dhabi,"  a reddit user sharing an image of it with the HipHopHeads forum. The text, linking California to the middle east, beginning with a city in which both Drake and Kanye own homes, seems less important than the logos included below it, what are clearly the two symbols for G.O.O.D. Music and OVO Sound, the labels and musical entities headed by both Kanye and Drake, respectively.
The juxtaposition of two marks seems to point every bit in the direction of the joint album Kanye mentioned earlier this month at Drake's OVO Fest in Toronto. "Toronto I got one question for you. Is y'all ready for this album? I'm not talking about Pablo. I wasn't talking about Views. I wanna ask y'all right now, are y'all ready for this album?" Kanye said while motioning toward Drake and himself. The two have done collaboration albums in the past, Kanye with Jay Z and Drake with Future, but if those words and the above billboard are any indication, the international celebrities are about to unveil an album event that may be unparalleled in reach.
34 Rappers Going Platinum in 2016