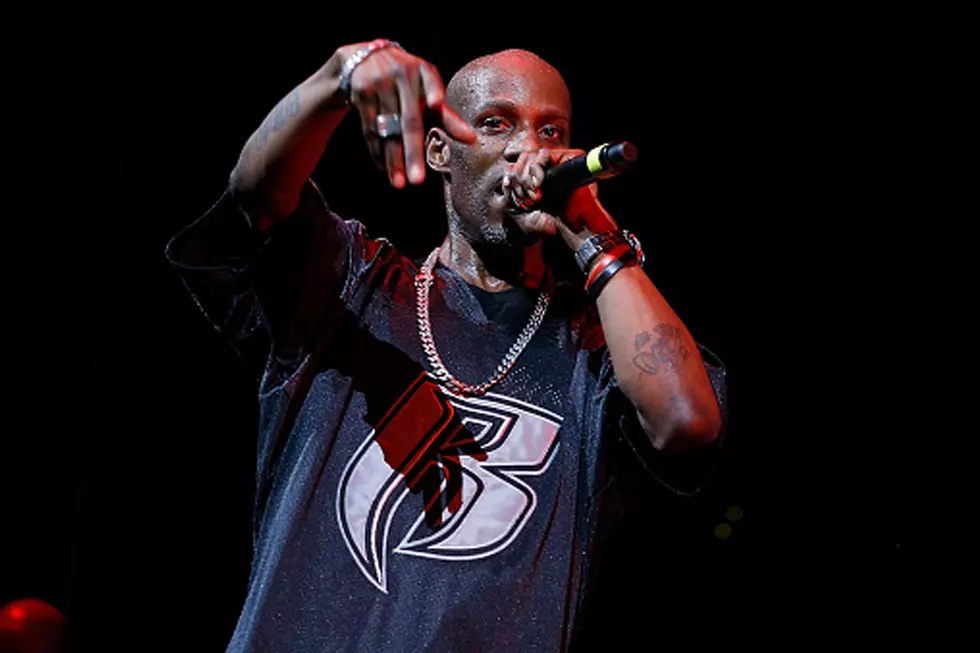 DMX, Swizz Beatz and More Reunite for Ruff Ryders 20th Anniversary Reunion Show
John Lamparski, Getty Images
1990s babies' rap dreams came true last night (April 21), at the Ruff Ryders Entertainment 20th anniversary reunion show. Original Ryders DMX, Swizz Beatz, Eve, Drag-On, Cassidy and The Lox all linked up for old times sake and were greeted by a sold-out crowd at Brooklyn's Barclays Center.
With nostalgia heavy in the air (along with a few other things), Drag-On got the all-ages crowd on their feet early with "Spit These Bars" and "Down Bottom." E-V-E up'd the ante by rocking a kimono, thigh-high silver boots and performing "Who's That Girl," "Satisfaction," "Let Me Blow Ya Mind" and "Tambourine," with back-up dancers in tow.
The energy hit a whole new level when Swizz came out around 9 p.m. to run through his biggest production and artist credits ("Everyday," "On to the Next One," "Fancy" "Money in the Bank") reminding us just how iconic his discography really is. Swizzy wasn't afraid to share his stage either. Midway through his set, the Grammy winner beckoned Fat Joe and Remy Ma onstage to do "Lean Back" and then bring things forward to the present for a minute with "All the Way Up." The latter song ushered in French Montana, who also commanded the place with "Pop That" and his latest banger, "Unforgettable."
Before his time was up, Swizz also welcomed Cassidy to perform "I'ma Hustla" and "Hotel." While he still had the mic, Cassidy took the opportunity to drop a new verse about his dislike for the new school of rappers coming up, calling out Lil Yachty and Lil Uzi Vert by name.
"I never chose to listen to Yachty and Lil Uzi/Let's take it back to Jeezy, Weezy and Boosie/I might listen to Tip, Ross, and a little Gucci/But these little newbies be making me feel a little woozy," spit Cassidy.
After Swizz, The Lox had big shoes to fill, but confidently rose to the occasion around 10:30 p.m. Jadakiss, Styles P and Sheek Louch kept it New York-AF as they ran through hits like "Money, Power & Respect" and "We Gon Make It" and showed love to M.O.P. by bringing them on for "Ante Up." Akon even popped up in a pristine all white 'fit to do a snippet of "Locked Up."
While the adrenaline in the arena was at an all-time high after The Lox's section, issues with clearing the stage after their set delayed the night's last performer, DMX, from jumping right into his highly-anticipated performance. This half-hour delay killed the momentum of the concert and hindered X's entrance when he finally burst into the spotlight at around 11:30 p.m. DMX ran onto the stage in a black ski mask without speaking, leaving fans in the nosebleeds confused as to who was onstage. When X finally did unveil his face to start rapping, his energy seemed off.
Instead of growling through his classics like "Ruff Ryders Anthem" and "Where the Hood At?," Dark Man X gargled through his newer material first, most notably his 2016 song "Blood Red." Although he did eventually get the crowd going by jumping on speakers and doing his old hits, the definite highlight of X's set was instead his rants about New York, role models and dealing with the devil trying to bring him down. Concert-goers recorded the moments and expressed concern for the rap legend's well-being via Twitter.
Relive the hype by checking out the gallery of Eve, The Lox, Swizz, X and more performing at the 20th reunion below.
See Photos of the Ruff Ryders 20th Anniversary Reunion Show