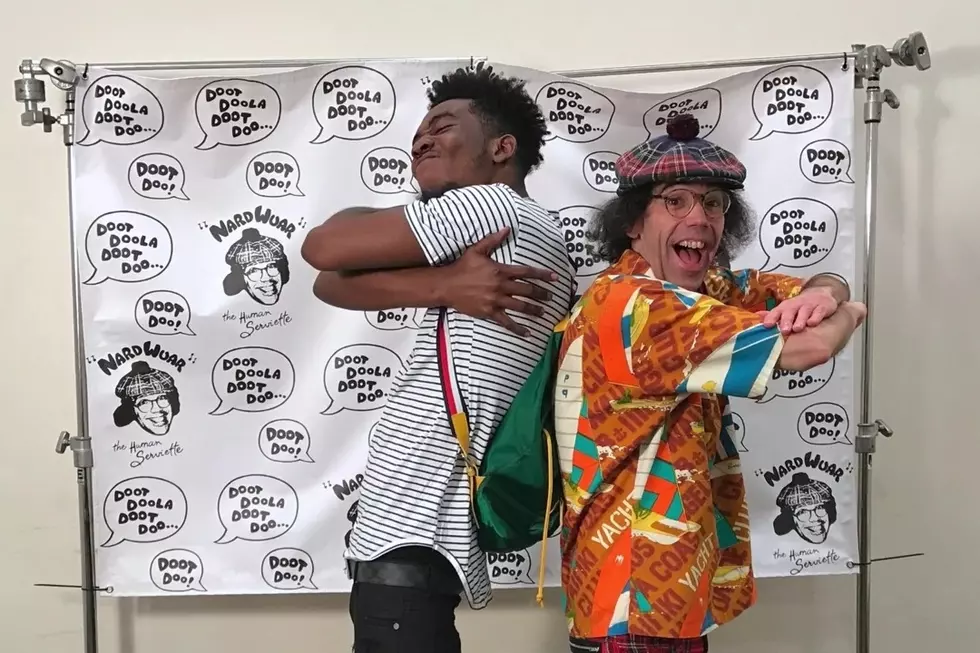 Desiigner Discusses His Grandfather's Music With Nardwuar
Nardwuar via YouTube
While down at SXSW 2017, Desiigner linked up with Nardwuar, the Internet's favorite Human Serviette, for an interview we can all be thankful was caught on camera. Since Nardwuar is known for his extensive research of his interview subjects, the personality uncovered the fact that the "Panda" rapper is actually named after his grandfather, Sidney Shelby, who is also a famous musician from back in the day.
"That's my grandfather," the G.O.O.D. Music rapper laughed when Nardwuar handed him an 1963 vinyl of a blues track. "Shout out my grandfather, the guitar crusher... Sidney Shelby, I'm Sidney the third. That's my grandfather. I'm a fan of him. He inspires me throughout my music career. It's the genes of 'em, you dig?"
When Nardwuar asked what his grandfather sounds like, he knew Desiigner would emote some kind of hilarious impersonation. Desiigner did not disappoint.
Through the 15-minute clip, the "Outlet" artist also broke down how he found the beat for "Panda," working with Kanye West and more. The whole conversation is pure jokes.
Though fans are just now learning interesting tidbits of Desiigner's past, the young Brooklynite has plenty to look forward to in his future. The platinum-selling rapper was just named a Forbes 2017 Cash Prince and is set to head out on his 2017 Outlet Tour in April.
Check out the hilarity of Desiigner vs. Nardwuar below.
Go Behind the Scenes With Desiigner a the 2016 XXL Freshman Shoot