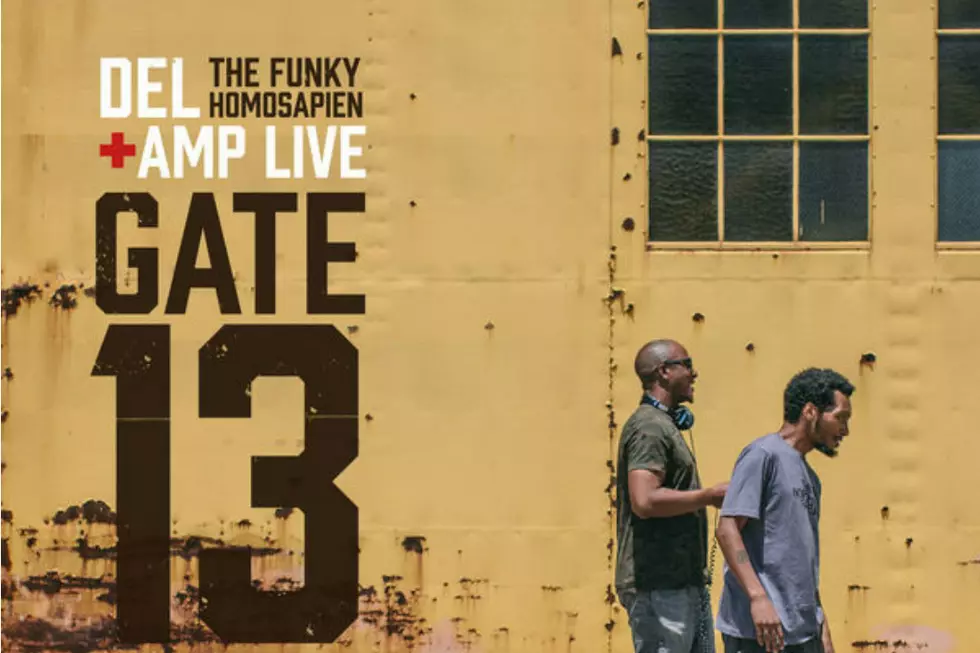 Del The Funky Homosapien and Amp Live Release 'Gate 13′ Album
Gate 13
Oakland underground rhyme veteran Del The Funky Homosapien still gets busy. Today (April 20), the Hieroglyphics member teams up with producer Amp Live on the new LP, Gate 13.
The album contains the singles "Humble Pie," "Help" featuring Adult Karate and "Wheel of Fortune," the LP's second song where Del sets the tone early on over busy production.
"Straight from the gate, I'm gassin'/Dribbling, not from glasses/Hacking I'm not gon' pass it/Foul, get an elbow to match it," he spits. "Settle the racket, sit at the bottom and lay/Just like a ship in a bottle that's the model they faced."
The duo have a straight-forward approach with the 16-song project. "13 represents bad luck," Del says, explaining the title. "Basically, we're the baddest out. This is a gateway to how we do."
Del, who is Ice Cube's cousin, continues his prolific career, which started in 1991 with the album I Wish My Brother George Was Here. Most recently, in 2016, Del put out The Doors EP with The Understudies. Iller Than Most, which dropped in 2014, serves as his previous solo LP.
Listen to Del The Funky Homosapien and Amp Live's new Gate 13 album below.
Del The Funky Homosapien and Amp Live's Gate 13 Album Tracklist
1. "Attention (Intro)"
2. "Wheel of Fortune"
3. "The Glow"
4. "Gravy Train"
5. "Funkrolla 3.0"
6. "Run Free" featuring SIMMI
7. "Help" featuring Adult Karate
8. "Humble Pie"
9. "Far Away"
10. "Far Beyond" featuring Goapele and Zyme
11. "Chili Sauce featuring James Melo Mr. MICRO
12. "Funkrolla 4.0"
13. "Sit Ya Ass Down"
14. "On the Ball" Featuring Eligh
15. "Get Some of Dis"
16. "Lateral Thinking"
See New Music Releases for April 2018