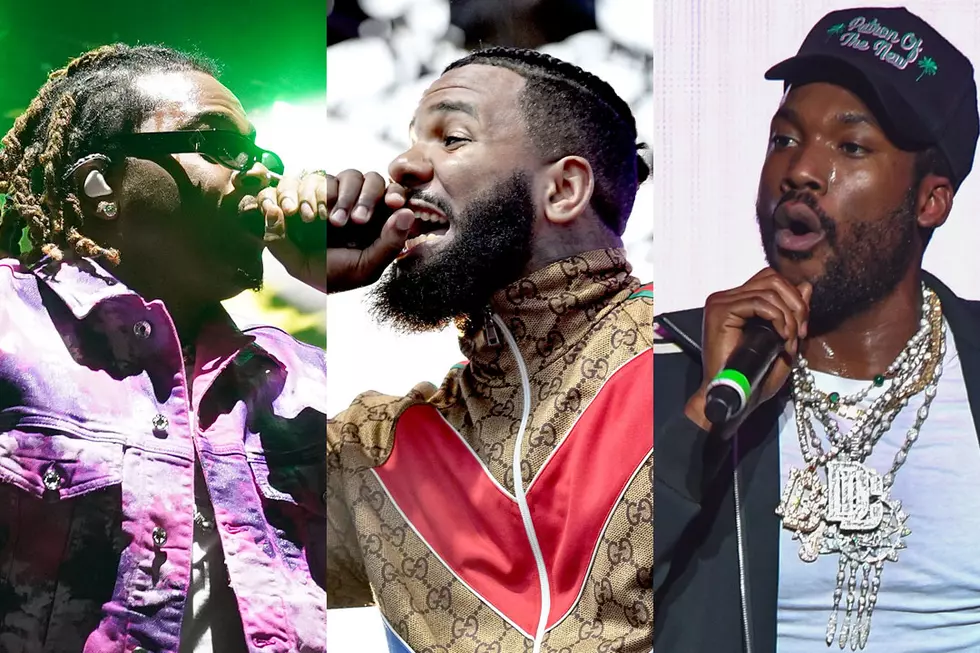 Here Are the Corniest Lyrics From Diss Tracks
Amy E. Price/Getty Images for SXSW/Scott Dudelson/Aaron J. Thornton/Getty Images (2)
While no one ever wants beef to happen, when it comes to the music, the results can be entertaining more times than not. The war of words in rap battles have been part of the genre since its birth. As long as the beef sticks to the studio instead of the streets, disses have made for some of those most iconic back-and-forths in hip-hop history. Thanks to technology, rappers can drop and get responses from the fans in the blink of an eye as the songs hit the internet, an advantage that didn't exist in the 1990s. The faster turnaround these days can sometimes lead to songs that could have used a fine tooth comb. Unfortunately, there are some lame lyrics that come from overall good disses. That's not to say diss tracks from back in the day were flawless; they had some downsides, too. Here's a look at some of the diss lines that didn't land over the years.
There are plenty recent examples. The Game just dropped a ridiculous punchline on his Drillmatic Heart vs. Mind album opener "One Time." "How you say 'snitch' in Japanese? Tekashi-ota," he rhymes, a reference to 6ix9ine's nickname Tekashi, whose time in hip-hop has passed and feeds off this attention. Also, that's not Japanese. The Game, please.
Of course, this list wouldn't be fair if it didn't mention Gunna's response to Freddie Gibbs calling him a snitch in 2020. The beef came back to life in early January of this year after Gunna alluded to his then-forthcoming album, DS4EVER, would include the biggest moment of GIbbs' career. "I can't fuck with Freddie Gibbs/Nigga's tellin' fibs," was that moment, on Gunna's "Poochie Gown." The line was disappointing compared to the hype behind it, to the point Freddie started ridiculing it and saying it at his own shows.
Meek Mill, Troy Ave and more have also dropped some of the corniest lyrics from diss tracks. Check out the list below for more lyrics from disses that should have ended up on the cutting room floor.
"How you say 'snitch' in Japanese? Tekashi-ota"

"I can't fuck with Freddie Gibbs/Nigga's tellin' fibs"

"You really sweet, I call you Buttercup"

"Put it together, I rock hoes, y'all rock fellas/And now y'all tryna take my spot, fellas?"

"Cops are killin' people with they arms up/And your main focus is tryna harm us?"

"Put blood in your head, leave your whole damn head red, Lil Yachty"

"You love her, then you gotta give the world to her/Is that a world tour or your girl's tour?"

"If a nigga hatin', call him Joe Budden (Pussy)"

"Nobody cares, I ain't dissin', this is true/You a bullshit Jordan crying face, boo hoo"

"Black on black Bentley, big ol' black nine/I'll clap your monkey-ass, yeah Black on Black crime"

"I'm just hittin' my pinnacle, you and pussy identical/You like the fuckin' finish line; we can't wait to run into you"

"Fuck your sister while you watch 'cause she's kinda thick/And make that bitch take a knee, like Colin Kaepernick"

"Snow on Tha Bluff"

J. Cole

"Instead of conveyin' you holier, come help us get up to speed/Shit, it's a reason it took like 200 years for our ancestors just to get freed"

"California Love is what you crave, so on you grave/It's gonna read, 'Here lie 50, who snitched on many/That half a dollar, that nickel, them dimes, and died like penny'"

"Second Round K.O."

Canibus

"Mad at me 'cause I kick that shit real niggas feel/While 99 percent of your fans wear high heels"

"Curtis! (Damn, show some courtesy, Curtis)"

"I chew that nigga 'til my teeth hurt/Don't even hit the weed first"

"I'm like air, lil' shots go through me"

"You from Illinois? I'll bring the noise"