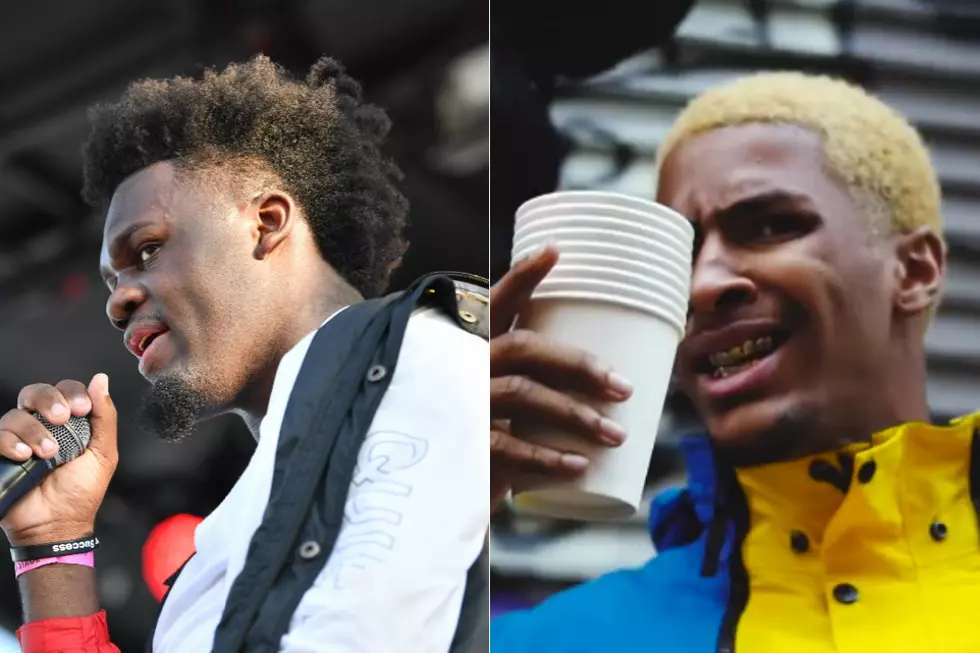 Ugly God and Comethazine "Let It Eat" on New Song
Dia Dipasupil, Getty Images / No Jumper via YouTube (2)
Comethazine, a new signee to Alamo Records, isn't wasting any time cooking up new music. On Friday (March 23), the Midwest rhymer dropped his latest banger "Let It Eat," featuring Ugly God.
A short track, coming in at one minute and 27 seconds, the song has the length of an interlude but slaps like a posse cut. Rising producer Ronny J is at the helm on this one, providing a knocker for Cometh and Ugly God to spit over.
"Pull up on a nigga with a scope, make him shake hard/97 bullets left in this AR/Jumpman, Jumpman, 23, play hard," Comethazine floats over the frantic instrumental. "Sweet ass nigga, you belong in the gay bar/I took your bitch and I fucked her face hard/Niggas talkin' talk, we pull up to your boulevard/We fifty deep and we brought like ten cars/Guns on deck and we don't got gun cards."
With less than 16 bars at his disposal, Ugly God makes use of the shortened air time rapping, "Aye, aye, diamond my teeth, no bust down/I was down bad, now too busy to give a fuck now/Nigga, fuck around and get gunned down/She ain't wanna fuck, same bitch wanna fuck now/Bitches wanna take me out to lunch now."
Ugly God has a big year planned. Last month, he reveled he wants to drop three projects in 2018. Bumps & Bruises will serve as his debut album. It will be either followed or preceded by the EP 777. After both of those projects drop, he will be putting out a collab EP It's Gonna Be One Ugly Winter with Florida's Wintertime. "All of these are dropping within the next few months," the former XXL Freshman noted. "Release dates coming soon."
Listen to Comethazine's new Ugly God-assisted track "Let It Eat" below.
See Behind-the-Scenes Photos of Ugly God at 2017 XXL Freshman Shoot