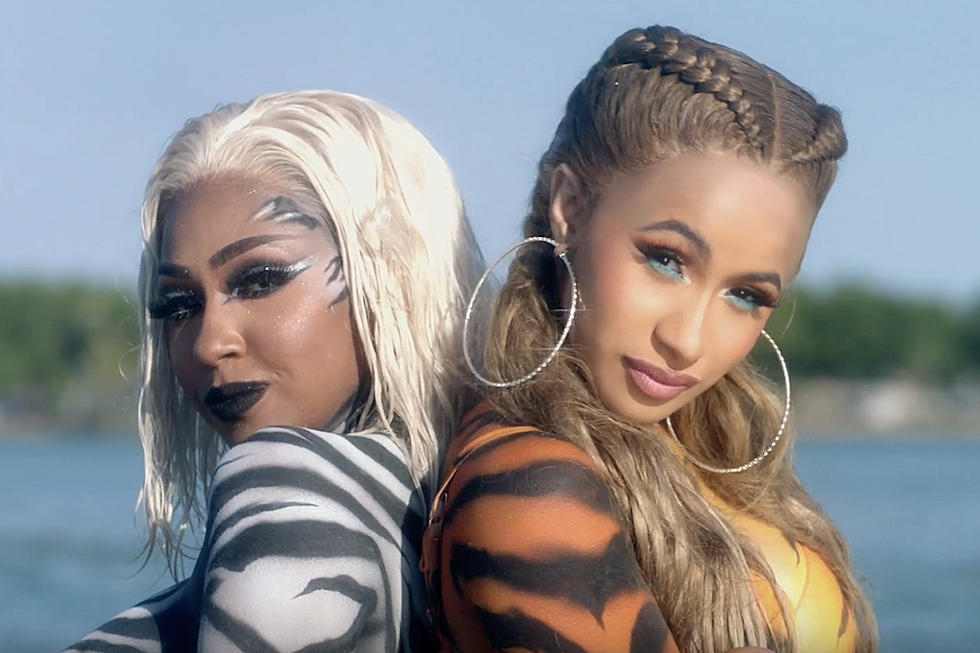 City Girls and Cardi B "Twerk" Video: Watch Rappers Twerk
City Girls via YouTube
Miami rap duo City Girls have teamed up with Cardi B to deliver a fun-filled video for their booty shaking anthem "Twerk."
In the visual, directed by DAPS, Yung Miami and Cardi B are body-painted to represent a zebra and a tiger, respectively. The rappers lead a group of women on a beach, on a yacht, on a construction site and even on a stripper pole, to shake their money-makers.
Most of the Ladies were winners of a social media contest in which the City Girls were looking for the best twerkers in the world. Well, they certainly found some athletic and limber dancers. Bardi and Miami jumped into the action as well.
The New Orleans bounce-inspired song, which samples Choppa's 2002 track "Choppa Style," appears on the duo's latest album, Girl Code.
Of course, J.T. is not featured in the video. She is currently serving a prison sentence for apparent fraudulent credit card charges. However, Pierre "Pee" Thomas, the CEO of Quality Control, the duo's label home, hopes to get her out of prison sooner than later.
Pee is praying that J.T.'s attorney, Drew Findling, can talked to the judge and get the rapper released on bond.
"If Drew can get J.T. out soon, he can get all this money," he said in an Instagram video. In the clip, we see a briefcase filled with $1,000,000 in cash. He later explained his offer in an IG post by detailing the terms of the arrangement.
In any case, Yung Miami is still keeping City Girls alive and twerking it all the way to the bank.
Watch City Girls and Cardi B's "Twerk" video below.
20 Great Albums From Female Rappers Over the Years