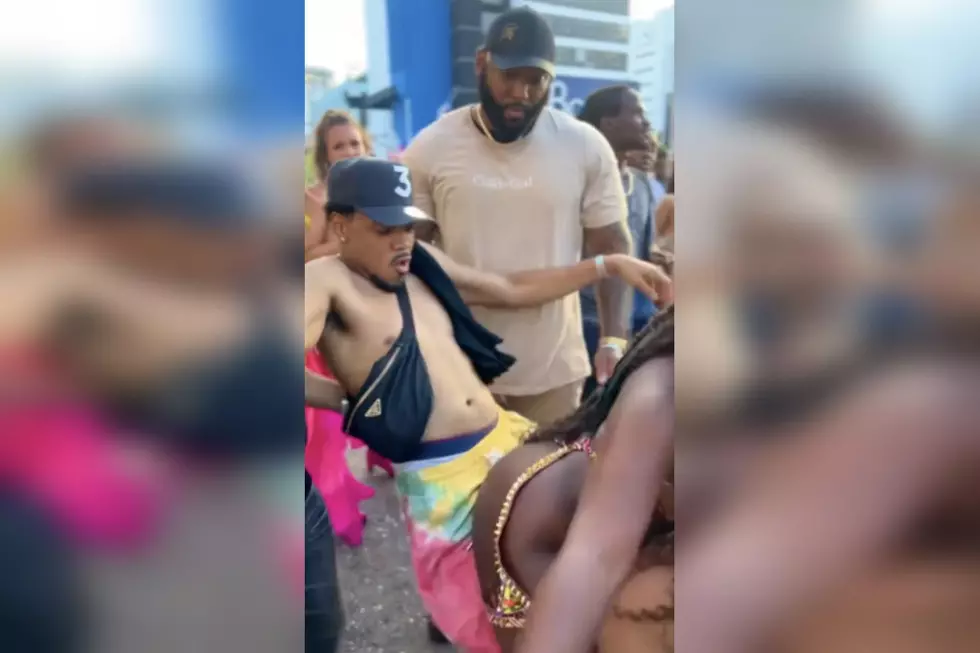 Fans React to Chance The Rapper Grinding on Random Women at Jamaica's Carnival
itsbizkit/Twitter
Fans on Twitter are weighing in on viral videos of Chance The Rapper grinding on random women in Jamaica.
Chance The Rapper has been in Jamaica enjoying himself at Carnival, according videos that have surfaced from his visit. Multiple videos show Chano grinding on different women at the massive street festival. One video (below), posted by TikTok user badgallanae on Monday (April 17), shows the rapper with his brother Taylor Bennett and a few other friends. Chance posts up behind the woman, who is filming, and begins to grind on her. At one point, he falls backward from the backside thrusts and is held up by his friends while the woman continues to bounce on him.
"Chance The Rapper said its his birthday," badgallanae captioned the post. 
Another video (below) shows the Acid Rap rapper grinding on a different woman while holding a drink above his head.
People on Twitter have been weighing in on the videos, with some pointing out that Chance is a married man.
"I just saw the mess on IG about chance the rapper and people questioning is he still married after getting twerked on by another woman at a carnival in Jamaica…the people in the comments have me realizing that we are not a faithful, respectful generation at all! That's sad," one Twitter user wrote.
"Y'all thought Chance the rapper was going to Jamaica during Carnival to just stand and watch," someone else posted with crying laughing emojis.
"Chance the rapper at Jamaica carnival smacking cheeks like he in magic city freaking American," another person posted.
Chance The Rapper turned 30 years old on April 16.
See Video of Chance The Rapper Grinding on Random Women at Carnival and Reactions Below
See the Definitive List of Bizarre Tweets From Rappers