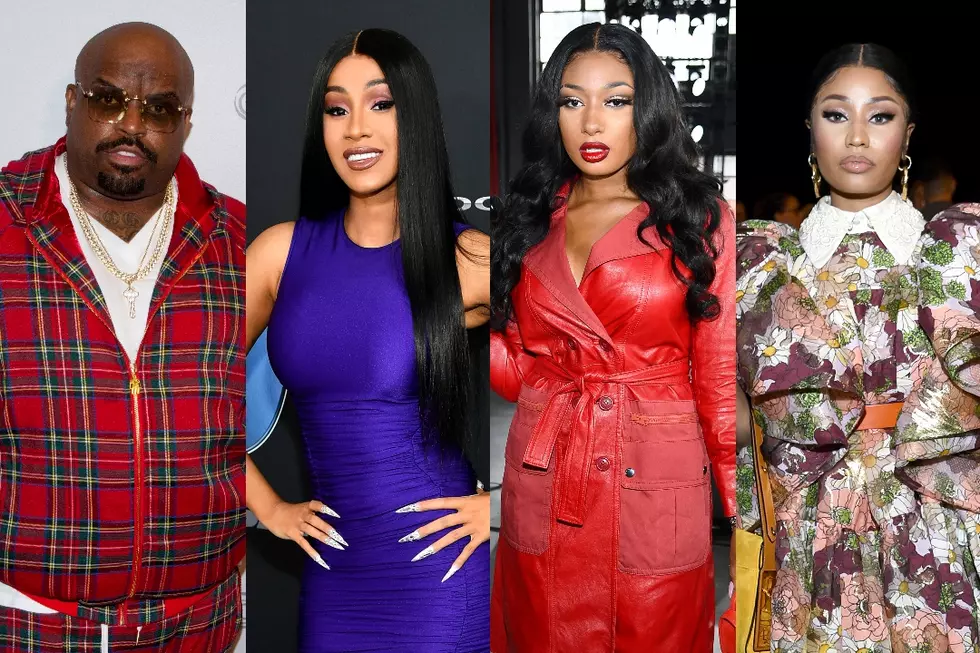 CeeLo Green Criticizes Cardi B and Megan Thee Stallion for "Adult Content" in Their Music, Says Nicki Minaj's Influence "Feels Desperate"
Gabriel Olsen / Frazer Harrison / Dimitrios Kambouris / Getty Images (4)
CeeLo Green has issued an apology to Cardi B, Megan Thee Stallion and Nicki Minaj after being placed on the social media chopping block for criticisms he made about them, their music and their influence in a recent interview.
CeeLo, who said his words were misunderstood, shared a lengthy note directed towards the women via Instagram and Twitter. "I would never disrespect them by any means. I acknowledge them all as powerful, beautiful and influential women...and professionals. I wholeheartedly apologize to each of them for the inconvenience they have been caused due to a snippet of my interview being used as a headline, and in turn creating controversy and disconnect between me and these ladies as well as their fans," he writes after saying he knows "most of them personally" and refers to Cardi and her husband, Offset, as family.
"Know that I support everyone who is part of our community & culture," he adds. "Always have and always will! Much love to all of the female artists who are running the game and handling their business."
During a recent interview published in Far Out magazine on Sunday (Aug. 9), the Atlanta native spoke on artists sexualizing themselves in their music, stating that there should be a "time and a place" for "adult content" in music. He also called these sorts of songs "shameless" and said they lack morality.
"A lot of music today is very unfortunate and disappointing on a personal and moral level," he opined. "There was once a time when we were savvy enough to code certain things. We could express to those it was meant for with the style of language we used. But now music is shameless, it is sheer savagery."
The Goodie Mob member then name-drops Cardi and Megan, questioning the price they'll ultimately have to pay as a result of them producing sexually suggestive music. "Attention is also a drug and competition is around," CeeLo says. "Cardi B and Megan Thee Stallion, they are all more or less doing similar salacious gesturing to kinda get into position. I get it, the independent woman and being in control, the divine femininity and sexual expression. I get it all." He inquires that "it comes at what cost?".
CeeLo went on to weigh in on Nicki Minaj's platform and influence, calling her position as a role model ineffective. "You have the 'Heads of State,' like Nicki Minaj or someone who is up there in accolade: success, visibility, a platform to influence," he adds. "Nicki could be effective in so many other constructive ways, but it feels desperate."
These comments from CeeLo about Cardi and Megan come days after the duo dropped their sexually charged track "Wap," along with its accompanying video. The visual, which has been a topic of discussion all over social media, dropped on Aug. 6 and has over 60 million views on YouTube.
See Hip-Hop Fans Name The Most Disrespectful Diss Track of All Time