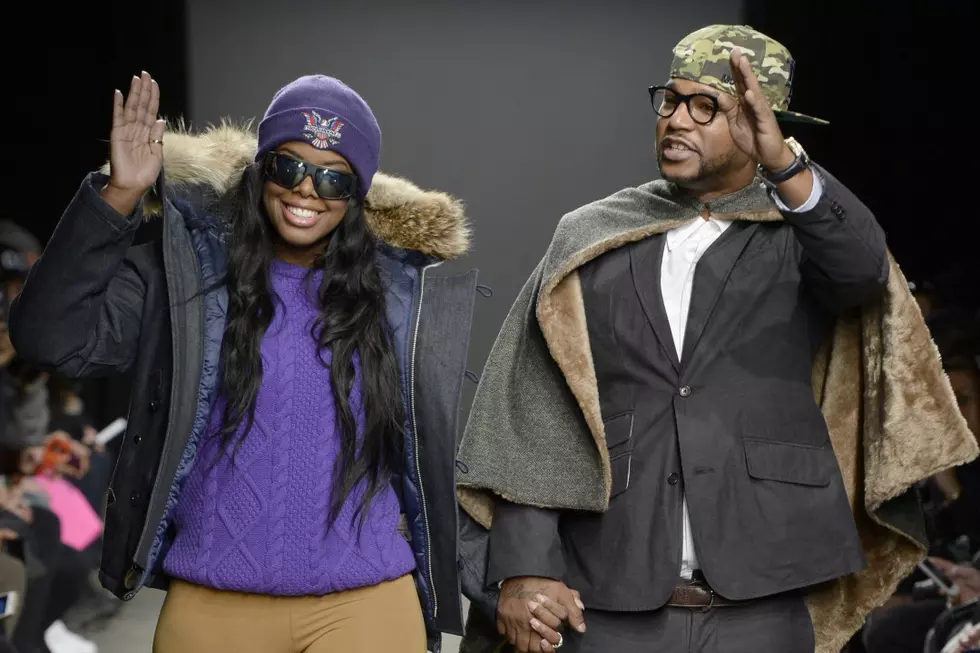 Cam'ron Blames Instagram for Playing a Part in Breakup With Longtime Girlfriend Juju
Fernanda Calfat, Getty Images
Cam'ron may have reunited with The Diplomats at a recent show in New York City, but he's experienced a more serious breakup as of late with his longtime girlfriend Juju. During an interview with The Breakfast Club on Power 105.1 this week, the Harlem native explains why the two decided to split after 10 years of dating.
According to Cam, the two broke up earlier this year, claiming that it was "kind of mutual." He says that the relationship "wasn't fun anymore," and even implies that Instagram played a big role in things going sour between them.
"It was kind of mutual," Cam explains. "For me, it just wasn't fun anymore. When Instagram came out, it was fun in the beginning and then it became serious. [Juju would say] 'Why you following her?' Or, 'You like that person picture,' or 'People are saying this.' And I'm like, 'Yo, you gotta be my best friend for because that's what I'm in it for.' … It just stopped being fun and I think she felt that way too."
Cam says that he loved showing off the Love & Hip Hop: New York star on Instagram when they first got on the social media app, but after some issues came to the surface, it "stopped being fun" for him. "Once Instagram came out, I'm the one who was promoting her and marketing her, showing her body and showing people how beautiful she is, like, 'Look, I got a beautiful woman,' without being too untasteful about it to me," he continues. "Basically it just stopped being fun."
Despite the two dating for 10 years, Cam and Juju were close friends before they pursued each other romantically. "She was my friend before we even started being serious," he explains. "That was my homegirl and everything was fun."
While there were rumors that Cam had cheated on Juju with a girl named Roxxi, the "Hello" rapper puts that to bed. He explains that Roxxi is another one of his homegirls; she even hung out with Juju in the past. Despite the social media drama with Juju and Roxxi previously, it looks like Cam has no ill feelings towards his ex-girlfriend, stating all of the amazing qualities about her that her next boyfriend will be able to embrace. "She's loyal, she's smart, she's funny, she's charismatic," he describes. "She has a bunch of different businesses she's doing."
Besides talk of his former flame, Cam also opens up about his current beef with Ma$e. Last week, both rappers dropped diss tracks, Cam with "Dinner Time" while Ma$e had "The Oracle."
"I've never dissed Ma$e in my life," Cam says. "I don't mess with Ma$e no more, 'cause me, personally, I just go by a different standard than people. Once you start playin' with God and start taking people's money, and say rap is the devil then come back and rap 'cause you ain't got no money, I just can't pump with you. I'm not sayin' I'm the most religious guy in the world, but I don't play with you when you play with God. There was a time when he was like, 'Yo, you know deacons is gettin' that money.' I was like it's over. I can't really mess with you."
He also explains the line that Ma$e spits about Cam "fucking his sister" on "The Oracle," claiming that he doesn't even have a sister.
"I'm telling you stories about real life situations," Cam continues. "I never made up 'fucked my sister,' the imaginary sister that I don't have. I don't have a sister. I don't really do fiction when it comes to Ma$e." When he's proceeded to be pressed about the infamous sister line, Cam'ron remains steadfast in his denial.
Find out what Cam'ron has to say about his beef with Ma$e, breakup with Juju and more below.