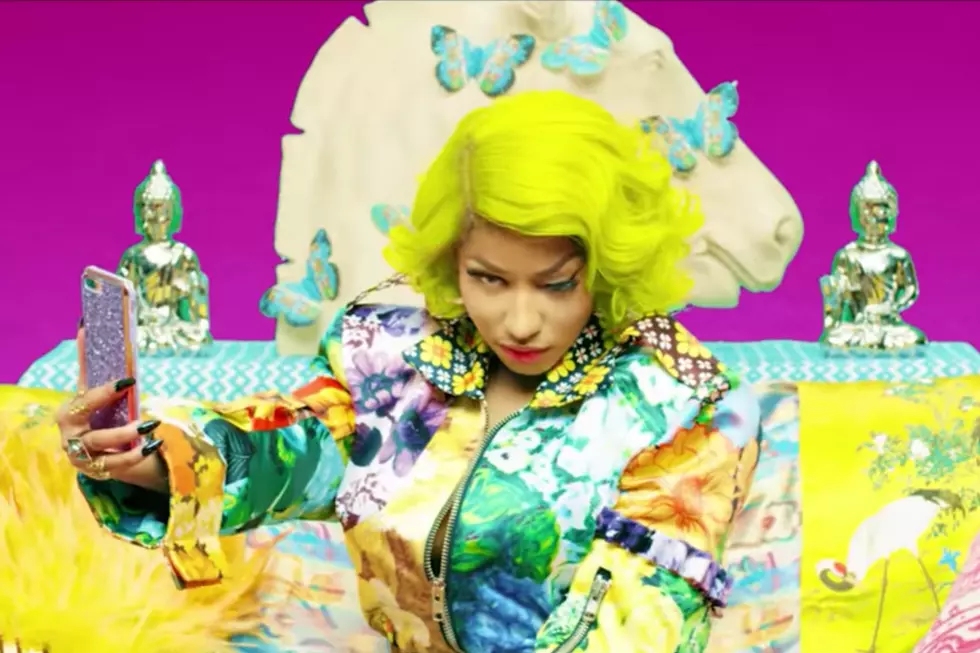 BTS "Idol" Video Featuring Nicki Minaj: Watch the K-Pop Stars and Barbie Unite
ibighit via YouTube
The music video for Nicki Minaj's much-hyped collaboration with K-Pop stars BTS has arrived. The boy band's new "Idol" visual dropped this morning (Sept. 6) and features the Queen looking lavish.
The YongSeok Choi-directed clip features scenes from the song's original video, but with Nicki lounging on a mixed-pattern couch in a surreal fever dream of a living room spliced into the mix. She serves her verse with a joyous swagger that belies her ongoing public-facing frustration.
"I swear, watch the ice glare/They be like I'm Gucci but don't shop there/One time, press rewind/Tryna come up off Nicki name, press decline/So much power in the mind, yes divine/Take your change you'll never be next in line," she raps.
The track features on the group's new album Love Yourself: Answer, which debuted this week at No. 1 on the Billboard 200 chart. The Nicki-featuring version of "Idol," meanwhile, debuted at No. 11 on the Hot 100, lending BTS the second-highest charting K-Pop single ever in the United States, only behind their own song "Fake Love," which hit No. 10 in June.
Nicki, for her part, has spent recent weeks attacking Travis Scott after his album Astroworld prevented her album Queen from topping the charts. On recent episode of her Beats 1 radio show, she has called the Houston rapper the "hoe nigga of the week," and said she wanted to punch him in the face while on The Ellen DeGeneres Show on Tuesday (Sept. 4).
Watch BTS' "Idol" video featuring Nicki Minaj below.
See Photos of Nicki Minaj's Different Looks Over the Years