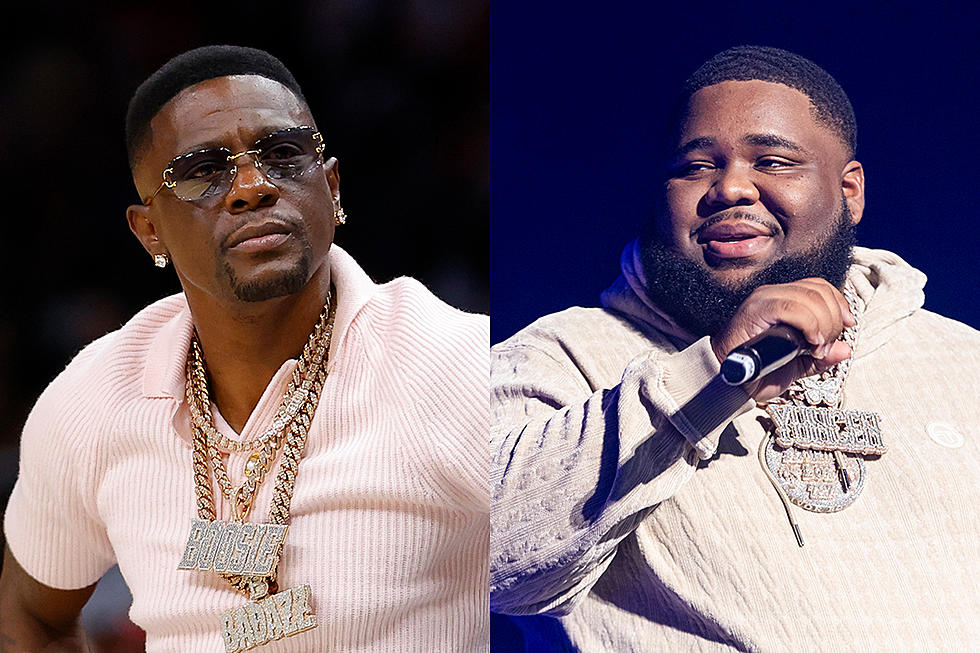 Boosie BadAzz Wants Compensation From Rod Wave for Sampling Boosie's Music, Rod Offers to Pay Him
Todd Kirkland/Scott Legato/Getty Images (2)
Boosie BadAzz wants compensation from Rod Wave for sampling Boosie's music. In response, Rod offers to pay him.
Boosie BadAzz Wants Compensation for Sample on Rod Wave's "Long Journey"
On Sunday (Nov. 19), Boosie BadAzz hit up Instagram Live for another one of his famous chats with fans. When a viewer comments on Rod Wave using lyrics from Boosie's 2010 track, "Long Journey" featuring Webbie, on a new song of the same name, the Lousiana rap veteran explains that he's flattered by the interpolation but would like to be compensated. He also claims that other artists have sampled his music without permission and he intends to take legal action.
"Rod Wave ain't the only one," Boosie BadAzz says in the video below. "Y'all better do y'all research. I done got paperwork on the way. Lot of people. It ain't just Rod Wave.
He adds: "I love when they do that s**t. The be giving my flowers. I be liking that s**t when I hear it. It's just, you gotta compensate me too. It's a business."
Boosie further expounded on his point on Sunday via X, formerly known as Twitter.
"HOW IS IT FOUL?," Boosie tweets in all caps. "ITS BUIZNESS N YOU KNOW THAT .YOU AINT GO DO THAT TO NO OTHER MAJOR LABEL WITHOUT COMPENSATING THEM WITH THEY SPLITS!! WHY DO IT TO A N***A YOU LOOKED UP TOO."
Boosie continues: "U EXPECT ME TO LET U TAKE MY KIDS PUBLISHING GTFOH STOP PLAYING VICTIM MY N***A IS U GO SAMPLE NO LIMIT ,BAD BOY,CASH MONEY,SO SO DEF ,MICHEAL JACKSON ,MARVIN GAYE , R PRINCE WORD FOR WORD FOR FREE ? NO."
Rod Wave Offers to Pay Boosie for "Long Journey" Sample, Says Lawsuit Isn't Necessary
Boosie's desire to be compensated for the use of his lyrics on "Long Journey" appears to have resonated with Rod Wave. On Monday (Nov. 20), Rod Wave hit up X to explain that he's willing to pay Boosie and that a lawsuit isn't necessary.
"Man, this s**t got to stop," Rod Wave explains in the clip below. "Man, you ain't got to sue no n***a like me, man. I'ma pull up. F**k you talkin' 'bout suing me? I hope that ain't what he said, bro. I'll pull up on you, bro. Tell me a number. Tell me a real number though. A real number and n***a will pull up on you and make sure you straight. N***a, you ain't got to sue people, f**k."
In the tweets and videos below, check out the back-and-forth between Boosie BadAzz and Rod Wave. Compare the two versions of "Long Journey" as well.
Watch Boosie BadAzz Say He Wants Compensation From Rod Wave, Compare the Two Songs and See Boosie Explain More
Watch Rod Wave Offer to Pay Boosie BadAzz for Sampling His Music
See Rappers and Hip-Hop Artists Who Sold Their Publishing for Huge Payouts