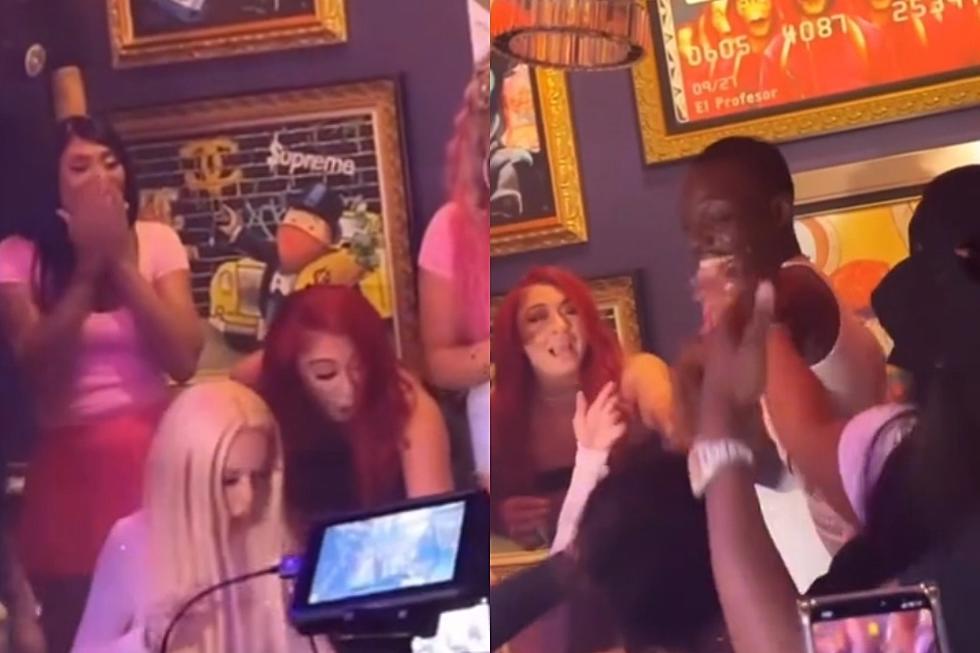 Bobby Shmurda Quickly Recovers and Smiles After Falling While Partying
SplashyStackss/TikTok
Bobby Shmurda quickly recovered and kept on smiling after falling while partying over the weekend.
Bobby Shmurda Falls While Partying at Billionaire Cocktail Lounge
On Aug. 19, a TikTok page named SplashyStackss posted a clip of Bobby Shmurda randomly losing his balance while partying with the Baddies East cast at Billionaire Cocktail Lounge in Philadelphia. In the video below, the 29-year-rapper is seen dancing to his 2014 single, "Hot N***a," before he suddenly takes a serious landing on the ground. After Natalie Nunn, the executive producer of Baddies, and a few bystanders help Bobby Shmurda get back up on stage, the Florida rhymer smiles from ear to ear and sticks his tongue out while the audience cheers him on.
Bobby Shmurda Dances and Falls Off Couch During Interview
Bobby Shmurda's footwork has caused him to stumble over before. In January of 2022, the rapper posted a video on Instagram of himself dancing on a couch to his 2021 song, "Shmoney" featuring Quavo and Rowdy Rebel while appearing on Gillie Da Kid and Wallo's Million Dollaz Worth of Game podcast.
In the video, which can be seen below, Bobby breaks out a few moves and suddenly falls head-first off the couch he was standing on. Shortly after, the rapper assured he was fine by kicking his legs back and forth in the air.
Bobby Shmurda Trends on TikTok After Fans Start "Shmoney" Dance Challenge
In December of 2021, Bobby Shmurda fans even created a TikTok challenge that was inspired by his dance moves after the music video to "Shmoney" dropped. In a video the rapper posted on Instagram, which can be seen below, one fan threw money in the air and imitated one of Bobby's moves from the "Shmoney" video.
Take a look at how Bobby Shmurda fell below.
Watch Bobby Shmurda Quickly Recover and Smiles After Falling While Partying
Watch Bobby Shmurda Dance and Fall Off Couch During Million Dollaz Worth Of Game Interview
Watch a Fan Do the "Shmoney" Dance Challenge
See the Most Elusive Rappers on the Internet
From Jay-Z to Playboi Carti to Kendrick Lamar and more, check out the most elusive rappers on the internet.