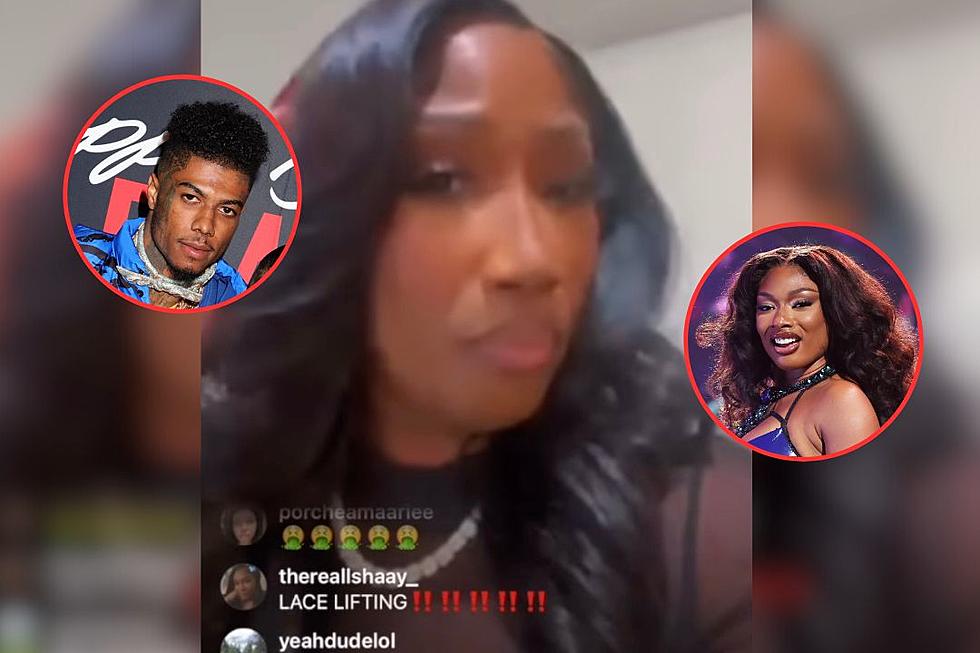 Blueface's Mom Thinks He and Megan Thee Stallion Should Have a Baby Then Says It Was a Joke
Toxic Media/YouTube/Arnold Turner/Mike Coppola/Getty Images (2)
Blueface's mom thinks her son and Megan Thee Stallion should have a baby together but later said it was a joke.
Blueface's Mom Jokes That Her Son and Megan Thee Stallion Would Be a Good Match
Earlier this week, Blueface's mother, Karlissa Saffold, hopped on Instagram Live to chat with her fans. At one point during the session, she zeroed in on a viewer's comment and agreed with it. In a video that has since gone viral, Blue's mom stated that her son and Megan would be a good match and should have a baby together.
"Megan and Blue need to make a baby," she said before agreeing with the comment. "Yes, I don't know why y'all was trying to act like she's too good for my son. The b***h just got shot in the foot, come on now."
"Stop f**kin' playin' with me. My son ain't about to shoot her in no foot," she continued. "He might shoot her in that ass. But he ain't going to shoot her in the foot. Don't try to play my baby like she's too good for my son."
"No offense, no offense," she added. "'Cause my son has been in jail."
Realizing that her comments was extremely insensitive to Megan Thee Stallion and all the legal drama that she had to endure, Saffold went on her Instagram Story hours later to apologize and added that she was only joking.
"I was only kidding and responding to someone talking on my Live," she said in a statement, which can be read below. "No disrespect to [Megan] who I love or my son and baby momma[.] Have a fabulous Friday everyone."
Blueface's Mom Says He and Chrisean Rock Are Cousins
This isn't the first time Blueface's mom has made some outrageous comments on her Instagram Live.
Earlier this month, Saffold claimed that her son and Chrisean Rock, the mother of their newborn son, are related. Apparently, according to Blue's mom, they are cousins.
"I knew something was going on," she said on IG Live. "Come to find out, Chrisean's mama is a Dorsey. She's a Dorsey. They related to me. Them my people. Girl, if them Dorseys...Dorseys. Come on now, all the Dorseys are related and they all act like that. They all strong and act like that. John done had a baby with his cousin."
She continued: "He did. I bet you we need to test the baby. The baby is probably...that's why the baby had our DNA. What the f**k? Y'all think I'm playing. This could be real."
There's no official word if Blueface and Chrisean Rock are blood related.
Watch Blueface's mom jokingly say that her son and Megan should hook up below.
Watch Blueface's Mom Say He and Megan Thee Stallion Should Have a Baby
See Blueface React to Video of Chrisean Rock Carelessly Carrying Their Baby at Walmart