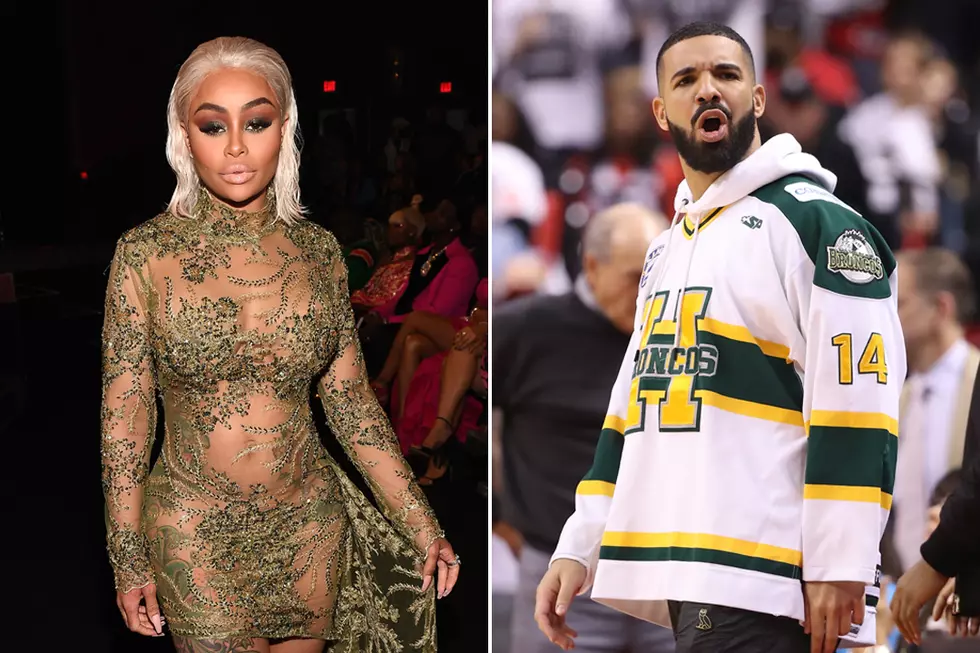 Blac Chyna Gives Drake Credit for Launching Her Career
Paras Griffin / Tom Szczerbowski, Getty Images (2)
Before she entered the world of reality TV or became an aspiring rapper, Blac Chyna was a barely-out-of-high school stripper looking to save up some money for college. Now, as she continues prepping for a rap career, she's one of the more famous models the world of hip-hop has to offer. That status is something she gives Drake some credit for.
Speaking with DailyMailTV, Chyna gives a bit of insight on some of her new music, and while doing so, she gives props to Drizzy. "I actually had a booking, and I think it was in Tennessee," Chyna remembers. "These guys introduced me to Drake, and Drake, you know, put me in a song and I started doing all the music videos and the magazines."
If you recall, Drizzy name-dropped Blac Chyna on "Miss Me," a Lil Wayne-assisted track from his debut album, Thank Me Later. On the track, Drizzy raps, "Call up King of Diamonds and tell Chyna it'd be worth the flight/I'll be at my table, stackin' dollars to the perfect height." At the time Chyna was a dancer at Miami's King of Diamonds strip club.
As DailyMailTV notes, Chyna met her son King's father, Tyga, through Drizzy. After a while of dating, she became pregnant with their son King Cairo. She gave birth to Cairo in 2012. After she and Tyga split, she began dating Rob Kardashian, who is the half-brother of Tyga's ex-girlfriend Kylie Jenner. She and Rob are no longer romantically involved, but they did have a baby together.
Getting back to the music, Chyna says her new music is "actually kind of fire," and that so far, it's a mix of singing and rapping. She also says she wants to hop on a track with Drizzy.
"I'd be like, Drake, you put me on that first time, maybe we could do a little 2.0," she explained. "I would love that."
See Photos of Drake's Different Looks Over the Years
https://youtu.be/t7X8k8elfqo