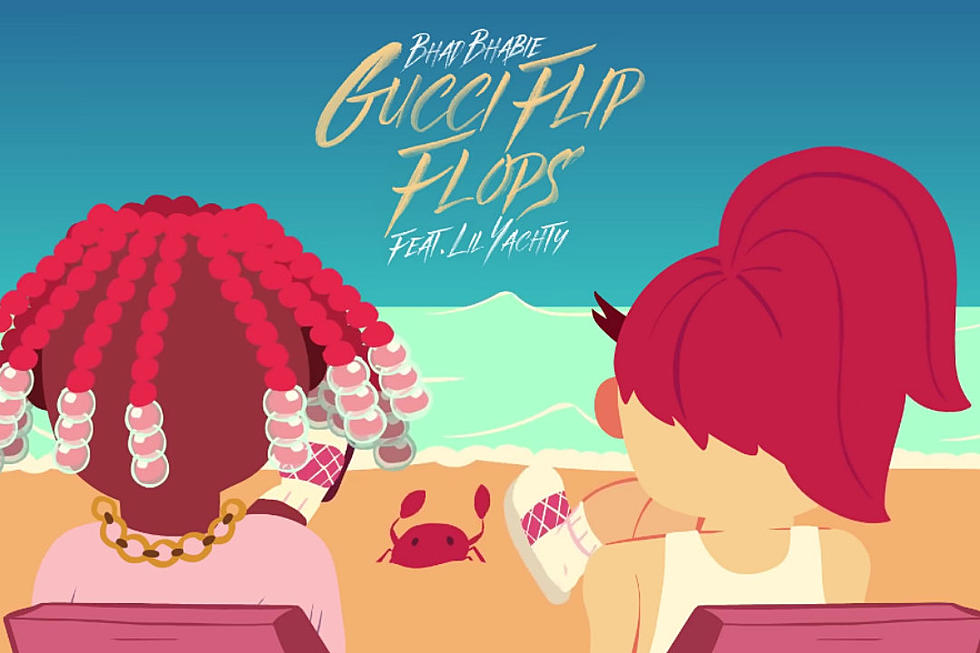 Bhad Bhabie and Lil Yachty Are in Flex Mode on New Song "Gucci Flip Flops"
Bhad Bhabie via YouTube
Bhad Bhabie and Lil Yachty join forces again. Today (March 26), BB taps Lil Boat for her new track "Gucci Flip Flops."
The fresh banger finds the two rappers in full-on flex mode spitting over a trap-infused instrumental. "Gu-Gucci flip flops/Fuck it, hit your bitch in my socks," Bhabie spits on the chorus. "This a big watch/Diamonds drippin' off of the clock/Pull the sticks out/Winter time, droppin' the top/Give it to they pussy ass/Turn this shit up a notch."
Boat brings up the rear, letting his biceps flare. "I got big guap, pussy, yeah, I'm real rich (yeah)/Six cars, tow houses and I'm still rich (uh)/Think it's sweet?/One call, hit the kill switch (boom)/Booby cool, I ain't worried 'bout yo' lil bitch, nigga," he rhymes.
The two rappers have history. Bhad Bhabie made a cameo in Lil Yachty's video for "Count Me In," off the Atlanta rapper's new mixtape Lil Boat 2. Despite some critics of them working together, Yachty recently said she was better than most rappers. "Suck my dick, [Bhad Bhabie] is [a rapper]," Yachty responded to his detractors. "She harder than a lot of niggas. On God."
The controversial rapper is set to hit the road on her headlining tour next month, along with Asian Doll. Kicking off in Santa Ana, Calif. on April 14, the two will be hitting up major cities like Atlanta, Miami, Chicago, Toronto, San Francisco, Philadelphia, Seattle and more before closing out on June 14 in Los Angeles.
Listen to Bhad Bhabie and Lil Yachty's new track "Gucci Flip Flops" below.
Check Out the 2018 Hip-Hop Music Festivals You Need to See