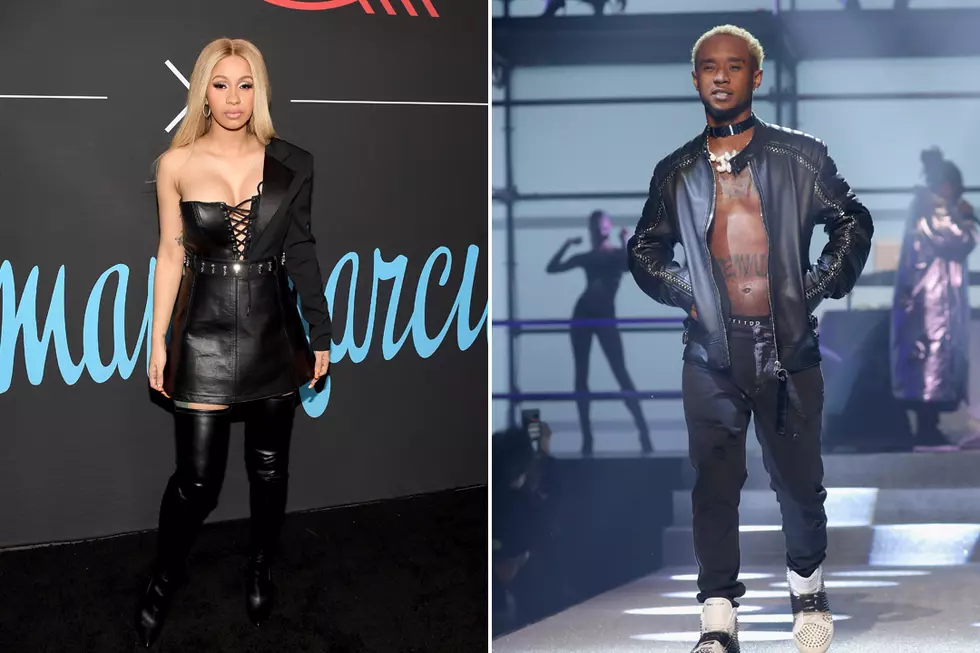 Best Songs of the Week Featuring Cardi B, Slim Jxmmi and More
Matt Winkelmeyer/JP Yim, Getty Images
How's your week been? If we're judging solely based on the music that's dropped in the past few days, we'd bet it's going pretty well. The past seven days have seen big debuts from newer artists, old favorites putting everyone on notice and tracks that will surely get spins throughout the rest of the year. For another fun week in rap, Cardi B drops "Money Bag" off of her debut album, Slim Jxmmi shares another single with "Chanel," featuring his brother-in-Sremm Swae Lee and Pharrell, amongst other heaters. Check out XXL's best songs of the week.
Cardi B's debut album Invasion of Privacy has finally landed, and it's dominating the conversation on social media. One of the more popular tracks is "Money Bag," which features the Bronx rap star rhyming about how rich her success has made her. The futuristic trap beat is some of the best production of the year, and Cardi's sense of humor shines. "He said I'm protein thick, you look like a dope fiend, sis/He make sure he put Cardi down on his grocery list," she spits, showing just why she has so many fans nowadays.
Rae Sremmurd's SremmLife 3 is still on the way, and both members are trying out life as solo artists. The latest example is Slim Jxmmi's "Chanel," featuring Swae Lee and Pharrell. On a song all about a spoiling a girl solely because she's fine, Jxmmi tries his hand at romance. "What you saying, I got enough bread to recline/And I don't want your head, I want your mind."
YoungBoy Never Broke Again was recently freed from jail, and he's back with some new music. The track is "Diamond Teeth Samurai," his reworking of Lil Wayne's early hit "The Block is Hot." The Louisiana native does the original track justice, and the frenetic video really sells it. "You disrespect, I up the Tec and let you niggas have it/23 shots, LeBron James I shoot the cavalier," he raps, combining a grisly threat with a shoutout to a living NBA legend.
As one of the most beloved underground rap groups, Flatbush Zombies took their time to release Vacation in Hell, making sure the new album met their standards. The single right before the project dropped is "Vacation," featuring fellow Beast Coaster Joey Bada$$. Joey shreds the track, riding over a simple-but-quality beat, all claps and 808s. He's also clearing a lot of money, and won't be modest about it: "They ain't wanna pay attention, now they can't afford us/I made a milli' in the first quarter on the hush/Plus this my Jordan year, bitch I'm just warmin' up."
Chicago's Famous Dex has always been known for his fun brand of music, and his newly unleashed debut album, Dex Meets Dexter, is a solid summary of his style. The Wiz Khalifa-assisted "Take Her" is a jam, and both rappers come off like they are excited to collaborate. Rapping over a beat thats as understated as anything with organs and drums can be, Dex is a ball of energy, jumping from line to line as only he can.
Check out the best songs of the week below.