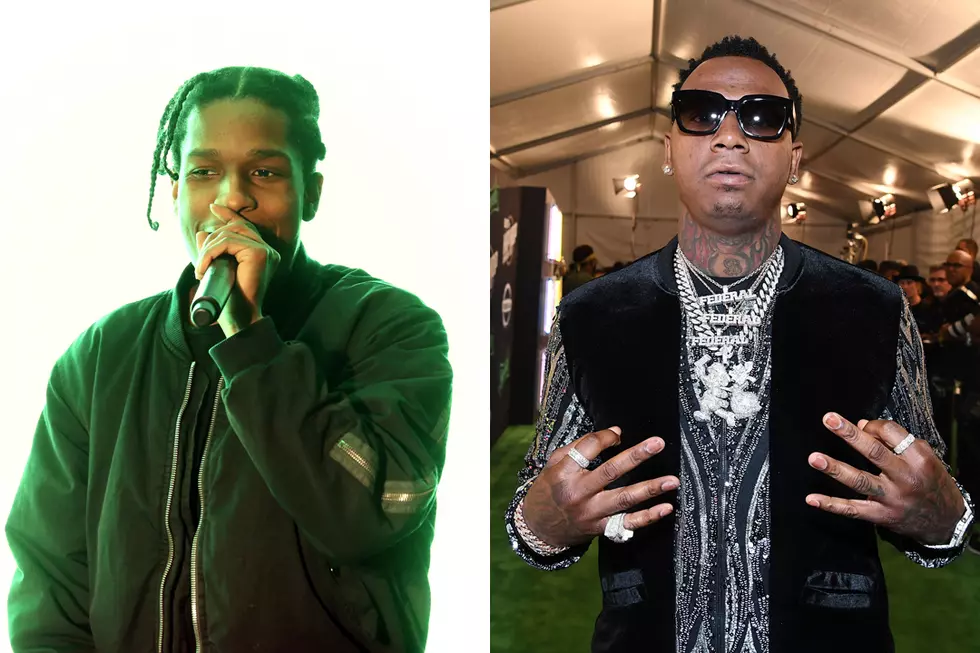 Best Songs of the Week Featuring ASAP Rocky, Moneybagg Yo and More
Neilson Barnard / Paras Griffin, Getty Images (2)
It's been another great week for rap lead by two artists primed for a big year. Harlem, N.Y.'s A$AP Rocky is back, and brings 21 Savage and Gucci Mane along for the ride, while Moneybagg Yo calls on Quavo for a standout track from his latest mixtape. This week's XXL best songs of the week is about names you already know, or should get to know.
A$AP Rocky has been quietly sneaking out songs here and there this year, only to end up helming the lead single from a major motion picture. "Cocky," which features A$AP's top dog alongside Gucci Mane and 21 Savage, comes courtesy of the upcoming basketball film Uncle Drew. Rocky hasn't lost a step, spitting, "How you gone play D, You can't even take D/Too many fake mes/Way too many fake daps, way too many fake '$APs."
21 also deftly brags "Met my accountant at Ruth's Chris, she told me that I'm way up/I already back for seconds, I ain't even clean my plate up."
Moneybagg Yo might never let up, and 2 Heartless is another quality project from the Memphis rapper. For the song "Bagg Move," he snagged Quavo for a new track about getting money. Moneybagg Yo has come a long way, and isn't afraid to talk about it: "Used to walk to the store (what now Yo?)/Now I get a fee to turn up the show." He then brags about women and cars back to back: "Cujo the way I'm dogging these bitches/Amber Alert, the roof gone missing." Quavo also shines with "You can find the knot/Pick a pocket, all fours/Pull up in drops /Butterfly both doors."
Nipsey Hussle dropped his oft-delayed debut album, Victory Lap, today, and the track "Succa Proof" has been the song on everyone's lips. Nipsey over thumping 808s and howling strings is a little new for him, but the mix works perfectly. "Oh y'all bloods, oh y'all crips now/Fuck it, I'm big draws, I'm J. Prince now," he raps angrily, questioning other rappers' street credentials. "I frontline wars we can't fix now/Bought latex gloves, that's no prints now."
We take a trip back to Memphis for this pick, highlighting Young Dolph this time around. He freed the startingly-titled Niggas Get Shot Everyday this week, and the track "Playa." The song itself is a peek into his life, complete with security precautions, guns and girls. "Fifty bitches on my dick, call me Dolph the pimp/Don't give a fuck, ain't a rich nigga, you a shrimp," he raps, emphasizing how little he feels other rappers can compare. He then parallels quality time with his child and his time in the street: "Court side with my lil' son watchin' LeBron and them, hah/P's of cannabis, my nigga, I sold tons of them, hah."
As someone who hasn't released much music this year, Compton's own YG shocked everyone when he released the blistering "Suu Whoop" last night. The plodding beat harkens back to older songs from the West Coast rapper, and the lyrics are the same. The first few lines of the song include the type of grittiness you'd expect from YG, but also show his sense of humor. "Suu whoop my rag, I'm suu whoop when I'm mad/'YG don't you got a daughter?' Yeah, I'm a gangbangin'-ass dad," he rhymes, showing that a new child won't make him change his ways. "Big B, Gucci bag, blue hundreds in my bag/'YG how you feel about the hundreds bein' blue'/Nigga, I ain't mad."
Wrapping up this week is buzzing Chicago rapper Valee, who recently signed to Kanye West's G.O.O.D. Music. The new signee got his label president Pusha T to hop on his previously released song "Miami." Valee takes off on the song with his unique flow, tiptoeing across the crawling beat. "Since I'm in the foreign, I keep 93 in it/Bitch, your head boring, so you get a D in it," he shares. "I hopped on the Boeing, it was three more seats in it/Gucci flip-flops on, I just slid my feet in 'em."
Pusha T jumps into a new flow, rattling off, "I'm still selling weight, Hoodrich Pablo Juan/Narcos still lives, even with Pablo gone/His and hers Chanel Pharrells, ain't no other parallel/40K to ride this wave, on it like a carousel."
Listen to the best songs of the week below.
See New Music Releases for February 2018