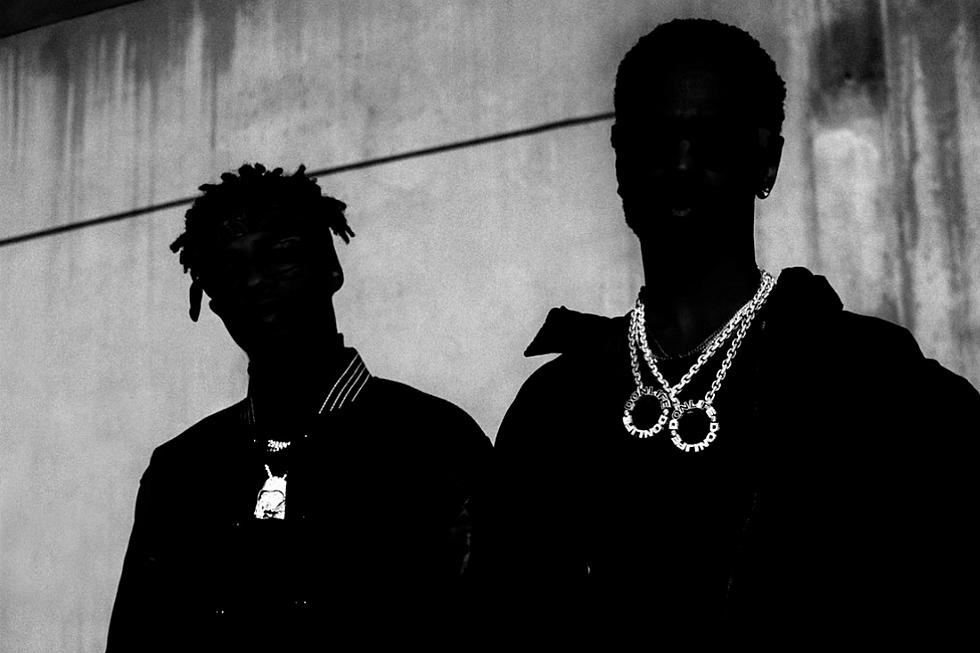 20 of the Best Lyrics From Big Sean and Metro Boomin's 'Double or Nothing' Album
Def Jam / Republic Records
The closing weeks of 2017 are upon us, and while we're already anticipating the music that 2018 will bring, there are still a few high-profile rap projects due before the ball drops. One release that's created a quick buzz is Double or Nothing, a collaborative album by Big Sean and Metro Boomin that finds the rapper-and-producer pair continuing the potent synergy of last year's "Bounce Back."
Double or Nothing comes during a time of flourishment for both Big Sean and Metro Boomin. Sean scored a platinum plaque with February's I Decided., while Metro has earned top billing as one of music's most in-demand producers. The unexpected project, which was first announced last Friday, is a pleasant surprise for fans in a year that's seen some interesting pairings (Metro previously teamed up with trap all-stars Offset and 21 Savage for the Halloween surprise Without Warning). Given Sean Don's penchant for party starters and Metro Boomin's track record of monstrous hits, this duo seems to be a no-brainer.
Double or Nothing boasts guest appearances from the likes of Travis Scott, 2 Chainz, Young Thug and Swae Lee. But Big Sean is front and center, the lyrical star of the show dropping some of his most imaginative rhymes over Metro's urgent beats. XXL sifted through the project to pick out 20 bars from the project that stand tallest.
"Go Legend"

Big Sean and Metro Boomin Featuring Travis Scott

"Dawg, when life go too hard on you, you gon' go legend or not?/Me, I got no other opp (got no other opp)/Shit, I go so hard I might wake up with a concussion (I go hard)/The way I piece this shit together, man, it's puzzlin' (I go hard)/I do this for the dogs and nowadays we husky/God as my witness, you lil' bitches, you can't judge me" —Big Sean

"Go Legend"

Big Sean and Metro Boomin Featuring Travis Scott

"I go legend, I mean, Michael Jackson/Prince in action, okay, I'm an original, you just a reenactment/Okay, peace sign and flashes/I live that picture perfect life you lie 'bout in your captions/When I was down, I swear they made me feel inferior/Judgin' me by my outside, that's just my exterior/Not seeing what I was made of, that's my interior/Didn't let that shit break me, instead, I broke the barriers" —Big Sean

"Big Bidness"

Big Sean and Metro Boomin Featuring 2 Chainz

"Look, I'm a magician, I belong inside Magic City/Got too much intuition to just blow tuition on titties, I know/Young Metro got that stick, that's a cig, he don't smoke/Fuck around, get smoked/I can't think of one time I was put up on the spot, then I choked/I can't think of one time I got rich then went broke" —Big Sean

"Big Bidness"

Big Sean and Metro Boomin Featuring 2 Chainz

"Yeah, look, we out here tryna start a franchise/We tell the truth, you tellin' stories 'round the campfire/Yeah, it's all game ho, let it soak/Me and my bros rock the same chains around like we a cult/I'm the one in the bunch, they protect me like the Pope/Going all night on the daily though" —Big Sean

"Big Bidness"

Big Sean and Metro Boomin Featuring 2 Chainz

"Got 'em waiting for my verses like it's Christmas to come/Would talk about my exes, but I'm dissing them all/Bought foreclosed houses, and I'm fixing them all/Any time I caught work, it was pistols involved/Yeah, I'm talking big business, here go the statistics/One out every five people trapping turn snitches" —2 Chainz

"Who's Stopping Me"

Big Sean

"My dog Earlly telling jokes, man I'm laughing at that/I had a dream I rode with Rosa Parks in the back of the 'Bach/And we was blowing a blunt and she was packing a strap/Like damn, it do feel good to be black in the back/Going so far back, it felt like I was back in the act/Gear up, tryna bring him back home like, up back/Europe, I love pussy so good/It taste like syrup, mixed with Ciroc, and coconut" —Big Sean

"Who's Stopping Me"

Big Sean and Metro Boomin

"This African-American express mixed with this Visa/Can get me in and out of anywhere I need to/And no more disrespecting me/We grew up poor, I changed my whole family trajectory/You couldn't see these type of checks if you was/Einstein on Jeopardy/Self-made to make that hell of a recipe" —Big Sean

"Pull Up N Wreck"

Big Sean and Metro Boomin Featuring 21 Savage

"Pull up with the spark, hit you in the dark/Tear your ass apart when you swim with shark/I'm in the car like Tony Starks 'cause I'm that smart/Doing 106 then park like I'm in my yard/And motherfuck the camera time, I need family time/I need "go see Uncle John in Atlanta" time/I'd probably never get it, but it's cool to fantasize/Just like I do by old girl and these hands of mine" —Big Sean

"Pull Up N Wreck"

Big Sean and Metro Boomin Featuring 21 Savage

"I like my skies Carolina blue and white/True one, false move and that could paralyze your life/So understand, I'm the overanalyzing type/Panoramic views while I'm panning out my life/And I grew up playing GoldenEye/So I'm used to sticking to the mission while they taking shots" —Big Sean

"So Good"

Big Sean and Metro Boomin Featuring Kash Doll

"But do you think you up for the task?/'Cause this a big body Benz, please don't crash/Last time I let you fuck, it was amazing, shit/Love a nigga who ain't scared to put his face in it/And I still remember every single place you lick/So I suck the soul outcha just to thank that dick/I'm a nasty bitch, I can take that shit/Pussy tight as long johns, I'ma make that fit" —Kash Doll

"Savage Time"

Big Sean and Metro Boomin

"I'ma take that water from Flint, and I'ma go up there to D.C/I'ma make the president drink, he wouldn't even let it touch his sink/I said "God, we need a blessing," God said, "Go and see the reverend"/People lined outside the churches like it's the white and blue 11's/Hurricanes hitting with another bomb threat, man, this shit feel like Armageddon/Swear I'm goin' every second" —Big Sean

"Savage Time"

Big Sean and Metro Boomin

"You couldn't stop these plays even if I was ineligible/Kneeling like Colin Kaepernick if that shit unethical/Yeah, free my mind, no bargain /Got one girl, she the hardest/That pussy supercharging, making love between war and then I hit the stage then get to talking like I'm Marcus Garvey/Like how is dark skin a weapon, but they treat it like a target?" —Big Sean

"Savage Time"

Big Sean and Metro Boomin

"Pins, trays, suits, how I'm mobbing/Alley-oop opportunities, yeah I lob it/To all of my niggas 'cause we got no other options/I pray V12 is the only time I'm boxed in/Fuck a fake hoe, that bitch toxic/Push her off of me like I'm in mosh pits/Every day fresh as fuck, you niggas never fly, you an ostrich/Back room of the restaurant, we the mobsters" —Big Sean

"Even the Odds"

Big Sean and Metro Boomin Featuring Young Thug

"Bitch, this ain't beef, this is world war/Bitch, this ain't a show, this a world tour/Bitch, you don't know me, yeah you knew me/Bitch, this ain't the problem, this the solution/Feeling like my chakras aligned/From now on call me Don/Rhyming for days, I couldn't eat and it was not Ramadan/Niggas asking for a cut, they just way out of line" —Big Sean

"Even the Odds"

Big Sean and Metro Boomin Featuring Young Thug

"Bitch, this ain't Adidas, this Puma/Bitch, that ain't the truth, that's a rumor/Bitch, you ain't my friend, you a tumor/Bitch, that ain't the new one, this newer/Bitch, this ain't fourth-quarter, it's crunch time/Now foul lines, just front lines/Fuck taking shit, boy, I just take what's mine/And I'm still hungry like a nigga was unsigned" —Big Sean

"Reason"

Big Sean and Metro Boomin Featuring Swae Lee

"Bring competition 'round me, eat 'em alive like zombies/I think I got insomnia, up all night to the morning/Turn my phone off 'cause I got a higher calling/And for the gold medal, I keep my foot on the pedal/Keep my girls on rose petals, keep runnin' into the devil/Beat his ass every time, next time I'ma bring a shovel/To put his ass in the dirt and then laugh 'til it hurt" —Big Sean

"No Hearts, No Love"

Big Sean and Metro Boomin

"Everything automatic so I can't waste time/And if we break up I only make up time/My team do this shit easier than lay-up lines/Never scared to cross that line or pay up fines/Look, Don Don Don, that's my top 3 in the order/Never took a shortcut/Meet a Crip off the late back, y'all look like a short club" —Big Sean

"No Hearts, No Love"

Big Sean and Metro Boomin

"Went from 30,000 a year to 30,000 feet as my floor plan/I got El Chapo with a choppa as my doorman/I'm on the other side taking care of what's important/If business not boomin' then it's time to change the format/Time to change the recipe, I'm special especially/Going for the record, no felony/And I'm dodging jail and jealousy/Day dreaming about a cruise with Penelope/Looking like success fell on me" —Big Sean

"No Hearts, No Love"

Big Sean and Metro Boomin

"Boy this shit intricate/Working like a machine, they keep trying to throw a wrench in it/But I'm too intuitive and into it/No ghostwriting, no sixth sensing it/That's why all this shit sound so intimate/That's why I feel like you know me before we face to face/As for the latest, I'm the greatest Ali Bomaye" —Big Sean

"No Hearts, No Love"

Big Sean and Metro Boomin

"I'm less focused on props and more on property/They put so much back on my hood that I changed the economy/I'm 'bout to build a movie deal to downtown properly/And help revive the heart of the city, just keep on watching me/And if these bitch ass niggas got they wish and stopping me/Just know I done done so much good business in my life/That there's gon' always be a job for me, a op for me/I never burned bridges so there's a hundred ways to get where I gotta be" —Big Sean