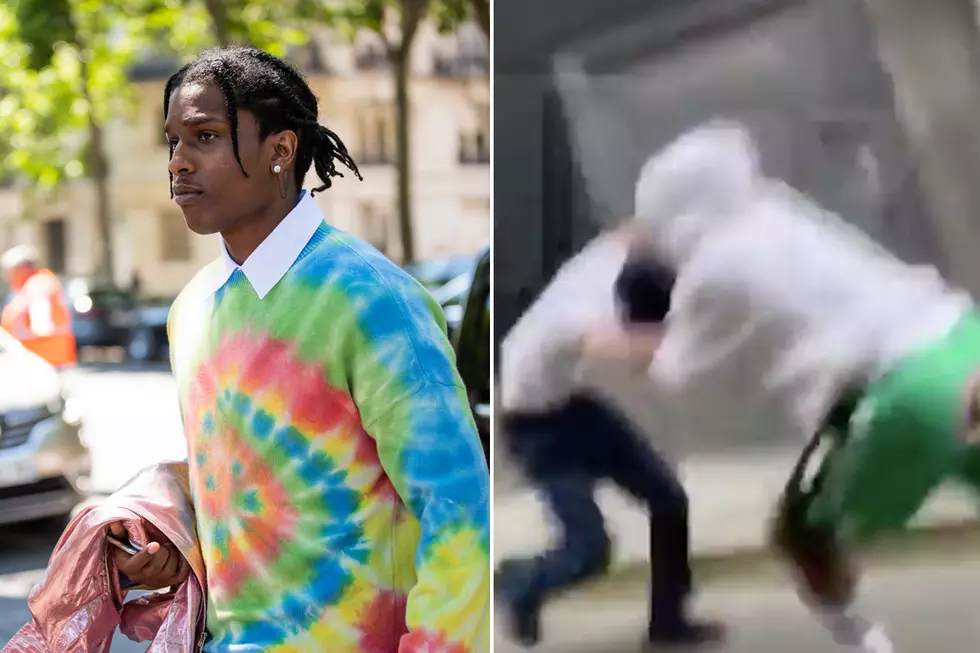 Men Involved in ASAP Rocky Fight Under Investigation for Molestation and Assault: Report
Christian Vierig, Getty Images / TMZ
More details continue to emerge in the A$AP Rocky situation.
On Friday (July 12), Page Six reported the men involved in a fight with the Harlem, N.Y. rapper that led to him being arrested are also themselves under investigation for molestation and assault in relation to the fight.
According to a press release from the Swedish Prosecution Authority, "The preliminary investigation continues regarding the American artist who is detained by the Stockholm District Court in Sweden on suspicion of assault in Stockholm. There is also a preliminary investigation in the case concerning the aggrieved party who is suspected of molestation and assault."
A rep clarified that the molestation crime is not necessarily sexual in nature. "Molestation ('ofredande' in Swedish) is a crime according to Swedish law. It means roughly: A person who physically attacks someone or exposes someone to disruptive contacts or exposes someone to other ruthless actions," a rep confirmed with Page Six.
Persecutors also clarified the "aggrieved party" as being not Rocky but "the men who allegedly followed them during the street fight."
Rocky continues to sit in a Swedish jail nearly two weeks after he was arrested on suspicion of assault after video surfaced that shows the rapper and his crew in a tussle with two men in Stockholm, Sweden on June 30. According to witnesses, two men followed the rapper and his crew down a street and accused them of breaking a pair of headphones. Rocky can be seen in one video trying to defuse the situation. Things took a twist when a woman interrupted the argument and reportedly accused the two men of inappropriately touching her earlier. That's when the two groups of men started brawling.
According to the Swedish Prosecution Authority, prosecutors have until July 19 to determine whether to file charges against either party or ask for more time.
XXL has reached out to the Swedish Prosecution Authority for further comment.
See Photos of Every XXL Freshman Ever Inducted Into the Freshman Class Over the Years