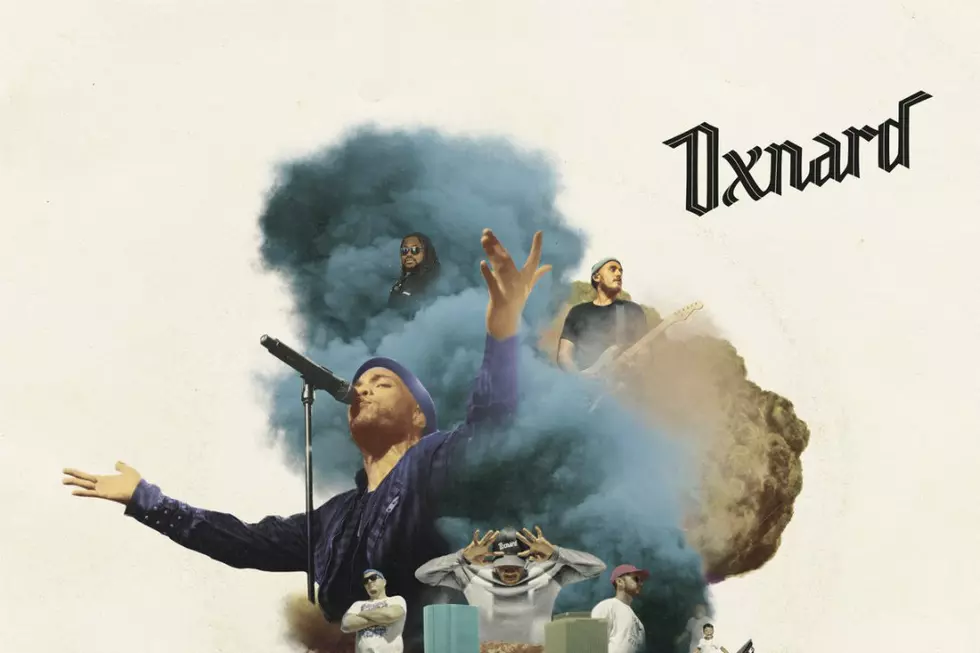 Anderson .Paak 'Oxnard' Album: 20 of the Best Lyrics
Aftermath Entertainment
In the age of the hybrid artist, few have proven to be as dynamic as Anderson .Paak, who is regarded as one of the more promising talents in music today. Proficient as a rapper, singer and producer, the SoCal native has spent the past three years getting the public familiar with his raspy musings and gritty vocals, which are on full display on Oxnard, .Paak's first album release via Aftermath Records. The follow-up to 2016's Malibu, Oxnard finds the XXL Freshman alum attempting to build on his early success, delivering a project steeped in the funky grooves and slick songwriting that first got listeners open to his style.
Running 12 tracks long (with two bonus cuts tacked on for good measure), Oxnard includes a diverse cast of contributors, with J. Cole, Pusha-T, Kendrick Lamar, Dr. Dre, Snoop Dogg, Q-Tip and Cocoa Sarai providing reinforcements on the lyrical front. Despite being a capable vocalist on his own right, Anderson .Paak is joined by the likes of BJ The Chicago Kid, Kadhja Bonet, Norelle and The Last Artful, Dodgr, all of whom are responsible for some of the album's more harmonious moments.
Executive produced by Dr. Dre, Oxnard includes instrumentals by some of the game's supreme beatsmiths, with Dre, 9th Wonder, Q-Tip, Dem Jointz, Om'Mas Keith, Drumheadz, Jairus 'J-Mo' Mozee, Jason Pounds and .Paak himself all earning production credits on this sonically rich affair.
With Anderson .Paak's new release racking up continuous spins, XXL compiles a list of 20 standout lyrics from Oxnard.
"The Chase"

Anderson .Paak

"You know I hit it almost every time and then I miss one/How we gon' get ourselves up outta this one?/Hard to get up from this like Sonny Liston/Feel like Isaiah and Laimbeer with the Pistons/Bad Boys, but no Will Smith and only real friction/Got to the fork in the road, a split decision" —Anderson .Paak

"Headlow"

Anderson .Paak Featuring Norelle

"Tears fallin' down my left cheek/Baby hit the nerve like a Pepsi/You can't breathe when I'm neck deep/I take it out but you just wanna finish me/Everywhere we go, we make a scene/We hit it long as long as you can keep/Just keep your head low/Just keep your head low" —Anderson .Paak

"Tints"

Anderson .Paak Featuring Kendrick Lamar

"I been feelin' kinda cooped up, cooped up, I'm tryna get some fresh air/Hey, why you got the roof off, roof off, you know it never rains here/Hey, you ain't gotta flash when you takin' your picture/You ain't gotta draw no extra attention/Paparazzi wanna shoot ya, shoot ya
Niggas dyin' for less, out here" —Anderson .Paak

"Tints"

Anderson .Paak Featuring Kendrick Lamar

"You probably think a nigga trollin'/Or showin' out for the cameras/Fuck I'm doin' fish-bowlin'?/One hunnid thou' on the passenger/Bitch, I'm Kendrick Lamar, respect me from afar/I was made in His image, you call me a god" —Kendrick Lamar

"Tints"

Anderson .Paak Featuring Kendrick Lamar

"Like, can you buy that, nigga?/900 horse, can you drive that, nigga?/A G5, can you fly that, nigga?/I need tints so I can look at the snakes and posers/(I need tints) 'Cause bomb head is non-disclosure/(I need tints) So I can live with a peace of mind/Without niggas takin' a piece of mine" —Kendrick Lamar

"Tints"

Anderson .Paak Featuring Kendrick Lamar

"You know I like it presidential, stretch it out, that's a limo/Pull it over, let me get behind ya, where we goin', they don't need to know/Ghost ridin' in the Phantom, niggas never see me comin'/She wanna hold me like a ransom, but the money keep me runnin'" —Anderson .Paak

"They want my bidness on the front page/I put prescription in Dior frames/I had the vision back in 12th grade/That I'd be killing shit with Doc Dre/I never want it to ever be over/I'm out in Philly, I thought it'd be colder/Drunk off the liqui, I might need a chauffeur" —Anderson .Paak

"I've been swimming through the process/And you can't see me, I'm the Loch Ness/You could proceed, but with caution/Give the proceeds to my god-kids/Old dirt on my conscience/Same nigga my pop is/Lame niggas wanna pop shit/Get dropped quick by a drop kick" —Anderson .Paak

"6 Summers"

Anderson .Paak

"Take chains off, take rings off/Bracelets and things, big aches and pains/My jack rang off with clickbait/Truth is too raw, it's a fish plate/Fela, the kunte/A hunnid and fifty of us on the big stage?/How long it took a nigga just to get paid?/And now I think I'm 'bout to buy a Bentley" —Anderson .Paak

"Saviers Road"

Anderson .Paak

"Ten years, been a minute, I was somewhere between givin' up and doin' a sentence/God, if you existin', help my momma get acquitted/If they plottin', then help me see it before they get the drop on me/Probably coulda been a doctor, I'm fond of optometry/Vision was like Martin Luther on the mountain peak/Valley lows, I left home for more salary/Smuggled O's across border patrol, casually" —Anderson .Paak

"Mansa Musa"

Anderson .Paak Featuring Dr. Dre and Cocoa Sarai

"My money, money/Pocket so dummy/That mean my money so sick, I might just cough up a hunnid/Rich gyal in me own time zone, fuck whoever/Shit, you gotta love me/Now if you owe me mine, better run it/A hunnid miles and runnin', yeah, I'm comin', still gunnin'" —Cocoa Sarai

"Mansa Musa"

Anderson .Paak Featuring Dr. Dre and Cocoa Sarai

"But in the meantime, I remain streamlined/Stackin' my ends if ever my money decline/I double my wins, now look how my whole team shine/Hell no, blow out my dough, I'm tryna keep mine/Nigga, fuck that snow up your nose, it's fuckin' ski time/Ho-ho, call up the hoes, it's shoppin' spree time" —Anderson .Paak

"Brother's Keeper"

Anderson .Paak Featuring Pusha-T

"If Jesus would've had a better lawyer would he have to see the cross/I hope your niggas is true, I hope they don't do you like Judas, I pray to God/Pain wearing off, sleeping while I talk/Laid in the arms, woke up at the top/I wanna live on ahead, if not a cloud in the air/Right side of the chair" —Anderson .Paak

"Anywhere"

Anderson .Paak Featuring Snoop Dogg and The Last Artful, Dodgr

"This the beat that make me reminisce on G-Funk/Three summers before The Chronic hit the streets/I would rather slang hand to hand to a fiend/Rappin' on the side, trappin' was priority/But every now and then I go scoop my little thing/Pull up in my MC bangin' New Jack Swing" —Snoop Dogg

"Anywhere"

Anderson .Paak Featuring Snoop Dogg and The Last Artful, Dodgr

"I think I'm in the Ruff Endz now/I seen her throwin' up H-Town/You was livin' off of Dru Hill/Wasn't Ready for The World, baby, who is?/Know you prettier than all the El Debarges/Never worry 'bout the total of the charges" —Anderson .Paak

"Trippy"

Anderson .Paak Featuring J. Cole

"Don't know why they rock wit' a nigga, but they did/Damn sure wasn't the money, maybe it's the kid/Used to have a honey that I loved when we was younger but somehow got disconnected before Facebook got so big/I used to search her name hopin' we could reconnect/But if I sent the message, would she still be on my dick?" —J. Cole

"Cheers"

Anderson .Paak Featuring Q-Tip

"Shit, music business movin' too fast for me/Wishin' I still had Mac wit' me/How do you tell a nigga slow it down when you livin' just as fast as 'em?/I couldn't understand when I seen 'em stretched out cold on the pavement/Niggas catch TKOs on occasion/Wishin' I could save 'em, what was I to say?/I was doin' dates, dippin' in and out of state" —Anderson .Paak

"Cheers"

Anderson .Paak Featuring Q-Tip

"Excuse me, y'all, I know this .Paak shit, I just need a second/It's Q-Tip in this bitch and I'm just in here reflectin'/Head on collisions with memories in the intersection/Lookin' in my rearview, wishin' I could be near you/The freeways of my mind are crowded with traffic/The good times that we had and them bad habits" —Q-Tip

"Sweet Chick"

Anderson .Paak Featuring BJ the Chicago Kid

"Got a cougar bitch/We be fuckin' in the back of Subarus and shit/I would love to spend the night, there's always food in the fridge/She be knowin' what she like and what to do wit' it/Uh, throwin' me around, wasn't used to it/Gotta tell my bigger homie how abusive she is/Nigga, no one would believe me, they like 'You just a bitch'/Had to buy surveillance cameras to get proof of it" —Anderson .Paak

"Left to Right"

Anderson .Paak

"I bruck you down to a mineral/My gyal, we finally made it to the pinnacle/How long you niggas waited for the antidote?/My god, she got a stance like an antelope/An ass like a cantaloupe/Now strike a pose for the camera, yo" —Anderson .Paak