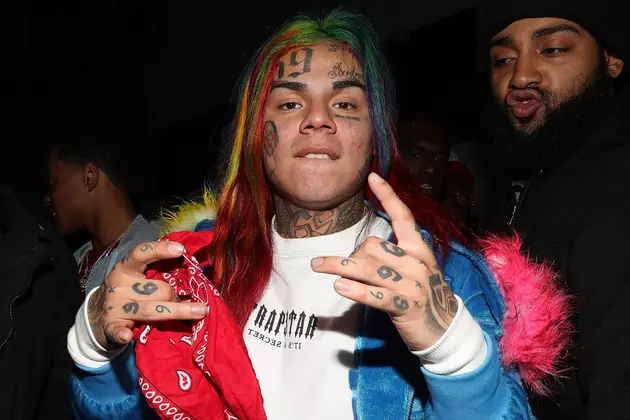 6ix9ine's Minneapolis Show Ends in Gunfire and Ice Buckets Being Thrown on Stage
Shareif Ziyadat, Getty Images
While Minneapolis residents had an exciting weekend hosting Super Bowl LII, it looks like things got out of hand for 6ix9ine, who was in the Minnesota city for a performance.
According to footage circulating on social media, the Brooklyn rapper was involved in some heavy drama after gunshots were fired following his appearance at Prive. Inside the venue, an ice bucket was thrown at him as he stood onstage.
In one video taken by a bystander, the "Gummo" rapper and his crew are seen physically confronting what is apparently a member of a rival gang on an unknown street before gunshots are heard in the background. While it's not quite clear who fires off the shots, it looks like 6ix9ine was not hit or harmed, as he responds to the incident in an Instagram story video.
"Yo, Teka$hi, why they so mad at you? 'Cause you never gonna get touched," he states. "Why niggas want me to get touched so badly? It'll never happen. I told you niggas. They will never touch me. Niggas can't lay a finger on me, man."
In another video, which is from his appearance last night (Feb. 4), 6ix9ine hits the stage at Prive nightclub, when crowd members from the balcony above throw an ice bucket at the New York rapper. While his entourage tries to keep him out of the way of the incoming object, a crew member throws the bucket back at people on the balcony.
6ix9ine also responded to the bucket-throwing incident, posting a video to Instagram stating that despite the drama, it doesn't "stop the bag." One of his friends joins in and says that the rapper "fucks with Minnesota."
"Ayo, y'all don't stop the bag, man," Teka$hi says while holding up a stack of cash.
On the music front, 6ix9ine's debut project is slated to drop on Feb. 23, which he revealed last month. He is also planning on releasing an epic remix to his "Gummo" hit single on the same date.
Watch all of the footage and responses from 6ix9ine in Minneapolis below.
See New Music Releases for February 2018