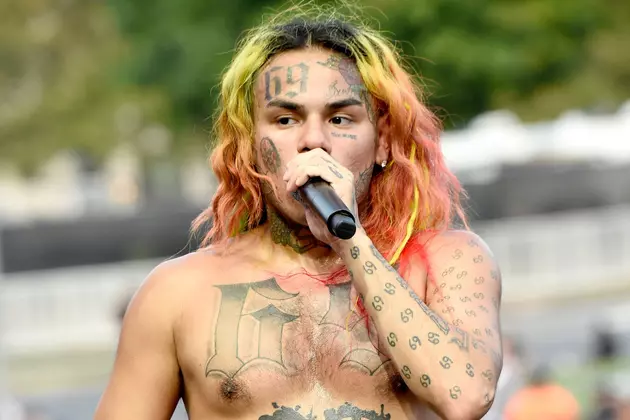 6ix9ine Threatened With a Bench Warrant by Judge for Missing Court Date
Photo by Kevin Mazur, Getty Images
A judge in Brooklyn is putting some serious pressure on 6ix9ine, warning the rapper's legal team that if their client misses a court date again, he won't get off that easy and instead will be met with a bench warrant for his arrest.
According to reports, 6ix9ine was scheduled to appear in court on Wednesday (Oct. 10) and failed to show up, resulting in the ruling judge threatening jail time if the mistake happens again.
"Counselor, if your client is not here on Tuesday, [there'll be] a bench warrant," Judge Edwin Novillo warned 6ix9ine's attorneys.
According to the lawyers representing the controversial rapper, whose real name is Daniel Hernandez, his travel schedule got in the way of his appearing in court, an excuse that prosecutors reportedly weren't impressed by.
In July, Tekashi was arrested again by NYPD after returning from an overseas tour on an outstanding warrant stemming from an incident at a Houston mall in January in which he appeared to choke a teen.
Both run-ins with authorities took place in 2018, and as such, violate the terms of his two-year probation period for his sexual misconduct case requiring he not be arrested again. 6ix9ine recently wrote a letter to the judge in his 2015 sexual misconduct case, during which he pled guilty to the use of a child in a sexual performance, asking to be granted four years probation and attendance in a youthful offenders program instead of jail time.
6ix9ine is due to appear in court next on Tuesday (Oct. 16).
See Photos of 6ix9ine on the Red Carpet and More