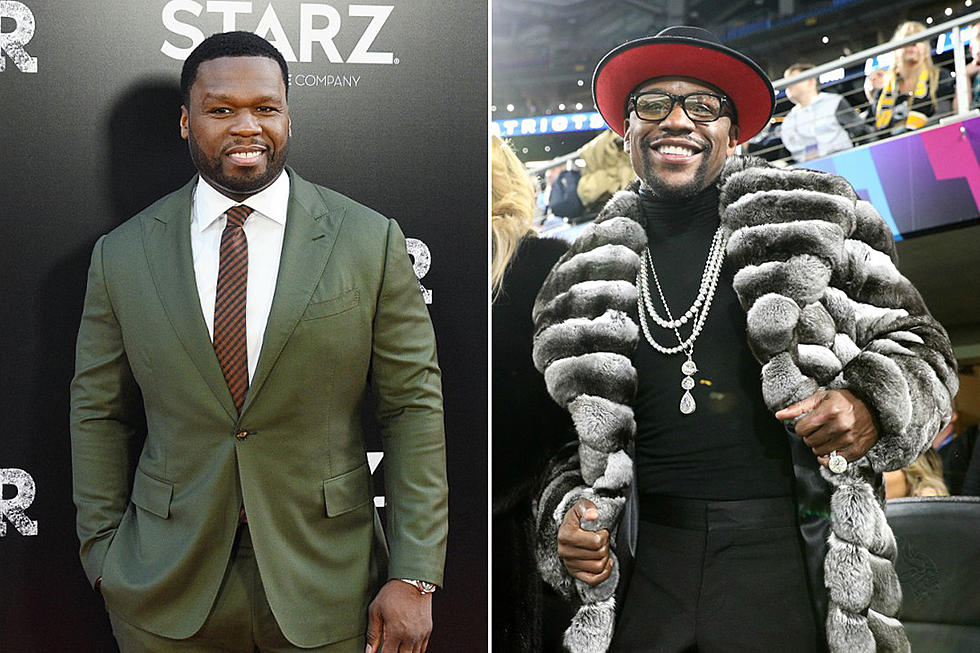 50 Cent Calls Floyd Mayweather's Next Opponent an Uber Driver
Nicholas Hunt / Patrick Smith, Getty Images (2)
Although he is busy working on a prequel to his Power TV series, 50 Cent always has time to fit trolling into his schedule. Earlier today (Nov. 5), Fif went on Instagram account make fun of Floyd Mayweather's upcoming fight with Japanese kickboxer, Tenshin Nasukawa, which is set to take place on Dec. 31.
For this bit of trolling, Fif uploaded an image of himself of Floyd clapping while Nasukawa stands in front of him with his fists in the air. "Champ fighting a Uber driver before the IRS embarrass him again. Pay-pre-view my ass, we watching this on YouTube. Get the strap #bellator #lecheminduroi," he captioned his Instagram post
Unfortunately for Floyd, it didn't stop there. Just a bit later on, 50 suggested that Floyd should've taken on Kazakhstan-bred middleweight boxer Gennady Golovkin. "What happen to GGG, couldn't find his phone number. Get the fuck outta here with this shit," he said. "Champ done turned into a circus act ... at least Canelo fighting killers.".
This fight will mark as Floyd's return to the ring after announcing that he was retiring last year. Check out 50 Cent's Instagram post below.
See Every Hip-Hop Song That Topped the Billboard Hot 100 in 2018